Life
1954- ; b. 6 March, Cappoquin, Co. Waterford; partially raised by a blind grandmother; ed. St. Anne's High School, Cappoquin and at UCC (BA; HDip.Ed), where he studied under John Montague; co-founded the Poetry Workshop 1973-76; winner of Patrick Kavanagh Award, 1977 - going on to publish The First Convention (1978); received Arts Council bursary, 1978; taught at University of Iowa International Writing Programme 1978-79; employed as Cork City librarian 1978- ; appt. Fellow of the International Writing Program at the University of Iowa, 1978-79; winner of Alice Hunt Bartlett Prize, 1981;
trans. story for English edition of Padraic Ó Conaire (1982); received Annual Literary Award of American Irish Foundation, 1984 and the O'Shaughnessy Poetry Award of the Irish-American Cultural Institute, 1991; ed. The Cork Review; ed. Poetry Ireland [1988]; issued poetry collections dealing with Irish politics, love and memory; also a series of novels on a Fianna Fáil party-political family; issued The Gardens of Remembrance (1998), a social and literary memoir of youth in W. Waterford together with his American experiences, and reflections on Dervla Murphy, Molly Keane and other writers of his county; novels incl. Without Power (1990);
issued Asya and Christine (1992); and The Deputy (1992); held Humphrey chair of English at Macalester College, Minnesota, 1994-95; employed in the European Capital of Culture office in Cork, 2005, afterwards resuming work in Cork Library; issued Merchant Prince (2005), the "lost" poems of Nathaniel Murphy, who is sent for the priesthood to Rome, meets James Barry there, returns to save his father's business in Cork; set in the period 1769-1831 and incorporating 60 poems; member of Aosdána; O'Shaughnessy Poetry Award of Univ. of St Thomas, Minnesota, 2003 ($5,000); Without Memory, a novel, was forthcoming in 2006; contrib. to Michael Longley at Seventy (July 2009); contrib. Lines of Visions: Irish Writers on Art (2014), on James Barry; issued new collection as Pandemonium (Dec. 2106). DIW DIL FDA OCIL
[ Thomas McCarthy in conversation with Cliona Ni Riordain (/sorbonne) Wed., 18 June 2022 at Cork Arts Theatre - £5 entrance.]
[ top ]
Works
Poetry
Shattered Frost (Miros Press 1975).
Warm Circle (Miros Press 1976), pamphlet.
The First Convention (Dublin: Dolmen Press; distrib. Humanities Press [Altantic Highlands, NJ] 1978), 45, [1]pp.
The Sorrow Garden (London: Anvil Press Poetry 1981), 64pp.
The Non-Aligned Storyteller (London: Anvil Press Poetry 1984), 63pp.
Seven Winters in Paris (London: Anvil Press Poetry; Dublin: Dedalus Press 1989), 61 [3]pp. [withdrawn & reiss. Dublin: Dedalus Press 1990].
The Lost Province (London: Anvil Press Poetry 1996), 75pp.
Mr Dineen's Careful Parade: New and Selected Poems (London: Anvil Press Poetry 1999), 174pp. [cover-picture of Eamon de Valera].
Merchant Prince (London: Anvil Press Poetry 2009), 199pp. [see note]
The Last Geraldine Officer (London: Anvil Press Poetry 2009), 170pp. [see note]
Pandemonium (Manchester: Carcanet 2016), 83pp. [see note]
Prophecy (Manchester: Carcanet Press 2019) [reviewed by Martina Evans in The Irish Times, 6 April 2019].
Fiction
Without Power (Dublin: Poolbeg 1990; 1991);
Asya and Christine (Dublin: Poolbeg 1992), 217pp. [see note];
The Deputy (Dublin: Poolbeg 1992) [q.pp.].
Prose
The Gardens of Remembrance (Dublin: New Island 1998), 199pp. [memoir];
trans., 'Marcus Beag', in Padraic Ó Conaire (Dublin: Poolbeg 1982) [15 short stories, with other writers].
Miscellaneous
'The Outsider in Irish Poetry', in Fortnight (Belfast 1988), [Supplement,] p.19 [on MacNeice et al.]
'Walking into America: Journal 1978', in The North Store Review (Fall/Winter 1992), pp.132-151 [diary kept while attending Iowa Writing Programme];
contrib. short piece in 'The State of Poetry' [Special Issue], Krino, ed. Gerald Dawe & Jonathan Williams (Winter 1993), pp.42-43, and Do., as 'The State of Poetry', in Agenda, 22, 3 [q.d.], pp.49-51;
intro., Bowen's Court, by Elizabeth Bowen [1942] (Cork: Collins Press 1998), xvi, 460pp.
ed., The Turning Tide: New Writing from Co. Waterford (Waterford County Council 2003), 224pp.
with Bríd Ní Mhóráin, ed., Best of Irish poetry 2008/Scoth na hÉigse 2008 (Cork Southword Editions 2007)
contrib. to Lines of Vision: Irish Writers on Art, ed. Janet McLean [1850-1950 Curator at National Gallery of Ireland] (London: Thames & Hudson 2014) [on James Barry, "Self-Portrait as Timanthes", pp.131-35].
Poems in anthologies incl: "State Funeral","Mr Nabokov's Memory" and "Persephone, 1978" in Modern Irish Poetry: An Antholog, ed. Patrick Crotty (Belfast: Blackstaff Press 1995), pp.390-93 [attached]. Sundry contributions to journals incl. "The Dying Synagogue at South Terrace" and "Moonlight Cooler, 1948" [attached].
[ top ]
Criticism
Gerald Dawe, 'The Suburban Night: On Eavan Boland, Paul Durcan and Thomas McCarthy', inContemporary Irish Poetry: A Collection of Critical Essays, Elmer Andrews (London: Macmillan 1996), pp.168-93 [also printed in Dawe, Against Piety: Essays in Irish, Poetry 1995, p.169ff.]; James Naiden, interview with Thomas McCarthy, in New Hibernia Review, 3, 1 (March 1999) [q.pp.]; Tom Redshaw, 'Reflections of a gentleman', review of Merchant Prince, in The Irish Times (25 June 2005), Weekend [infra]; Rory Brennan, review of Merchant Prince, in Books Ireland (April 2006), p.79.
[ top ]
Commentary
Nick Laird, review of Mr. Dineen's Careful Parade: New and Selected Poems, in Times Literary Supplement, 12 May 20090, p.26. Speaks of continuity of vision and an 'equable, regretful tone'; further, 'the eschewal of rhetoric is impressive; quotes "State Funeral", 1978: 'It is a landscape for old men. Today/They lowered the tallest one, tidied him/Away while his people watched quiety.//I think of his austere grandeur;/Taut sadness, like old heroes he had imagined.' Also cites and quotes from "A July Afternoon on Jameson's Farm", "November" (from The Lost Province, 1996); "The Provincial Writer's Diary" ('far from the heroic'); notes old fashioned timidity about some of these poems and matronly euphenisms ('scents of summer', and 'fresh dog mess'), and calls the McCarthy a poet whose 'early poetic promise has not quite been fulfilled'; quotes 'our poor Republic'; 'potholes'; 'abrupt and botched revolution'; 'liberation is a valley of disappointment'; remarks, 'McCarthy is not a poet's poet like Paul Muldoon, and compared to many of his contempoaries' work - Matthew Sweeney's hermetc, aggressive whimsies, the withering intelligence of Aidan Matthews [sic], - his can sem old-fashioned and, at times, gauche; but he has a strong voice very much his own, held steady at a medium pitch. His is a cautious celebration, a "careful parade" over common ground.' [End; photo-port in tie.]
Theo Dorgan, RTE interview (Sunday 28 April 2002): McCarthy speaks of a mentally-ill father and strains of growing up with 'an ill person'; death of both parents at 55 within 18 months; 'my past was sealed'; f. worked in Cappoquin forestry; infl. by Denis Fitzgerald, and Anglo-Irish neighbour who encouraged him to read Stendhal and Gide; speaks of the Anglo-Irish world of the Keane's, the Cavendishes, the Geraldines [Fitzgeralds], and of Drimnagh and Villierstown and notes that Kim Philby was minded in Cappa in 1956; ed. The Turning Tide for Waterford Co. Council; infl. by Professor O'Kelly, archaeologist, at UUC; speaks with praise of John Montague; notes impact of Conor Cruise O'Brien's essay on Sean O'Faolain and literary Parnellism [Maria Cross]; 'people who don't play sport in rural Ireland have got the option of joining Fianna Fáil'; professes belief in life after death and reacquaintance with deceased loved ones.
Tom Redshaw Dillon, 'Reflections of a gentleman', review of Merchant Prince, in The Irish Times (25 June 2005), Weekend: 'McCarthy's readers will discover, however, that Merchant Prince is thoroughly modern as well as Modernist, given the Romanticism native to Nathaniel Murphy, McCarthy's chosen persona. McCarthy handles this persona as tellingly as John Berryman did, for example, in his Dream Songs , but in a far different idiom. Indeed, Merchant Prince combines McCarthy's signal strengths of invention and empathy - strengths displayed so well in prose and verse in Gardens of Remembrance (1998) and in Mr Dineen's Careful Parade (1999). [.... &c.] (See full text in RICORSO Library, Criticism, full text.)
[ top ]
Poetry
[ top ]
"The Standing Trains": [epigraph "… and I thought how wonderful to miss / one's connections; / soon I shall miss them / all the time." (Louis MacNeice, The Strings are False): 'From the windows of a standing train / you can judge the artwork of our poor Republic. / The prominent ruins that make Limerick Junction / seem like Dresden in 1945. and the beaten-up coaches at Mallow Station, / the rusted side-tracks at Charleville, / have taken years of independent thought. / It takes decades to destroy a system / of stations. On the other hand, a few / well-placed hand-signals can destroy a whole / mode of life, a network of happiness. / This is our own Republic! O Memory, / O Patria, the shame of silenced junctions. / Time knew we'd rip the rails apart, we'd sell / emigrant tickets even while stripping the ticket-office bare. / The standing trains / of the future were backed against a wall. // Two hens peck seed from the bright platform, / hens roost in the signal-box. / Bilingual signs that caused a debate in the Senate / have been unbolted and used as gates: / it's late summer now in this dead station. / When I was twelve they unbolted the rails. / Now there's only the ghost of my father, / standing by the parcel-shed with his ghostly / suitcase, When he sees me walking towards him / he becomes upset. Don't stop here! he cries. Keep going, keep going! This place is dead. (Rep. in Patrick Crotty, Modern Irish Poetry: An Anthology, Blackstaff 1995, pp.393-94.)
Slow Food
I would like to feed this child who is dying with slow food,
So that time might stand still for him, so that a grandfather
Clock might not fall apart in his arms. All of the laziness of air

In our warm temperate climate, all the anxious hands
Of young barristers at this morning's Farmers' Market,
All of this complete snobbery of the gut, might bear down

Upon one dying child. Here is my Euro, child. Here is
The olive oil and the stuffed artichoke. Here is the conscience
And the conscience money. They stole my land too,

They took my small cottage apart, stone by stone.
They surveyed all of us and we nearly died. I am sending, child,
Very fast Irish food from my evicted great grandmother.
—Carol Rumen's "Poem of the Week", in The Guardian (23 Jan. 2017) - available online; accessed 29.01.2017.
[ top ]
"The Dying Synagogue at South Terrace": 'Chocolate-coloured paint and the July sun like a blow-torch peeling off / the last efforts of love. / More than time has abandoned this, / God's abandonment, God's synagogue, / that rose out of the ocean / one hundred years from here. / The peeling paint is an emigrant's / guide to America - lost on the shore / at Cobh, to be torn and scored / by a city of luftmenshen; / Catholics, equally poor, equally driven. [...; see full text in RICORSO, Library, Authors, infra.]
[ top ]
"The Sorrow Garden", from Mr Dineen's Careful Parade - New and Selected Poems (1999)

I. HOLE, SNOW
It is an image of irreversible loss,
This hole in my father's grave that needs
Continuous filling. Monthly now, my
Uncle comes to shovel a heap of earth
From the spare mound. Tear-filled, he
Compensates the collapse of his brother's
Frame. I arrived on my motor-bike to help
But he will not share the weight of grief.

It is six months since my father's death
And he has had to endure a deep snow;
All night it came down, silently like time,
Smoothing everything into sameness. I
Visited the winter-cold grave, expecting
A set of his footprints, a snow-miracle.


II. SMALL BIRDS, VOICES
These are the neatly twisted sounds of death,
Those small brown birds singing, small winter
Birds clinging to an overhanging bough.
Never in life did I know him to stare
So silence-stricken for one brief moment.

These birds recall the voices of his life:
A low cold note is the voice of torment
From childhood poverty and the brief, light
Notes are the tones of Love and Marriage.

"There's the beginning of your life's troubles",
A neighbour said at his grave. I arranged
The wilting wreath-flowers, feigning numbness.
Something, perhaps his voice, told me even then
How much of Love, Sorrow, Love one life contains.



III. MISTING-OVER
These bright evenings I ride
through the young plantation

by the river; at times I can
see the young trees clearly
through the collapsing mist.

Sometimes in the misted river
at dusk his face at my left
shoulder has become distinctly
settled and lined with peace.

But now in the clouded pools
I drive through on the avenue,
he no longer calls out as if
injured by my rear wheel, but
is happy as clay, roads, memory.


IV. LOST WORDS, SORROWS
It's difficult to believe that it could
go on; this wanting to participate
in a rigid plan of water and wood,
words and wood and other inanimate
worlds that cannot explain sorrow.

Around me I find the forms that know
his lack of living. The wooden sculpture
on a shelf points to its lack of finish,
calls for a finishing touch, for his sure
and solid polish. I pray for its wish.

As if water could explain my crying,
I visited the salmon-weir after
a snow-fall. The fish were manoeuvring
through the spray, determined to get over
protective obstacles of wood and stone.

Like salmon through water, like virgin wood
disturbed into its form in art, his death
obfuscates words irrecoverably. Death plays
its own tune of vision and shadow. It has
attached itself as a vocabulary of change.


—available at Poetry International Web - online; accessed 20.10.2013.
"At Ink Level, the sea"
Here on the writing desk of the earth
The sun goes down quickly at ink level.
Soon the stony outcrop will be a blob
Of light blue and the sky will be pale
As the tissue rises. Is it time to go in
Or is it time to go outside? Only time

Will tell me how the levels rise –
Phrases cluster on the sunlit page,
So many oyster-catchers thread the surf,
Their needlepoint becomes pale green.
Water is near, shale bursts in applause,
Gulls congregate on a drifting raft.

Am I going out or coming in with the sea?
Not everything is blessed by the promise
Of water: your book on birds
Is soaked by the wash, ink grows pale
In its buckled galleys. From the paper-clip
Of the Hellespont, Leander swims to me.
Available at Lyricline -
online
[accessed 30.04.2016]
[ top ]

"The Garden of Remembrance"

These stones report for duty in story after story,
The garden a cistern of unsweetened water;
Time's patina burnished by an effort to remember,
Such effort renewed at each national anniversary
Where sea-gulls glide over the field of slaughter
To uncover another trail of poems. Time is a hoarder
That gathers us together behind the box hedge
To remember glory, to define a lost cause
Or a cause renewed at the hour of remembrance.
We remember our prayers and the seagull's rage,
So careful now – now so conscious of the past –
That we may not create more victims. What lasts
In a Republic is the living, and so in this age
I remember the living on this cold, grassy ledge.

ii
Our remembrance is a form of theatre, as each
Remembrance is, in every nation. An eternal flame
Burns elsewhere and cenotaphs hold heroic names;
Remnants of us pepper each Normandy beach
And Poppies grow up out of our bones. But here
I think of the one nation the poets imagined
And think again of the two states we're in,
A state of mystical borders and broken spears
Left by a silent procession of things left unsaid.
It's not that our cowardice has deepened; or not
Cowardice, not that, but an indifference yet
Unchallenged, an indifference to the innocent dead
That creeps along the wall of memory, as moss
Or ivy muffle traffic noise or mask all heroic loss.

iii.
A shuffle of wet tiles, history's lovely aquamarine –
All the weapons lie abandoned after battle
Like the leaves of Sessile Oak, Dair Ghaelach,
Which scatter in a sudden burst of wind. We seem
Drawn to history, fatally, the way troubled
Families want to pace across the same old ground
In the hope of comfort from what comes round.

I find an empty bench where history doubled
Back and came to life in a fantasia of warm metal;
Oisín Kelly's mythic swan children now seem
Like children abandoned in refugee-camp or great famine,
Arms hanging loosely in great bronze petals –
After all the Troubles, politics wants to make peace
With art. Our memory is immovable in a stiff breeze.

iv.
James Connolly's beautiful life, the high aesthetic
Of Pearse, the gift of three buttons from Con Colbert's
Volunteer uniform, Thomas MacDonagh's verse –
Listen, in this remembering place I pick
Strange names to add to the forgotten dead:
Willie Redmond explaining how at the Ulster line
In front of Ploegstreet the Southerners arrived
And words of love between two Irelands were said
Before slaughter swallowed the young. And Harold
Mooney of the RAMC, his shattered left thigh,
Should remind us of how the unsung are left to die
In a free state of dying slowly. All their untold
Stories haunt me still. Permit me to remember the dead
On the wrong side of revolution, the part they played.

v.
Mothers from another continent come here to rest.
Memory is a kind of cradle. Memory is a giant beech
In a sunlit meadow. I watch a new migrant child reach
Into this restored reflecting-pool, his outline traced
In a cruciform pool of disturbed shadows. What can he know,
This child of worldly exile, of the purpose
Of our centenary city park? How can you or I propose
A better Ireland, a safer shelter in the quiet meadow?
Here in this Irish world, in the last place where God
Found us useful, we have a duty to make a firm nest –
Not an ill-advised pageant or a national barricade.
When the midday sun breaks through, my eyes rest
On harp and acorn, on trumpet and bronze hands,
On things a family without our history understands.

Poem commissioned for 1916 Centenary in 2016 [see

online

; accessed 30.04.2016.]
[ top ]
"Moonlight Cooler 1948": 'It was the four frosted tiki-stem cocktail glasses, / Survivors of a disreputable Irish bar in Minneapolis, / That you were most proud of on the day / Of the Ballysaggart races; that day when a man / Claiming to be Bing Crosby, or Bing's brother, / Walked into the pub with a Fine Gael Senator. [...] they mentioned / The word "cocktail", thinking to embarrass us all [...]. Sure every baptised Christian in the county knew, / In them days, that on a moonlit evening in November / Two ladies on the way to dinner at a Big House / Would have the juice of one lemon, a little sugar, / Two Irish ounces of Calvados, and soda; all / Shaken with a bit of ice from O'Connor's fish store / And strained into - pardon the lack of highballs - Your tiki-stem cocktail glasses fit for any Bing.' [See full text in RICORSO, Library, Authors, infra.]
"The Euro": 'I've seen the first photography of the new Euro / in a shop-window in Patrick Street. / Rather than anything that belongs to the future ,/ it reminds me of the orange ten-shilling note / of my childhood … that held the promise of so much happiness … there is a small boy of ten - a child with coins - / for whom the Euro will come with a sudden pain of optimism, a sunbeam // to illuminate the cleared path ahead. / I have high hopes for that boy. I honour him.' (The Irish Times, 6 Oct. 2001, Weekend.)
"The Beginning of Color"
These brown discolorations on a faded black-
and-white photograph are not at all like a defect
In anything remembered but, rather, a kind of
"Crystallization" as Stendhal described it, in
One of his more eccentric books about love.
In truth, my childhood was cast down like a twig
Into an abandoned salt mine near Salzburg
From where it emerged, of this I'm certain,
As something much richer than my own life,
A jeweled branch of living history, now
Retrieved by my mother from the well at Twig
Bog Lane. I'll never know who it was, and anyway
Why would I want to know who it was,
Who slid the black hard plastic button to On
One late summer afternoon in nineteen fifty-seven,
So that not only did some kind of shutter flick open
In my head, but the full force of color saturation
Hit my brain. The effect was high-speed Ektachrome
And life as it is now, that studio of constant poems —
It's just that as my mother hauled the metallic
Home Assistance milk gallon from the deep well
In Twig Bog Lane, the light of deprivation reflected
Back from her face and got lost in me, and I knew
How biography is the steadying of only one kind
Of lens, how memory offers different iterations;
How, somewhere, a paper was being coated with
Such chemicals that even deeper colors would form
Over time. During that summer, a world away,
The first International Color Salon was organized
In Hong Kong and, while restrictions on dollar
Imports meant that Ireland couldn't reach a speed
Of 100 ASA, faster colors kept rushing in. There
Was no holding life back once it swarmed; biography
Was ready for color, our brains were marked
That year for realities more personal, realities brighter
Than a boxed-in lens. Huge Blackwater river rats
That knawed through the doors of our dry toilets in
Twig Bog Lane were as ignorant of color as me; and
Would soon be seen in more subtle shades of brown.
—In
Poetry
(Feb. 2017); given on Poetry Foundation
page
- accessed 03.02.1017.
[ top ]
"Age and Creativity"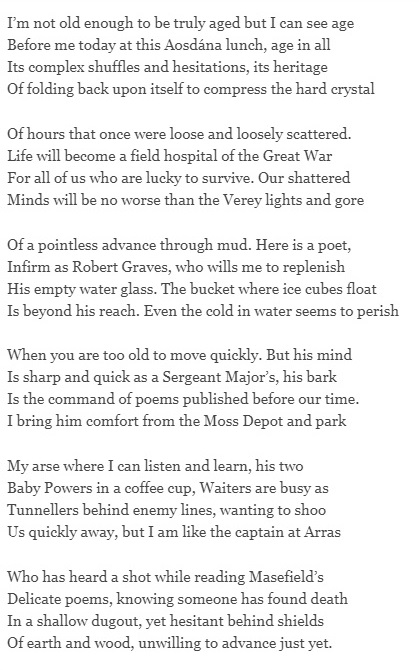 McCarthy writes on Facebook: 'A poem in the Irish Times today, always a lovely place to have a poem published on a Saturday morning. Illness and age have been on my mind in the last few years, accentuated by amazing and stimulaing discussions we've been having with the Arts Council around supports for artists and writers as they age. Gottfried Benn and Louis Bourgeois are my core theorists on the creativity of Late Age, their insights on why as the scaffolding weakens the buildings of the mind remain upright. Remaining upright to the end in most cases, I think. At the moment I'm thinking of the wonderful Stanley Moss or Edna O'Brien and the great long endurance of an artistic life, so brilliantly analysed in terms of its meaning by that German pessimist Gottfried Benn. Anyway, this lyric hang on the edge of a lot of theorising and discussion we've all been having over the last two years.' (22.09.2018.)
[ top ]

TWO POEMS
"Homeless in Paradise"
I met an evicted Mission District performance poet
On the bridge outside Cappoquin. What are you doing
In West Waterford, I asked, and he viewing
The river where I was born, though I was loath

To mention the poverty and deprivation I knew
Among salmon boats because he was still full of rage
At San Francisco engineers and their plague
Of dollars that made Pacific beauty suddenly untrue

As a Burbank movie. Whatever miserly stones
I could offer him I did then offer, far from burrito
And Robert Duncan séance; miserly stones to throw
At the greenhouse where we force our small poems

To come to terms with what happens in our
Native lands – shit, we are homeless in paradise,
The two of us. A consequence of silicon has come to this,
This encounter inside a poem on a calm, tidal river.
"Library Atrium"
This Boole atrium in the sunlight,
Beautiful in its connecting flight
Of rectangles and light wings,
Gives me much more than I
Could ever give on a day in early
July when the scholars who
Failed just one subject come back
To try again to convince the
Higher funding bodies that they
Too deserve more than they've
Been prepared to give in terms
Of work or plain concentration.
The play of light and all the angles
Made between glass and off-white
Between window and wall: it
Must be what some honours student
In Fourth Engineering dreamt
As he played idly between a
Girlfriend's number and a girl
He just met with perfect angles
And a way with algebra. In the
End we all come back to try our
Luck again with a higher power.
Posted by the McCarthy on Facebook, 7 July 2020.
[ top ]
Prose
"Cork Poetry in Its Wider Context": 'Poetry, whether written in Irish or English, is not just a language: it's a personal language, intimately bound up with the speaking voice and personal atmosphere of a poet. A poetic voice is not something that can be transferred or taught. But it can be encouraged, enabled, empowered by fine example and the reading of literary magazines and poetry collections. A public library is one of the best places for the aspiring poet to find recent work, in both books and magazines. Cork has been particularly blessed with the publication of two crucial journals, Poetry Ireland, edited by David Marcus in the 1940s and Innti, edited by Micheal Davitt in the 1970s. [.... &c.; see full text in RICORSO Library, infra.]
"Why I Write" - online article at Laoise Education Centre, [2006]: '[...] I think of books as radios or televisions that have been flattened for storage or convenience. When the cover of a book is lifted it's like switching on a radio or television. Imagine, when you open a book, that the cover is a kind of a power-pack or solar-panel that makes the book receive signals from far away. When I go into a library or a bookshop now I think of all those books as radio programmes, full of voices and opinions. You know, literature was really the first successful multichannel company, the first broadcasting corporation. The voices in books are honest, funny sometimes, rich and brilliant.' [...; see full text in RICORSO Library, Authors, infra]
Birthday thoughts (Facebook, 6 March 2017) - "The repair of a tapestry or a costume is precisely a plea in favour of a second chance." (quoted from:] Louise Bourgeois Diary 29th Oct 1995): 'Thanks to all my terrific FB friends who sent birthday greetings my way today. Today was a particularly brilliant day as I had my first drive in a TESLA motor-car this morning. I noticed it parked near my house in Montenotte and, recognising the distinctive TESLA marque I went over to look at it, While circling round it, I heard the owner shouting my name: "Tom, do you want a spin into town?" Away we went. What a beautiful machine, built by that troubled genius Elon Musk. But, after that thrill, most of the day was spent reading the diaries of the artist Louise Bourgeois. Her thoughts are extraordinary: the angst and depth in her aesthetic is profound and tragic and very Beckett-like. Her thoughts remind me about the human compulsions and imperatives behind any artistic life. She reminds me that art is a place where we can repair the damage done to others by our selfishness and thoughtless profanity and our ill-feeling. She once wrote that she couldn't resist repairing things, and she went on to say "The repair of a tapestry or a costume is precisely a plea in favour of a second chance." I think this is what art must be, then, what it's impulse must be – to give us a second chance in our lives perpetually, to let us go back over the half-worn materials of our biography so that we might live again as we should have lived in the first place. I think all of writing is therapeutic in that strict therapeutic sense, it allows us to go over things and make them settle permanently inside our settled personality. It gives our souls a second chance to heal through a deliberate misremembering, through the construction of a long, calm story of the self. It turns experiences if not into stone at least into the protective leather of artifice, the outer shell of a very mediated life. When I look at a giant bronze sculpture of a maternal spider by Louise Bourgeois or when I listen to an orchestra playing the Andante of Tancredi by the young Rossini or when I hear Maria Joao Pires playing Mozart's Piano Sonata No. 16 in C Major, I recognise instantly what poetry is, what art is. I am transported back to a point at which poetry begins. It has something to do with starting-points. I first recognised this starting point when I was a child on a May evening listening to the voice of Canon Sidney MacEwan singing 'Bring Flowers of the Rarest: Queen of the May' as it came through from loudspeakers placed in the trees of Cappoquin; and I recognised this still pulsing away compellingly just yesterday as I held an umbrella for my wife Catherine as she tried to photograph the branch of a handkerchief-tree in a torrential rainstorm at Fota House. The rain lashed down upon us, but the lovely Canon camera and its mistress zoomed in upon the bare branches and brown fruit bulbs and swallowed the wet world whole. There are moments when time stands still in our lives and the hand of God is near us, practically gifting us new works of art. Sometimes I think only great sculpture captures this intense feeling, but I come from a very poor family and art training was beyond our means in childhood. Words are the only art materials I had available to me and I learned to mix them into my own therapeutic colours. This is why it's worth staying alive for as long as we can and drinking off the available light. And why I thank you for those birthday wishes. These thoughts began this morning in the front seat of a TESLA.'
[ top ]
On James Barry, "Self-Portrait as Timanthes", in Lines of Vision: Irish Writers on Art, ed. Janet McLean [1850-1950 Curator at National Gallery of Ireland] (London: Thames & Hudson 2014), pp.131-35: 'All through the 1990s each train journey I made because a pilgrimage to this one painting I visited Dublin regularly to attend board meetings at Poetry Ireland, a national organisation that was then expanding its influence under its revolutionary director, the poet Theo Dorgan. [...] We must all stand back from work and feel ashamed that we have not done more for art and truth. Scholars have construed the loosened black ribbon on Barry"s neck as the shadow of the guillotine, the fate that awaits all counter-revolutionaries. I beg to [131] disagree. I"ve never thought that. Surely it is art unbuttoned, bindings loosened, the break of life upon an exposed neck. [... /] Nothing painted by Barry was ever flawless - his drawing of hands is always poor - yet every oil of his contained more ambiguous brilliance and politics than anything by Reynolds or Fuseli. (See! Just a few minutes with Barry and I am making aggressive and unsupported observations!) He conversed only in extremities and his ambition for British art were unhinged by the breadth of his vision. He was an Irishman, yet he wanted the best for the English mind. His Lodon efforts to extract the best from British possibilities would destroy him mentally and vocationally. This is the portrait of an artist who has suffered from an extreme ambition. the eyes tell us that he has painted himself into a corner. Here, the artist as a cornered Timanthes marks a point of irreversible decline in the fortunes of the painters. Despite the exceptional kindness of friends in the Royal Society of Arts, Barry would isolate hismelf and retreat down the Thames to Greenwich, into a house with broken windows and darkened printing presses. / Nearly a decade has passed since we all stood around the plaque in the crypt of St Paul's Cathedral in London to commemorate the bicentenary of Barry's death. Now, the scholar William Presley's words are ringing in my ears: his belief that Barry's huge wall paintings in the Ryal Society's Great Room are actually a piece of sustained Roman Catholic propaganda: Great art forces us to grapple with its contents, rather than meremly mook and say "oh" and move on.But I'm not sure it matters, or let me put it another way: it doesn"t matter to me. I 'm never too worried about what art means; I've always been more conscious of what it does to me, what is says in a human way. I'm constantly saying "oh" and refusing to move on. [...] This is a deeply personal work of art; it is full of yearning and human wariness. It is very much a metaphor for an artistic life of any kind. And it doesn't have a citizenship or a religion: we are all hunted, as Timanthes was, and we all nervously awaiting our destiny, as Barry constantly was. I feel for him and I feel for this painting because I know his luck ran out several times. I still love to come upon it. It speas to me of mnay lost connections and that foolish yearning to hurry up and finish some all-consuming work of art. / This painting is one of the gems of our National Gallery It is worth taking any long journey to coe upon this triumph of antiquity and revolution, of political camouflage and artistic nakedness. When I stand by this painting my resolve as a poet stiffs and y political faith in the artistic life is restored completely.' [End.]
[ top ]

References
Andrew Carpenter & Peter Fallon, eds., The Writers: A Sense of Place (Dublin: O'Brien Press 1980), incls. 'Bachelard's Images', pp.112-14 [with photo-port.].

Sebastian Barry, ed. & intro., The Inherited Boundaries: Younger Poets of the Republic of Ireland (Mountrath: Dolmen 1986), incls. poems by McCarthy.
from The First Convention
Stranger, Husband
State Funeral
Last Days in the Party
Daedalus, the Maker
The Rarest Thyme
Greatrakes, the Healer

33
33
34
35
36
36
from The Sorrow Garden
De Valera, Lindberg and Mr Cooper's Book of Poems
The Sorrow Garden
A Neutral State, 1944
The Phenomenology of Stones

37
38
40
41
from The Non Aligned Storyteller
Claud Cockburn
Shopkeepers at the Party Meeting
Party Shrine
The Chairman's Widow
The President's Men
Question Time
Windows
Winter
Particulars
Hours Ago, 1973
Mr Nabokov's Memory

41
43
43
44
45
45
46
46
46
47
48
Seamus Deane, gen. ed., The Field Day Anthology of Irish Writing (Derry: Field Day 1991), Vol. 3, selects 'A Meeting with Parnell'; 'Windows' from from The Sorrow Garden; also 'Black Flags at a Party Meeting', 'The Non-Aligned Story-Teller' from The Non-Aligned Story-Teller [1424-26]; BIOG, 1436.
Anthologies, Patrick Crotty, Modern Irish Poetry: An Anthology (Belfast: Blackstaff Press 1995), selects "State Funeral" [390-91], "Mr Nabokov's Memory" [392-92], "Persephone" [392-93], "Standing Trains" [393-94; infra].
Catalogues, &c.
CCLIB archive contains record supplied by author: b. 06/03/54, Co. Waterford; ed. St. Annes High School, Cappequin; University College Cork 1973-76 BA. HDE; University of Iowa (International Writing Programme), 1978-79; Librarian at Cork City Libraries 1978- . Works: The First Convention Dolmen Press 1978) [manuscript in possession of Brigadier D.H. Fitz-Gerald, Cappoquin Co. Waterford]; The Sorrow-Garden (Anvil Poetry, September 1981) [manuscript in possession Brigadier D.H. Fitz-Gerald]; The Non-Aligned Storyteller (Anvil Poetry 1984) [manuscript with author]; Seven Winters in Paris (Anvil Poetry 1989) [withdrawn because of major print error], Do., rep. (Dedalus 1990) [manuscript with author]. Fiction, Without Power (Poolbeg Press 1991), novel, rep. (1991) [manuscript with author]; Asya and Christine (Poolbeg Press 1992) [manuscript with author]; selected among 15 years of reviewing, 'In A Nutshell'. - Review of 'The Faber Book of Epigrams', Irish Times (Oct 1, 1970 [first public review]; 'Down to Earth in a Poets Garden' an interview with Ciarán Carty, Sunday Independent (Oct 23 1977); 'Roethke' [review of Harry Williams, 'Theodore Roethke After'], Irish Times (March 24-25 1978); 'Tides Revisited' [review of John Montague's Tides], Irish Times (17 June 1978); 'Poet's Cloak' [review of John Montague, The Great Cloak', Irish Times 1978; 'Northern Voices' [ review of Michael Longley, Echo-Gate, Irish Times (9 Feb 1990); 'Colonial Consciousness in Commonwealth Literature' [interview with Peter Nazareth], Somaiya Publications [?Put], Ltd Bombay/New Delhi 1984), pp.128-173; 'Heaney's Sweeney' [review of Seamus Heaney, Sweeney Astray' Connaught Tribune [December 23 1983]; 'Recent Poetry' [review of Paul Durcan, Gerard Smith, Desmond Egan], Irish Times (Feb 25 1984); Review of The Selected Prose of Louis MacNeice, ed. Glan Heuer (OUP), and Grandmother & Wolfe Tone by Hubert Butler [Lilliput Press 1990] in The Irish Review [n.d.; 1990]; 'Sean Ó Faolain at the Dinner Table' [eminiscences of Sean Ó Faolain at American Embassy Dinner], in Cork Review (November 1991); 'Why Politics World Have Been Wrong Choice' [interview with Helen Conghlan about fiction and politics], Waterford News and Star (September 4 1992); 'Fine Summer Afternoons' [autobiographical essay on writing and student life at UCC], Eire-Ireland, 26: I (Spring 1991), pps 7-18; 'Walking into America, Journal 1978 [diary kept while attending Iowa Writing Programme], The North Store Review (Fall/Winter 1992), pp.132-151; 'The State of Poetry' [contribution to a feature on the state of poetry in AGENDA Vol 22 no.3 [n.d.], pp.49-51; 'James Simmons and Martin Luther in the Larne District', J. Simmons 60th Birthday in Larne Press; 'Gerry Adams & Political Fictions' [interview with Gerry Adams of Sinn Féin for Stet Magazine, Cork (December 1993). [Centre for Irish Literature & Bibliography, Coleraine.]
Anvil Press Poetry lists Thomas McCarthy, Mr Dineen's Careful Parade ( 1999) [0 85646 320 5]; The Non-Aligned Storyteller (1984) [0 85646 123 7].
Laoise Education Centre website has a Thomas McCarthy webpage [& online and as infra].
[ top ]
Notes
Merchant Prince (2009) presents two groups of poems, set largely in Cork, and a novella set in Italy, in the period from 1769 and 1831. They tell the story of Nathaniel Murphy: his training for the priesthood, the loss of his virginity and vocation, his flight from Italy, and later his happy marriage and successful career as a Cork merchant. The unusual mixture of verse and prose and the meticulously imagined history - replete with portraits of such great figures as the painter James Barry, and four Italian poets who are strangely reminiscent of certain contemporary Irish poets - gives the book a compelling flavour. Poems and prose combine in a poetic fiction which is, among other things, a meditation on the craft of verse and the artistic calling, and a restoration project on a kind of Irishness overwritten by later history. (COPAC summary - online.)
The Last Geraldine Officer (London: Anvil Press Poetry 2009): The first part of the book collects recent short lyrics. Part Two daringly recreates a forgotten period in the Anglo-Irish world: a Big House in the years between the World Wars, a FitzGerald ('Geraldine') family that has tilled the soil of County Waterford, absorbed its language and history, and sent young men back to British regiments, particularly the Irish Guards. Focusing on his Gaelic-speaking soldier-poet, Sir Gerald FitzGerald, and his man-servant, Paax Foley, McCarthy creates a fully imagined landscape of men escaped from Irish neutrality to fight against Fascism. Moving from ballad to prose poem, from mid-century Gaelic verse to County Waterford recipes, McCarthy mixes competing loyalties and readings of Irish history to create a single Irish narrative of exile and bereavement, of battles won and love lost and found. (COPAC summary - online.)
Asya and Christine (1993) follows the story of FF man Paudie Glenville from 1925; married to Adele Griffith with five children, since arriving in Cappoquin in 1924; having been a smuggler of Irregulars to the US, he retains some funds with the connivance of the authorities; by 1943 he is a respected TD; he is called to intercede with Eamon de Valera on behalf of a man threatened with execution at the risk of exposing the source of his wealth, now invested; de Valera refuses; the novel ends in remorse with the death of his own son; Aysa is the Jewish girl who looks after their children. (See review, Fortnight, March 1993 - narrative questions concerning Christine and others unanswered.)
Pandemonium (2016) - book notice: Written in the wake of Ireland's 2008 economic collapse, Pandemonium moves between lament and protest in search of a meaningful response in language. Many of the poems were written during a period of retreat along Ireland's south-west coast, a landscape that imbues McCarthy's politics with geological intensity. The Atlantic horizon 'where the sun lies down in the west to die' is mirrored inland by corruption and rot, a modern Ireland beset, in the poet's eyes, by financial and moral pandemonium. McCarthy's subtle satiric wit and understated lyricism preserve raw outrage as historical document. His poems register the moral ire of many during a pivotal era of Irish history, leading with the poet's only weapon, the word - 'the ink trail that pain makes on the page'. Greeted for '[its] urgent, involving and rewarding poems [which] make us question where we have come from and look again at where we are going' (The Irish Times). See also Dublin Review of Books: 'His voice - with its idiosyncratic tone and verbal texture - registered firmly as one of the most distinctive and it is now one of the most authoritative among poets of his generation. The weight of that authority and his mastery of a personal tone are evident in this fine new collection.' See COPAC - online [erroneously cites his Cork library post as dating from 1987 [recte 1978].
Namesake: Thomas McCarthy (b.1941), ed., with Mike Gerrard, Vengeance!: Passport Anthology (Serpent's Tail 1993) [208]pp. [stories] and and Passport to Arabia (Serpent's Tail 1993) [copies in TCD Library]. Note also, do. [Thomas McCarthy], author of Finals Day and Other Stories (Cambridge Poetry Workshop c2002) and other works incl. A Fine Country (London: Citron 2002), 229pp. [suspense fiction dealing with the IRA], &c. A Thomas McCarthy is a translator of Jürgen Habermas and a literary critic, author of Race, Empire, and the Idea of Human development (Cambridge UP 2009) and other works.
James Barry: McCarthy contributed a piece on Barry to Lines of Visions: Irish Writers On Art (2104) - writing of his self-portrait as Timanthes, 'When I stand by this painting my resolve as a poet stiffens.
[ top ]
---