Life
1947- ; b. in Dublin, 26 Oct. 1947; gt-grandson of Michael Joyce, a br. of Patrick Weston Joyce and Robert Dwyer Joyce of Glenosheen, Co. Limerick; grew up in Mary St., Dublin; passed summers in the Galway Gaeltacht; ed. UCD (Philosophy and English); co-fnd. New Irish Writers Press, with Michael Smith, to combat 'the stagnancy of the Irish poetry scene [with its emphasis on] provincial literature, unambitious in its concerns, formally conservative, and rural in its outlook'; ed. Lace Curtain, with Smith; issued poetry collections, Sole Gum Trek (1967); Watches (1969); Pentahedron (1972); The Poems of Sweeney Peregrine (1976); conducted classes on classical Chinese poetry in Dublin and Oxford; visited China as a member of the Ireland-Chinese Cultural Society, 1983;
studied Mathematical Sciences, NUI Cork; spent 12 years as a Business Systems Analyst with Apple, Cork, returning to poetry in 1995; became full-time writer, 2000; returned to print after 19 years silence issuing stone floods (1995), which was nominated for The Irish Times Poetry Prize; fnd. and dir. Cork International Poetry Festival, 1997- ; received Irish Arts Council Literature Bursary, 2001; Writer in Residence, NUI Galway, 2001-02; and a Fulbright Scholarship, 2002-03 - taking his to Boston College; elected to Aosdána, 2004; ed., with Shepherd Steiner, Cork Caucus, arising from an international interdisclinary meeting held in Cork as European Capital of Culture 2005;
issued "Trem Neul", a longer poem called by its author 'an extended auto-biographical essay in prose and verse from which everything personal has been excluded, and whose spaces are instead crowded with the memories and apprehensions of others', first published in With the first dream [...] (20011) and reprinted in The Mast (Australia) in 2014; the poem uses Buddhism, Irish, Khmer and Maori folklore and sundry sources philo-anthropological; a Selected Poems was published by Shearman in Oct. 2014. DIW DIL
Trevor Joyce - Online
There is a Trevor Joyce webpage at
Soundeye
[
online
]. See also "Readng Trevor Joyce", ed. Niamh O'Mahony, at
Jacket 2
-
online
[3 Feb. 2014; contains two poems by Joyce in jpeg version of typescript pages, and other writings on Joyce by Niamh O'Mahony (viz., "The Munificence of Joyce" [as
infra
], "Joyce in 2011: Finding A Language Use" [
online
; and Bibliography].
[ Note: Jackets 2 belongs to Kelly Writers House, Philadelphia, USA ]
[ top ]
Works
Poetry
Sole Glum Trek [New Irish Poets] (Dublin: New Writer's Press 1967), 30pp.;
Watches (Dublin: New Writer's Press 1969), 16pp.;
Pentahedron (New Writers' Press 1972), [2], 53, [1]pp;
The Poems of Sweeney Peregrine: A Working of the Corrupt Irish Text, ed. by Michael Smith (Dublin: New Writer's Press 1976), [50]pp.;
Stone floods (Dublin: New Writers' Press 1995), 52pp. [full title lower case];
Syzygy (Bray, Co. Wicklow: Wild Honey Press 1998), 16pp., ill. [cover by Joe Ben; 200 copies;
Hellbox [formSheet, 5] (London Form Books, 1998), 1 sh. [4pp.; contains "Mirror: of glazier Velasquez"; "One"; "Incidents at Cloghroe, Co. Cork"; ltd. edn. 50 copies];
Without Asylum (Wicklow: Wild Honey Press 1999), 16pp., ill. by author [cover];
Hopeful Monsters (Wicklow: Wild Honey Press 1999), q.pp.[incls. 3 prose pieces].
With the first dream of fire they hunt the cold: a body of work 1966-2000 (Dublin: New Writers' Press; Exeter: Shearman Books 2001), 243pp. [incls. The Poems of Sweeney Peregrine, Pentahedron, stone floods, Hopeful Monster, "Trem Neul" and other poems];
Take over [with] Undone, say (Willowdale, ON: The Gig 2003), 52pp. [22 cm.; ltd. edn. of 150 copies];
What's in Store (Dublin: New Writers' Press: Toronto: The Gig 2007), vi, 322pp.;
Courts of Air and Earth (Exeter: Shearman 2009), 95pp. [trans. from the Old & Middle Iris incl. "Poems of Sweeny, Peregrine", "Love Songs from a Dead Tongue"; versions of "Sean O Duibher of the Glen", and selections from "Danta Gradha"].
The Immediate Future (2013).
Selected Poems of Trevor Joyce (Exeter: Shearman 2014), 148pp.
Audio-CD
Red Noise of Bones (Coelocanth & Wild Honey Press 2001);
Miscellaneous
ed. Versheet, Vols. 1, 2, 3 & 4 (Dublin: New Writers' Press 1971), 6pp. each [incls. as Vol. 4: Such a Heart Dances Out, by Thomas Dillon-Redshaw (Dublin: New Writers' Press 1971). 6pp.
ed. with Michael Smith, The Lace Curtain: A Magazine of Poetry and Criticism (Dublin: New Writers' Press 1970-1974);
"The New Writers' Press", in Modernism in Ireland: the Poetry of the 1930s, ed. Patricia Coughlan & Alex Davis (Cork UP 1995) [q.pp.];
contrib. to the fly on the page [The gig documents, 3] (Willowdale, ON: N. Dorward 2004), 56pp. [28 cm.]
ed., with Shepherd Steiner, Cork Caucus: on art, possibility & democracy [Cork Caucus, Cork 2005] (Frankfurt am Main: Revolver [2006]), 472pp., ill. [some col.; 25 cm.; edn. of 1000];
Versheet [series] (1971)
Brian Coffey, Versheet 1, ed. by Trevor Joyce (Dublin: New Writers' Press 1971), 6pp. [ltd. edn.; sole copy TCD Lib.];
Robert Pawlowski Versheet 2, ed. by Trevor Joyce (Dublin: New Writers' Press 1971), 6pp. [ltd. edn.; sole copy TCD Lib.];
James Liddy, Homage to Patrick Kavanagh, ed. by Trevor Joyce [Versheet 3] (Dublin: New Writers' Press 1971), 6pp. [500 copies; verse; printed Dorset Press];
[ top ]
Criticism
Studies
Niamh O'Mahony, ed., Essay on the Poetry of Trevor Joyce (Exeter: Shearman Books 2015)
Reviews, &c.
Hugh McFadden, review of Stone Floods (1996), Irish Times, 11 Dec. 1995 [q.d.];
Nate Dorward, 'On Trevor Joyce', in Chicago Review, 48, 4 (Winter 2002) [q.pp.; available at Quaestia - online].
See also citation in Michael Smith 'The Contemporary Situation in Irish Poetry', Douglas Dunn, ed., Two Decades of Irish Writing (1975). Noticed in Books Ireland (Oct. 1995), p.260.
Internet




[ top ]

Commentary
David Lloyd, 'An Impressive collection', review of Trevor Joyce, With the First Dream of Fire they Hunt the Cold: A Body of Work 1966-2000 (New writers' Press/Shearman Books), 243pp., in The Irish Times (18 Sept. 2001, p.10: 'Here, at last in Ireland, is a body of work that increasingly liberates its language from the despotism of reference and the pabulum of the well-made poem-tyrannies that should surely have been made redundant by the work of Beckett, Coffey, Devlin or even, for those who could read him, Yeats.' Speaks of preceding collections: 'arch and relentlessly knowing (Pentahedron, 1972). Lloyd speaks of 'a remarkable simplification of language' in Stone Floods (1995) and cites titles in the present collection: 'Turlough', 'Chimaera', and 'Syzygy', and makes influences as Lorca, Ó Rathaille, and Meng Jiao. Lloyd cites on the final work, "Trem Neul", an 'autobiographical essay in prose and verse from which everything personal has been excluded' [Joyce], and comments: 'It is a tight weave of many recurring and blending voices organised contrapuntally, with effects at once dreamlike and almost scientifically precise. Its marbled texture resonates … long after the first readings'; Joyce is current Cork Co. Council writer in residence. [See also "Tem Neul": Composition process at Jacket 2 - online.]

Niamh O'Mahony, "The Munificence of Joyce": 'For over four decades Joyce has sought a vitality and innovation in his writing that continues to distinguish his poetry among national and international communities of poets. Here, formal constraint is an enabling device through which the chosen themes, ideas, and source texts are aligned and vivified. Joyce's willingness to delineate these sources indicates a poetry always in excess of its constituent parts. Sources recur across collections and the notes that organize one poem become a palimpsest for another. Director and co-organizer of the SoundEye poetry festival since its inception in 1997, Joyce is a dynamic force in Irish poetry as it continues to change and evolve. [...] Critical analysis by Keith Tuma, Nate Dorward, Alex Davis, Marcella Edwards, and John Goodby among others offers strategies for reading Joyce's poetry. This scholarship attends to the poet's place within the national literary history and European modernist tradition and also considers, among other things, the importance of translation, theory, and philosophy to his writing. Such criticism did not always reach its deserved readership, either because of low print-runs or the ephemeral nature of poetry magazines and journals. The bibliography published with this essay consolidates that critical history and acknowledges the contribution of a variety of publishers to Joyce's poetry. Since submitting the bibliography for publication several more references have emerged, and more will follow as Joyce continues to write and publish poetry.' (See Jacket 2 - online; accessed 21.01.2105.)

John Goodby, '"Repeat the Changes Change the Repeats": Alternative Irish Poetry', in Oxford Handbook of Modern Irish Poetry (ed. Brearton & Gillis, 2012), p.618:
[...]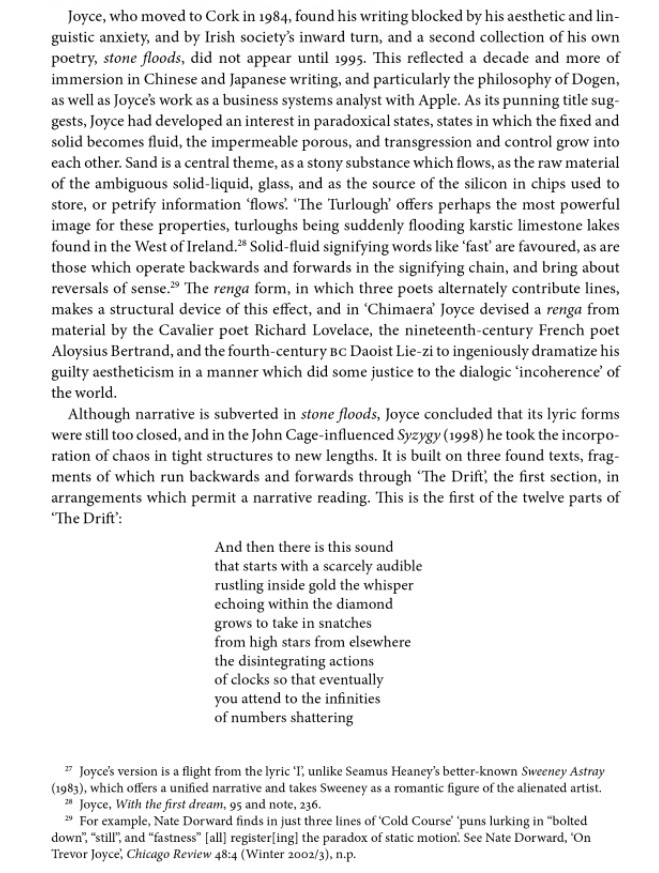 [...]
John Goodby, '"Repeat the Changes Change the Repeats": Alternative Irish Poetry', in Oxford Handbook of Modern Irish Poetry, ed. Fran Brearton & Alan Gillis (OUP 2012), pp.607-28, p.618 [available online; accessed 11.02.2021].
[ top ]
The Poems of Sweeney Peregrine (1976)

[...]

Madness shrieks beneath my feet
as I search for watercress.

Madness lurks among the reeds
leaping at me when I stoop
about a hill-pool.

Madness has a white and haggard face.


[...]

I thought the voice
of a lovely woman less melodious
than the dawn-cry
of the mountain grouse.

[...]

Though in your chapel you find melody
in the quiet speech of students,
I prefer the awesome chant
of Glen Bolcain's hounds.

—Extracts given in Mandy Smith, review of with the first dream of fire they hunt the cold, in
New Hope international Review [Dec. 2007] - available online; accessed 23.01.2015.
[ top ]
"Cold Course": 'The jaded sun lies low in his halt galaxy / set hard like honey in the stiff comb [...] The August heat, geometry of dance, full of wilt / and fall: all yet survive in the slow sugars [...] the sovereign they bolted down still circulates / through this enchanted fastness of sudden stone.' (The Irish Times, [11] Dec. 1995.)
"The Peacock's Tale"
(For Fanny Howe)

The costume of the people is so wretched, that, to a one who has not practiced such visitations, it is almost inconceivable. Shoes or stockings are seldom to be seen on children and often not on grown persons, so yet they stand shod only in the plush of their red bogs, making unsteady verticals.

The rags in which both men and women are clothed are so worn and complicated, that it is hardly possible to imagine to what article of dress they have originally belonged. Duds, threads, fatigues and once-fancy hand-me-downs step out in parallel, all swaddled in knots, bedizened in glad rags; wardrobes run down past the least coherence.

It has been observed that these sheer beasts never dismantle themselves of their clothes when they go to bed; but the fact is, that not only are they in general destitute of blankets, but, if they once took off their clothes, it would be difficult to put them on again. Is not this a terrible way to be naked: wanting spread or comforter, however mute; to lie in envy of the gravel under grass?

Thus, their habit is worn day and night till it literally falls to pieces; and even when first put on, it is usually cast-off fragments; for there is not one subject out of ten who ever gets a coat bespoke, but chaff away instead their little means at hazard, where at last, exposed by numbers and for lack of other stuff, they pawn the nails of their fingers and toes, with shirred and smooth and shaggy, even to their kelder and dimissaries. That's the way they walk in view: tender and fractious, unsheltered and exposed, while yet not wholly detached, as the moth waits famished and the needle rusts.

God!
Just think
of all those pianos
standing
with their white
tusks

splayed
in anticipation of toccatas.
So toe
that foxtrot,
glide
your finery,

and be glad to be in the first
frush
and you'll get by.
Chaffer away
as the spitfire
blooms

run
above you.
Untache yourself, would you,
and get up
on that stone
like a bloody peacock!

Get yourself into
the swim.
Sure, any animal
is "disfigured"
when disrobed of its
hide,

"and cold too",
as the motley
sow
remarked to her farrow.
Unbrace yourself there
in front of


the warmth.
Let that uniform
out a loop
and join us in the next
tranche
laundered.

The bunny hugs
its burrow
as the addict
does his coupon.
You can never have too much
exposure.

But I cannot lie!
Bleach
leached once
even into my livery,
quite stemmed
that old cashflow.

I'd a damned sight sooner
break
into a pavan
than go higgling
with those demons.
Let the cast of them

go splat
and which of you would raise
a finger
to get out?
Climb past these
unmentionables let you.

The human
is a thing
who
walks
around
disintegrating.

Note: Available at Masthead, Australia [online]) - where it Joyce appears with Michael Ayres, Mairéad Byrne, and others. See also Poetry International [online].
[ top ]
References
Robert Hogan, ed., Dictionary of Irish Literature (Dublin: Gill & Macmillan 1979): Hogan berates him and characteristically includes him for the satisfaction of so-doing; cites Pentahedron (1977).
Brian Cleeve & Anne Brady, A Dictionary of Irish Writers (Dublin: Lilliput 1985), lists The Poems of Sweeney the Peregrine, deriv. Buile Suibhne (1976).
[ top ]
---