Life
1954- [var Éilís; Eilis Almqvist; anglic. Elizabeth O'Hara]; b. 22 Feb., in Walkinstown, Co. Dublin; raised in Ranelagh; dg. of an English-speaking Dublin-born mother and a father who was a carpenter from the Donegal Gaeltacht; ed. Scoil Chatríona; grad. UCD 1974 (Solo English; Winner of English Prize, 1971); began to study folklore and medieval history under Bo Almquist, a Swedish holder of the Folklore Chair, 1978; received scholarship to University of Copenhagen, Denmark, 1978-79; grad. UCD, M Phil., 1976; and Ph.D. in Folklore and Medieval Literature (1982); appt. Folklore Collector at UCD Library, 1978-80; appt. Assistant Keeper at National Library of Ireland, 1980-95; appt. Folklore Lecturer, People"s College [Dun Laoghaire,] 1986-92; m. Almqvist in a registry office, Uppsala, 1982; settled at Shankill, Co. Dublin, with a holiday home in Dunquin (Dingle), Co. Kerry; children Ragnar and Olaf (1st Communion, 1992);
her first-published story, "The Green Fuse", appeared in 'New Irish Writing', ed. David Marcus (Irish Press 1974); shortlisted for Hennessy Award; won scholarship to Listowel Writers' Week, 1980; winner of Irish Independent Story of the Month Award, 1980; her short story "Fulfilment" was incl. in Heinemann Best Short Stories (1986); winner of Listowel Poetry Prize, 1985; received Arts Council Bursary in Literature, 1986 [var. 1987]; issued Blood and Water (1988), stories; a play, Dún na mBan Trí Thine ['The Woman's Fort of Fire'] (Peacock [Abbey] 1994); winner of Bisto Merit Award for children' books, 1994 and Bisto Book of the Year, 1995; winner of Readers' Association of Ireland Overall Winner award, 1995; also the Stewart Parker Drama Award and an Oireachtas award; issued The Inland Ice (1997), nine stories, mostly suburban; guest writer at the ABEI's XI Symposium on Irish Studies (Brazil), 2016;
addressed WERRC Conference in Dublin on the theme, 'Where has the Feminist Sentence Gone?' (May 1999); issued The Dancers Dancing (1999), a novel set in a Donegal 'Irish College' in 1972, and nominated for Orange Prize, 2000; issued The Pale Gold of Alaska (2000), nine stories, nine stories, mostly suburban and set in Dublin, of which the title-story is based on a hint in The Road to Klondike by Micí Mac Gabhann and is set among Northern Irish emigrants to America; also plays, books for children, scholarly articles and reviews; issued Dúnmharú sa Dainghean (2000), a learner's novel dealing with the escape of Saoirse after the loss of her job, boyfriend and flat to the Kerry Gaeltacht, where she becomes involved with a murder case; holder of Arts Council Bursaries in Literature in 1986 and 1998;
winner of Bisto Book of the Year Award, 1995; winner of Stewart Parker Drama Award, 1997, and Oireachtas Awards, 1998 and 2000; issued The Dancers Dancing (2007), novel; winner of Butler Award for Prose, 2000; issued Midwife to the Fairies and Other Stories (2003), new and selected; elected to Aosdána, May 2003 [var. 2004]; Writer Fellow, TCD, 2004-05; issued Fox, Swallow, Scarecrow (2007), a satirical retelling of Anna Karenina - or an intertextual romp? - set in now-a-days Dublin, telling the story of a writer of children's fiction, Anna Kelly Sweeney; issued Dún an Airgid (2008), a light-hearted detective novel; subject of critical collection ed. by Rebecca Pelan celebrating her multi-layered fusion of folkloric and modern aspects of culture and experience both in English and Irish (Éilis Ní Dhuibhne: Perspectives, 2009);
working on her latest novel at Djerassi Resident Artists' Program at Santa Cruz, California, Summer 2010; issued Dordán (2011), a novel of teenage concerning brother and sister Craobh and Natasha preparing for exams; teaches creative writing at UCD as Writer Fellow; contrib. "City of Literature" to the Legends of the Fall short-story series in The Irish Times (Weekend, 24 Aug. 2013); suffered the death of her husband from sepsis after a short illness; contrib. to Irish writers' comments on election of Donald Trump (Irish Times, 10 Nov. 2016); contribs. to Just Festival - Fringe, 2020; teaches MA for Creative Writing at UCD. ATT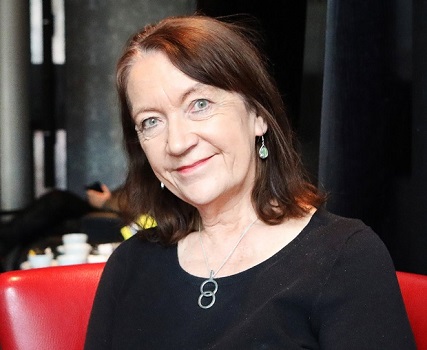 Belfast Telegraph (13 Dec. 2018)
[ top ]
Works
Short fiction
Blood and Water & Other Stories (Dublin: Attic Press 1988);
Eating Women is not Recommended (Dublin: Attic 1992; rep. 1994);
The Inland Ice & Other Stories (Belfast: Blackstaff Press 1997; Review 2001), 262pp. [infra];
The Pale Gold of Alaska (Belfast: Blackstaff Press 2000), 240pp.;
Midwife to the Fairies: New and Selected Stories, preface by Anne Fogarty (Attic Press 2003), 180pp.;
The Shelter of Neighbours (Belfast: Blackstaff Press 2012), 288pp. [14 stories]
The Little Red and Other Stories (Belfast: Blackstaff Press 2020), 192pp.
Selected short stories
Selected Stories of

Éilís Ní Dhuibhne

(

Dalkey Archive Press

2017),

229pp.
Novels
The Bray House (Dublin: Attic Press 1990); Hugo and the Sunshine Girl (Dublin: Poolbeg 1991), for children;
The Dancers Dancing (Belfast: Blackstaff Press / Review Press 2000), and Do. [reiss.], with a preface by Declan Kiberd (Belfast Blackstaff 2007), 256pp.;
Cailíní Beag Ghleann na mBláth (BAC: Cois Life 2003), 186pp.;
Hurlamaboc (BAC: Cois Life Teor. 2006), 158pp.;
Fox, Swallow, Scarecrow (Belfast: Blackstaff 2007), 384pp.;
Dún an Airgid (BAC: Cois Life 2008), 272pp.
Dordán (BAC: Cois Life 2011), 102pp. [Gl. for 'buzz' - as in sound of Finn's horn]
Snobs, Dogs and Scobies (Dublin: Little Island Press 2011), [for children; self-trans. of Hurlamaboc]
Fox, Swallow, Scarecrow: A Dublin Novel (Belfast: Blackstaff Press 2012), 335pp.
Children's Fiction (as Elizabeth O'Hara)
The Uncommon Cormorant (Swords: Poolbeg Press 1990), ill. by Carol Betera.
Hugo and the Sunshine Girl (Swords: Poolbeg Press 1991).
The Hiring Fair (Swords: Poolbeg Press 1993).
Blaeberry Sunday (Swords: Poolbeg Press 1994).
Singles (Dublin: Basement Press 1994).
Penny-Farthing Sally. ((Swords: Poolbeg Press 1996).
Drama,
Milseog an tSamhraidh agus Dún na mBan Trí Thine (BAC: Cois Life 1998), 140pp.;
Dúnmharú sa Dainghean (Cois Life [2000]), 236pp.
Miscellaneous
ed., with Séamas Ó Catháin, Viking Ale: Festscrift for Professor Bo Almqvist (Boethius Press 1991);
ed., Voices on the Wind, Women Poets of the Celtic Twilight (Dublin: New Island Books 1995), 144pp. [poems of Katharine Tynan; Eva Gore-Booth; Susan Mitchell; Nora Chesson Hopper; Ethna Carbery; Dora Sigerson Shorter].
Perspectives (Dublin: Arlen Press; distrib. Syracuse Press 2010) [pamph.].
With Anne Fogarty & Eibhear Walshe, eds., Imagination in the Classroom: Teaching and Learning Creative Writing in Ireland (Dublin: Four Courts Press [2013]), 150pp.
ed., Look! It's a Woman Writer: Irish Literary Feminisms, foreword by Martina Devlin afterword by Alan Hayes [publisher] (Dublin: Arlen House 2021) [essays - see details].
Twelve Thousand Days: A Memory of Love and Loss (Belfast: Blackstaff Press 2018), 288pp. [on life with Bo Almqvuist]
Contributions (sel.)
"Midwife to the Fairies" and "Blood and Water" in Blackstaff Book of Short Stories (1988);
'It is a Miracle', in Caroline Walsh, ed., Arrows in Flight: Stories from a New Ireland (Dublin: TownHouse; UK & US: Scribner 2002), pp.73-106;
'Who needs Irish? Reflections on the importance of the Irish language Today' [Essay to Ciaran Mac Murchaidh] (Veritas 2003);
[...]
'Borderlands, Dead Bog and Living Landscapes', in Irish Children's Literature and Culture: New Perspective on Contemporary Writing, ed. Valerie Coghlan & Keith O'Sullivan (London: Routledge 2011), pp.29-40.
See also contrib. to Caitriona Moloney & Helen Thompson, eds., Irish Women Writers Speak Out: Voices from the Field, with a foreword by Ann Owen Weekes (Syracuse UP 2003) [q.pp.] Also Num. reviews in The Irish Times incl. review of Alice Munro, Runaway (29 Jan. 2005), Weekend, p.13; 'Far from clean', review of Maggie Gee, My Cleaner, in The Irish Times, Weekend (3 Sept. 2005) [see extract], and notice of Yiyun Li, A Thousand Years of Good Prayers (14 Jan. 2006), Weekend, p.11.
[ top ]
Bibliographical details
The Inland Ice and Other Stories (Belfast: Blackstaff 1997), 262pp. ['Gweedore Girl'; 'Love, Hate and Friendship'; 'Bills New Wife'; 'Lily Marlene'; 'Hot Earth'; 'Estonia'; 'Summer Pudding'; 'Greenland;'; 'How Lovely the Slopes Are'; 'Swiss Cheese'; 'My Pet'; 'The Woman with the Fish'; 'the Search for the Lost Husband'.]

Look! It's a Woman Writer: Irish Literary Feminisms, ed. Éilis Ní Dhuibhne, foreword by Martina Devlin afterword by Alan Hayes [publisher] (Dublin: Arlen House 2021), contains essays Martina Devlin, Eilís Ní Dhuibhne, Cherry Smyth, Lia Mills, Moya Cannon, Áine Ní Ghlinn, Catherine Dunne, Mary Ó'Donnell, Mary O'Malley, Ruth Carr, Evelyn Conlon, Anne Devlin, Ivy Bannister, Medbh McGuckian, Mary Dorcey, Celia De Fréine, Máirí Woods, Liz McManus, Mary Rose Callaghan, and Phyl Herbert.]
[ top ]
Criticism
Monographs
Rebecca Pelan, ed., Éilis Ní Dhuibhne: Perspectives (Galway: Arlen House 2009), 352pp. [essays by Christine St. Peter, Giovanna Tallone, Anne Fogarty, Caitriona Moloney, Sarah O'Connor, Mary Shine Thompson, Anne Markey, Brian Ó Conchubhair, Pádraig Ó Siadhail, Jacqueline Fulmer, Helena Wulff, and Anne O'Connor; also contains a new story by Ni Dhuibhne - "The Man Who Had No Story".]
Articles & Chapters
Anthony Roche, 'Liminal Spaces in Éilis Ní Dhuibhne's Dun na mBan Tí Thine [The Fort of the Fairy Women is on Fire]', in Women in Irish Drama: A Century of Authorship and Representation, ed. Melissa Sihra (Basingstoke: Palgrave Macmillan 2007) [q.pp.]
[Shirley Kelly,] 'On translating oneself' [interview article], in Books Ireland (Nov. 2011), p.207 [on Snobs, Dogs and Scobies, being a trans. of Hurlamaboc].
Susan Cahill, 'Submerged Histories: Eilis Ní Dhuibhne's The Bray House and The Dancers Dancing' & 'Celtic Tiger Bodies: Eilis Ni Dhuibhne's Fox, Swallow, Scarecrow and Anne Enright's The Gathering', in Cahill, Irish Literature in the Celtic Tiger Years 1990 to 2008: Gender, Bodies, Memory [Continuum Literary Studies] (London: T & T Clark 2013) [Chap. 1 & 5].
Elke d'Hoker, 'Double Visions: The Metafictional Stories of Éilís Ní Dhuibhne, Anne Enright and Emma Donoghue', in Irish Women Writers and the Modern Short Story (London: Palgrave 2016) [chap. 7], pp.177-210.
Interviews
Interview by Caitríona Moloney, in Irish Women Writers Speak Out: Voices from the Field, by Moloney & Helen Thompson (Syracuse UP 2003), pp.101-15;
[unsigned feature interview on Twelve Thousand Days, in Belfast Telegraph [23 Dec. 2018]) - available online; accessed 27.Dec. 2022.
See also
Declan Kiberd, foreword to new edition of The Dancers Dancing [2000] (Belfast: Blackstaff Press 2007) [q.pp.];
Jacqueline Fulmer, Women Folk and Indirection in Morrison, Ní Dhuibhne, Hurston and Lavin (Ashgate Press 2008), 213pp;
Heather Ingman, A History of the Irish Short Story (Cambridge UP 2009).
Commentary
Katie Donovan, review of Voices on the Wind: Women Poets of the Celtic Twilight (New Island Books 1995), in The Irish Times ([10 Sept. 1995]), expressing reservations about the best-known poems that often are excluded.
Des Traynor, reviewing The Dancers Dancing (1999), in Books Ireland (Oct. 1999), praises the author for social observation and sardonic writing on the power structures that underwrite them; recounts the plot, in which Orla, aged thirteen, is exposed to snobbish comparison with the other girls since her father is a bricklayer; speaks of the author's background in writing for children (p.276). See also a highly appreciative earlier review of The Inland Ice and Other Stories (1997) in which Traynor comments on Ní Dhuibhne's healthy criticism and mistrust of male feminists.
Gerry Smyth, The Novel and the Nation: Studies in the New Irish Fiction (London: Pluto Press 1997) [on The Bray House ], pp.166-68: '[...] The Bray House is a typical dystopian narrative in that although set in the future it is clearly aimed at the present. [...] At The Bray House cannot avoid the problems besetting all thesis novels, although it attempts to compensate by making characters and situations as complex as possible. It demands that modern Ireland re-examine its relations with the land, and that such a re-examination should engage both with older nationalist discourses as well as with Ireland's implication in the contemporary ecological crisis. Crucially, it encourages the individual to recognise and address her/his implication in the trends which feed the deteriorating situation.' (p.168.)

Anne Fogarty, review of Eilís Ní Dhuibhne, The Pale Gold of Alaska and Other Stories (Blackstaff), in The Irish Times (30 Sept. 2000), with photo-port. Fogarty compares her work with that of Richard Ford and Alice Munro: 'She endows her narratives with a capacciousness that allows them to delve beneath the surfaces of things and to sound the profundities of her protrasgonists' emotions. Rather than rushing towards a predictable ending, these are indeed stories that take their time and surprise the reader with their unexpected tangents and detours. / The emphasis throughout is on the intricacies of female desire and the division between outer appearances and the lived confusion of sexual relationships. [...] Moral and emotional dilemmas abound.' Cites "The Pale Gold of Alaskal", "At Sally Gap", and "The Banana Boat".'
Pól Ó Muirí, 'The noise of the new generation', review of Hurlamaboc, in The Irish Times (14 July 2007), Weekend; 'Éilís Ní Dhuibhne is one of a very small group of authors who write creatively in both Irish and English. Many Irish-language poets and novelists rely on translators to put English on them. / They remain Irish-language writers with all that that entails but gain a second home audience. Ní Dhuibhne, however, challenges the old saying: "Ní féidir leat freastal ar an dá thrá / You can't serve two masters" by doing just that. Her work in English, such as The Dancers Dancing, which was shortlisted for the Orange Prize, caters for one audience, while her work in Irish, an entirely independent and imaginative opus, caters for another. / Her latest novel in Irish, Hurlamaboc, is for young adult readers and will add further to her reputation among those who prefer the first official language as their literary medium. The title can be translated as "commotion, uproar; noise of chase" and deals with three Dublin teenagers as they sit their Leaving Cert and prepare to face adulthood and all its responsibilities. The voices of the three teenagers - Ruán, Emma and Colm - all sound true to this reader's ear. That is no mean achievement given that youth culture can be shallow and the danger for an adult writer lies in injuring themselves when diving in. Yet, while the culture in which these teenagers move may be shallow, they themselves are not. They are reflective beings. They appreciate that they will soon have choices to make and that those choices will affect them in the years to come. The bitchiness, petty-mindedness and class distinctions of teenage life are there, but then these young adults are often simply aping the behaviour of their parents. They did not lick it off the stones, as the saying has it. / Readers of a certain age may well remember the novels of Séamus Ó Grianna and his depiction of poverty and the mores of Donegal at the beginning of the last century. Ní Dhuibhne has replaced the peasants of rural Donegal with the patricians of urban Dublin. Her language lacks the rich idiom of Ó Grianna but she writes clearly, authentically and has a sharp eye for the small moments of doubt and fear which beset us all. She has, in her own quiet way, brought the novel in Irish into the 21st century.'
Alan O'Riordan, review of Fox, Swallow, Scarecrow, in Books Ireland (Feb. 2008): '[...] She holds a magnifying glass to the urban landscape, or rather her sedulous and placename-filled prose does. Yes: the Dublin here is recognisable, but its representation has many lapses. Written from within the writerly milieu, Fox, Swallow, Scarecrow is aimed at the same audience. There is a strong sense of a writer who wants knowing recognition as a key reaction. But sadly, those in the know will be alarmed by the lapses in accuracy. [Lists such errors.] in a book modelled on Anna Karenina, the symbolic use of Luas rather than the locomotive is nicely bathetic and genuinely funny. But does the Dublin reader have to tolerate the thing going UP into Harcourt Street? Is this nitpicking? We think not. For, when a real place is underthe microscope, these things appear rather large that's the trouble with the precision instrument as used by this writer. Fortunately, Ni Dhuibhne gets it right much of the time, for instance when noticing a "house built in that sad period between a fireplace in every room and en suites in every room". At the centre of the book lies Anna Kelly Sweeney, a writer through which we experience a gratifying look at writerly Dublin. She, married to a boring property developer, embarks on an affair with a journalist. Meanwhile, publisher Leo fails for PR girl Kate. They are, of course the Levin and Kitty of the book, but their story feels like a pattern adopted from Tolstoy rather than a plot line successfully interwoven with Anna's own. All characters, though, are well-drawn: vacuous Anna, superficial Kate and earnest Leo. Such types show Ni Dhuibhne's talent and make Fox, Swallow, Scarecrow, despite its flaws, highly readable. Like a stream, the book is shallow and fast. Its Dublin is recognisable, despite the inaccuracies.' (p.13.)
[ top ]

Quotations
The Irish speaker: 'When he spoke his rare dialect he was a woodkern out of an engraving by Derricke; his navy overall might as well have been a shaggy Irish cloas, distinguishing him dramatically from mild-mannered civil servants. children of the revival, with their shabby tweed jackets, gold gold fáinnes and steely bicycle clips.' Further: '[... b]eing a bilingual in those days taught one to be ambivalent, to prevaricate, to negiotate at least two main cultures and several sub-cultures.' (Quoted by Lucille Redmond, reviewing Ciarán Mac Murchaidh, Who Needs Irish?, in Books Ireland, Oct. 2004, p.227.)

Prize time —

When Jonathan Tel won the 2016 Sunday Times Short Story Prize, Dhuibhne wrote on Facebook:
'I thought it was a brilliant story, but a sort of journalist-y story at heart? And I think last year's winner was like that too. Absolutely fine, and especially perfect in a newspaper. But so different from the Irish short story ... about little things beautifully observed - that it's almost like another genre. I think a deserving winner, but you wonder if more traditional Irish writers, say, have any chance at all in this sort of competition. Of course, no reason not to have a go at a "big" theme. Goodness knows there's plenty of them all around us!' (Facebook, 28.05.16 - Eilis Ni Dhuibhne.)
—See report on the award - Guardian (25 April 2016) - online.
[ top ]
Notes
Dún na mBan Trí Thine ['The Woman's Fort of Fire'], a play, was produced by An Amharclann de hIde (Peacock, 5-9 Nov. 1994); in it Lenni, former Rose of Tralee, passes from modern housewife to mermaid to the mother of a changling; her rebellion includes refusing to embroider the towers and shamrocks her teacher insists on.
"The Pale Gold of Alaska", title-story of the 2000 collection, concerns an Irish immigrant married to a taciturn and brutal Irishman from rural Co. Derry and who willingly consorts with an Amero-Indian displaced by the silver-miners, and is 'rescued' by her own kind (all based on a hint in The Road to Klondike by Micí Mac Gabhann). Other stories include that of an Irish graduate girl who is briefly married to an American whose attachment to her weakens when they settled in his homeland.
'Don't Worry, Be Abbey', a discussion of National Theatre at the Abbey (Dublin) on its 90th birthday (Dec. 1994) incls. a contribution by Ní Dhuibhne advocating female playwrights and citing her own Dún na mBan Trí Thine, under auspices of Amharclann de hIde printed in Fortnight 336 (Feb. 1995), p.35 [see notice in Fortnight 333].
Dun an Airgid (2008): Utoipe nua-aoiseach is ea Dun an Airgid - go dti go dteann an leabharlannai Laoise Ni Bhroin ar iarraidh... / An Irish-language novel about the utopian housing development Dun an Airgid which seems perfect - until librarian Laoise Ni Bhroin disappears. [Google Play.]
Dordan (2011): As Natasha and friends prepare for their Leaving Cert, she finds herself facing even bigger challenges at home when her mother smashes the kitchenware and her father takes off in the middle of the night. Her brother, Craobh, has issues of his own. This latest fast-moving novel in Irish from Eilis Ni Dhuibhne which examines love and sadness, friendship and hostility and explores the many burdens of modern teenage life. [Publisher's notice.]
The Dancers Dancing (2011): 'Four girls sit on rocks in the middle of the stream: a dark plump girl; a girl whose hair burgeons from her head in a mane of light; another with long white legs and short black shorts, clipped jet hair; a willowy branch of a girl, blonde. The sun shines though green leaves, glancing off chestnut water and all the hair ...' [Publisher's notice.]
Fox, Swallow, Scarecrow (2012): Anna Kelly Sweeney is a writer of popular fiction intent on worldly success. Leo is an idealist who lives in rural County Kerry and devotes himself to poetry, culture and innumerable worthy causes. When Anna falls in love with the handsome and enigmatic Vincy, and Leo with the troubled publicist Kate, the consequences of their glimpsed happiness reverberate beyond their own insulated world. [Publisher's notice.]
The Litte Red and Other Stories (2020): [...] lives of characters struggling to find equilibrium. Visited by change and crisis, they are forced to confront the stories that define their sense of themselves and their place in the world. Beautifully written and sharply observed, this dazzling and daring collection is a deft exploration of the complexities of human desire – its darkness, its incoherence, its potential to help us tell a new story. [Publisher's notice.]
[ top ]
---