Life
1822-57; b. Lisburn [err. Dublin], 11 Dec. [err. 1821]; son of Dr. Alexander Jaffray Nicholson [d. 1831] and Clara Hogg, sis. of Sir James Weir Hogg - an East India Company lawyer, sometime Reg. of Calcutta Supreme Court, & MP; ed. Delgany, Co. Wicklow; latterly at Royal School Dungannon [Portora], funded by his uncle; gained cadetship in Bengal Infantry, 1839; served in 1st Afghanistan War, 1839-42, first with the 41st Native Infantry (Benares), and later with the 27th Native Infantry at Ferozepore; captured at Ghazni when Col. Palmer surrendered to the Afghanis and held there with 10 other officers in foul conditions, March-Aug. 1842; removed to Kabul, 24 Aug.; rescued from Kabul with other 'hostages' by Sir George Pollock [var. escaped by bribing the gate-keeper], Sept. 1842; returned to India with retiring British forces, Oct. 1842;
stationed at Peshawar and later at Moradabad; accompanied Maharajah Gulab Singh to Kashmir, 1846; promoted to captain, 1848; passed the Indian civil service examation in Urdu; joined the newly-formed Delhi Field Force in the shadow of the Sikh War; served with distinction in the 1st Sikh War; served among group of young officers under Sir Henry Montgomery Lawrence (d. Lucknow, 1857) - enjoying extensive civil powers; appt. district commissioner at Bannu, 1852-54; regarded as a demi-god by natives - the fakirs of Hazara establishing the worship of Nikkil Seyn, 1848 - and hence memorialised by the old Risaldar-Major who sings 'song of Nikal Seyn before Delhi' in Kipling's Kim; appt. brigadier-gen. on outbreak of mutiny, 1857; disarmed sepoy regts; destroyed mutineers at Trimmu Ghant and the Ravi river;
marched to Delhi with a seige train [of guns]; captured 14 guns from mutineers manoeuvring to get at British rear, Najafgarh 25 Aug. 1857; on his arrival, Nicholson insisted on attacking the city and sought the demotion of the acting commander, Major General Archdale Wilson; relied on a Engineer offier Richard Baird Smith for assault-plan involving staged bombardment of sepoy positions and the destruction of bastions and walls of Delhi, 6 Sept.; commanded the 75th Foot, the 1st Bengal Fusiliers (mainly Irish), and the 2nd Punjab Infantry ("Greene's Rangers"); led the main storming party in assault on the Kashmiri Gate, 14 Sept.; suffered a chest-wound through the back from rooftop fire during a third charge within the city; carried to a nearby bungalow, mortally wounded; threatened to shoot the hesitant commander (Wilson) from his deathbed;
died after 9 days, 23 Sept. 1857 [aetat. 34] - and 1 day after the fall of the city; buried in a marble tomb made from a seat in the Moghul [Mughal] Gardens in what is now the Nicholson Cemetery (Delhi); known as "the hero of Delhi"; obelisk was raised in his memory in the Margalla Hills, 1868; there ia also a statue of Nicholson in Lisburn town centre; subject of a commemorative poem by Sir Henry Newbolt; his biography was written by Lionel James Trotter (1897); the statue with a naked sword from Delhi was removed to the Portora after Indian Independence; he appears in the Flashman novels of George MacDonald Fraser; he founded four Lawrence Military Asylums [e.g., Doolally]. ODNB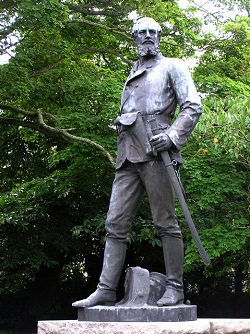 Brigadier-Gen. John Nicholson
Wikipedia.
[...] He was feared for his foul temper and authoritarian manner, but also gained the respect of the Afghan and North Punjabi tribes in the area for his fairhandedness and sense of honour. He inspired the Nikal Seyn, or Nikal Seyni cult, which had a short and popular hey-day but survived in surprising forms and ways in some remoter parts of North-West Pakistan, well into the 1980s. Nicholson was best known for his role in the Indian Mutiny of 1857, planning and leading the Storming of Delhi. Famously dismissive of the incompetence of his superiors, he said, upon hearing on his deathbedof Colonel (later General Sir) Archdale Wilson's hesitancy [at Delhi], 'Thank God I have yet the strength to shoot him, if necessary'.
One famous story recounted by Charles Allen in Soldier Sahibs (2002) is of a night during the Mutiny when Nicholson strode into the British mess tent at Jullunder, coughed to attract the attention of the officers, then said, "I am sorry, gentlemen, to have kept you waiting for your dinner, but I have been hanging your cooks." He had been told that the regimental chefs had poisoned the soup with aconite. When they refused to taste it for him, he force fed it to a monkey - and when it expired on the spot, he proceeded to hang the cooks from a nearby tree without a trial.
Nicholson also called for the Indian Mutiny to be punished with greater severity. He proposed an Act endorsing a "new kind of death for the murderers and dishonourers of our women", suggesting, "flaying alive, impalement or burning", and commenting further, "I would inflict the most excruciating tortures I could think of on them with a perfectly easy conscience." Nicholson never married, the most significant people in his life being his fellow Punjab administrators Sir Henry Lawrence and Herbert Edwardes.
At Bannu, Nicholson used to ride one hundred and twenty miles every weekend to spend a few hours with Edwardes, and lived in his beloved friend's house for some time when Edwardes' wife Emma was in England. At his deathbed he dictated a message to Edwardes saying, "Tell him that, if at this moment a good fairy were to grant me a wish, my wish would be to have him here next to my mother." The love between him and Edwardes made them, as Edwardes' wife latter described it "more than brothers in the tenderness of their whole lives".
[See
online
; accessed 06.01.2106.]
See also ...
"Badass of the Week" by Ben Thompson [n.d.] - website.
"The Siege of Delhi" in Wikipedia - online.
---