Life
1935- [Desmond James Bernard O'Grady;] b. Aug. 1935, Limerick; Irish speaker ('my second language'), passing childhood in West Clare and Co. Kerry Gaeltacht; ed. Jesuits and Cistercians at Roscrea, Co. Tipperary - with Tom Kilroy, Gus Martin and Tom Mac Intyre as contemporaries and friends; also Jack Donovan (artist) and Richard Harris (the actor); moved to Paris, 1955, teaching in a Berlitz school and working for George Whitman at Shakespeare & Co. while living in a Latin Quarter attic at Rue Mouffetard; issued Chords and Orchestrations (1956), a pamphlet collection published in Limerick; visited Samuel Beckett at Rue des Favorites following an introduction effected by Richard Ellmann, then interviewing his teaching-colleague Fred Gallagher (purportedly the character in Joyce's Dubliners, &c.); moved to Rome as Asst. Head of English School, 1957-62; also knew Brancusi and played the part of the Irish poet in Fellini's La Dolce Vita (1960) - whom he 'discovered' and introduced to Roman society; he interviewed Denis Devlin, then ambassador to Italy; issued Reilly (1961), long poem; commenced doct. in Celtic Studies at Harvard, 1962 (var. MA) - later published as Gododdin (1977), with ills. by Louis le Brocquy;
taught in Egypt - an Iran, by his own account; friend and secretary to Ezra Pound in Italy; founding-member of the European Community of Writers; organiser of 1966 Spoleta Poetry Festival; European editor of The Transatlantic Review - viz., European counterpart of the American magazine of the 1920s, which he conduted with Joe McCrindle; issued The Road Taken: Poems 1956-1996 (1997), and The Wandering Celt (1984); also twelve collections of translated poetry incl. Kurdish Poems of Love and Liberty (2005); other translations from Irish, Arabic and Croatian; member of Ireland's Aosdána; received Patrick and Katherine Kavanagh Fellowship, 2004; attended Beckett Centenary Conference in Dublin that year, 2004; experienced near-death experience under surgery, being found still living when already in the morgue area ('I didn't have time to die'); d. Aug. 2014 [aetat. 78]; he has already placed his engraved stone in his local church ('Live full lives / leave some record'); there is a documentary-interview by Keith Walsh & Adam Wyeth (2014). DIW DIL FDA OCIL
"A Life in a Day of Desmond O'Grady: The Wandering Celt" (2014):
A Documentary by Keith Walsh & Adam Wyeth
[View in larger format at YouTube -
online
;
accessed 30.05.2017.]
See also
O'Grady's appearance as the Irish poet in Fellini's
La Dolce Vita
(1960) -
infra
.
[ top ]
Works
Collections
Chords and Orchestrations: Poems (Limerick: [The Echo Press] 1956), [2], 31, [3]pp.; [McKerns Printing Works; copy in TCD assoc. with W. J. McCormack]
New Work by 5 Poets - Presented ... in a public reading at the American Academy in Rome, April 11th, 1959 (Frasenti [1959]), 71pp., 8° [George Garrett, Patrick Creagh, Sean Ó Riadáin [given as Criadain], Robert Bagg].
Poems [...] read in the Roman theatre at Tusculum on Friday June 24th 1960 ([Rome]: Poetry-Rome [1960]), 47pp., 22cm. [with Patrick Creagh, Norman Porter];
Reilly (London: Phoenix Press 1961), 84pp. [edn. of 250; 1st 20 numbered & 20 signed];
Professor Kelleher and the Charles River (Cambridge, Mass.: Carthage 1964), 21x30cm [unpag.];
Separazione (Rome; Edizioni Europei 1965) [i.e., Separations, with Italian trans.];
A Long Way from Home: Stories (Canberra, Melbourne, &c. 1966), 166pp. [supported by Commwealth Lit. Fund]:
The Dark Edge of Europe (London: MacGibbon & Kee 1967), 85pp., 23cm.;
The Dying Gaul: A Poem (London: MacGibbon & Kee 1968), 50pp., 20cm.; Do. [trans. as] Il galata morente: e altre poesie, introduzione di Carla De Petris (Pescara: Tracce [1996]), 125pp., port. [Intro. in form of interview; bibl. refs. & Bibliog.].
Off Licence (Dublin: Dolmen; distrib. by Dufour, Chester Springs, PA 1968), 47pp., 23cm. [trans. from Irish, Italian and Armenian];
Hellas (Dublin: New Writers' Press 1971), 14pp., 26cm. [ltd. edn. of 500; Dorset Press];
Separations (Newbridge: Goldsmith Press 1973), 67pp., port., 24cm.;
Stations (Cairo: American UP 1976);
The Gododdin: A Version [from the Welsh of Aneirin], with ink paintings by Louis le Brocquy (Dolmen Press 1977), 79pp., 28cm. [ltd. edn. of 650; and Do., [verse-trans. styled PhD thesis, Harvard 1982] (Michigan: Univ. Microfilms Internat., 1983) [see details];
Sing Me Creation [Gallery Books, No. 36] (Dublin: Gallery Press 1977), 65pp., 22cm. ill. [?ink drawings by Louis le Brocquy];
A Limerick Rake: Versions from the Irish [Gallery Books, No. 40] (Dublin: Gallery Press 1978), 49pp.;
The Headgear of the Tribe: New and Selected Poems, ed. by Peter Fallon (Gallery Books 1979), 97pp., 22cm.;
His Skaldcrane's Nest (Dublin: Gallery Press 1979), 51pp.;
Grecian Glances: Versions from the Classical Anthology (Cambridge, Mass: Inkling 1981);
The Wandering Celt (Dublin: Gallery Press 1984), and Do. [rep.] (Dublin: Dedalus 2001), 160pp.;
My Fields in Springtime (Dublin: Gallery Press; Mass.: Deerfield [UP] 1984); and Do. [rev. edn.] as My Fields This Springtime (Belfast: Lapwing Poetry Pamphlets 1993), 14pp., and Do. [rev. edn.] (Belfast: Lapwing Press 2003), 20pp.
The Seven Arab Odes: An English Rendering with Brief Lives of the Seven Poets (London: Agenda Edns.; Dublin: Raven Arts Press 1990), 61pp. [50 copies numbered & signed];
Alexandria Notebook (Dublin: Raven Arts 1990), 32pp.;
Tipperary (Galway: Salmon 1991);
ed. & trans., Ten Modern Arab Poets: Selected Versions (Dublin: Dedalus 1992), 72pp.;
Alternative Manners (Galway: Salmon 1992) [after Cavafy];
Trawling Tradition: Translations 1954-1994 (Salzburg: Salzburg UP 1994);
The Road Taken: Poems 1956-1996 [Salzburg Studies in English Literature, Poetic Drama and Poetic Theory, No. 164] (Salzburg UP 1996), xxi, 487pp. [port. on back cover];
Trawling Tradition (Salzburg UP 1997), 606pp.;
The Golden Odes of Love: Al-Mu'allaqat: a verse rendering from the Arabic (American University in Cairo Press 1997), 48pp., 24cm.
Selected Poems of C. V. Cavafy (Dublin: Dedalus 1998), 48pp., 23cm.;
Battle of Kinsale (Kinsale: Anam Press 2002), 6pp., ill. [ltd. edn. of 300];
Croatia, My Love: Poems of Zlatko Tomicic, trans. by Desmond O'Grady (Belfast: Lapwing Press 2003), 16pp. [Centurion ltd. edn. of 200; prev. in Trawling Tradition: Translations 1954-1994, 1994);
Kurdish Poems of Love and Liberty: An English Verse Rendering with Brief Lives of the Poets 700 AD to 2000 AD (Mayfield: Agenda & Editions Charitable Trust 2005), 92pp., ill. [col. painting on col. cover];
intro. to Microphone On: Poetry from the White House Pub, Limerick, Ireland (Limerick: White House Press 2005), 211pp. [managing editor, Dominic Taylor; eds. Robin Parmar, Dominic Taylor, Bertha McCullagh; foreword Barney Sheehan];; 21 cm.
On My Way (Dublin: Dedalus Press 2006), [9], 98pp. [112pp.], port., 22cm.;
Also 'Beckett in Paris', in Poetry Ireland (Winter 1992/93), pp.126-32;
'Paddy Kavanagh in Rome, 1967', in Poetry Ireland Review (Spring 1992), pp.14-24, and cont. in the following issue;
Translations, Zlatko Tomicic, Croatia, My Love (Belfast: Lapwing 2003), 16pp. [ltd. edn. 100]; My Field This Springtime (Belfast: Lapwing 2003), 20pp.; also The Song of Songs (Anam Press 2003), 32pp. [commentary].
[ top ]
Criticism
Wolfgang Görtschacher & Andreas Schachermayr, eds., The Wide World. A Desmond O'Grady Casebook, with New Poems (2003) by Desmond O'Grady (June 2003), 222pp.;
Carlo de Petris interviews Desmond O'Grady in Incognito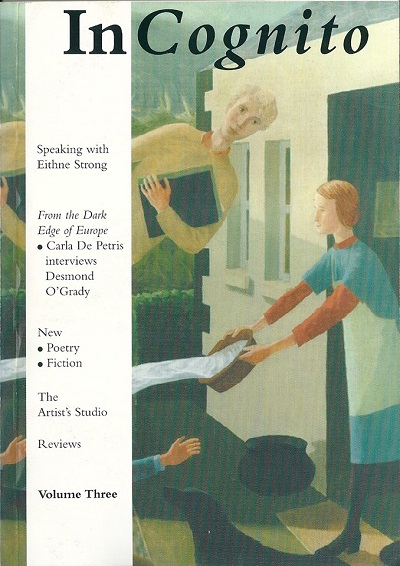 Cognito (Spring 1998), cover detail from
"My Father's House", by David Quinn.
[ top ]
Desmond Fennell, review of Tipperary (Salmon Publ. 1991): Tiobraid Arann means 'the fountain of enlightenment or perception'; O'Grady's is an 'Ithakian journey' into 'thereness' through 'passionless England', 'blue Paris', 'Roman Italy, to Egypt (translating Cavafy) , America, and back to Ireland. He sees his poetry 'pushing slow lines across the page', 'my poems record the past/or passing'; they give 'a record lived/A record left'.
Michael Smith, 'A full catch', Irish Times, 19.4.1997; review of The Road Taken (Univ. of Salzburg 1997), 487pp.; Trawling Tradition (Univ. of Salzburg 1997), 606pp.; cites 1935 as birthdate and Limerick a birthplace; 'toiled long and hard'; 'confirm his colourful presence and distinguished stature on the Irish poetry scene'; implies that he has returned to Ireland ('Now Back where I began to write / here on my lone Pretanic height …').

James J. McAuley, review of The Wandering Celt ([2001]), remarks that O'Grady 'has always written in unfashionably declamatory or didactic styles … a trifle adversial from time to time'; 'shameless name-dropping, fond memories of love-affairs and sad partings'; flat diction and solipsism intrude occasionally but the sheer energy and sweep … is irresistible'. (Irish Times, 4 Aug. 2001, Weekend.)
Sean Lysaght, Letter to Poetry Magazine of Poetry Foundation, Chicago (8 Jan. 2008): 'In Limerick, where I grew up, the link with Pound was partly circumstantial: our main local poet, Desmond O'Grady, had worked with Pound during the latter's last years in Italy and therefore acted as a kind of broker for Pound's presence. O'Grady regularly returned to Limerick from his home in the Mediterranean to read installments from his own Poundian projects. A picture of Pound still hangs in Limerick's principal literary haunt, a pub known as the White House.' (For full text version, see under Lysaght - supra.)
[ top ]
Quotations
Gododdin (1970), trans. by O'Grady - Introduction: 'As in the interweaving of early Celtic manuscripts or the early Celtic designs and stones, what happens at the corner is as important as what happens at the centre of the parchment or stone because there is no corner or centre other than the surface of the sheet or stone itself.' Supplied by Facebook by Adam Wyeth, citing his collected translations Trawling Tradition, adding: 'O'Grady also compares the Gododdin to a stone circle such as Stone Henge, with every stanza as a stone, so that you can enter at any end.' (Facebook, 20.05.2017.)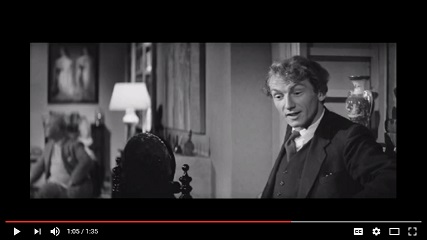 O'Grady appeared in La Dolce Vida by Fellini (1960)
[Available on YouTube -
online
; accessed 30.05.2017.]
[ top ]

"Purpose"
I looked at my days and say that
with the first affirmation of summer
I must leave all I knew: the house,
the familiarity of family,
companions and memories of childhood,
a future cut out loke a tailored suit,
a settled life among school friends.

I looked face to face at my future:
I saw voyages to different places,
say the daily scuffle for survival
in foreign towns with foreign tongues
and small rented rooms on companionless
nights with sometimes the solace
of a gentle anonymous arm on the pillow.

I looked at the faces about me
and say my days' end as a returned ship,
its witness singing in the rigging.

I saw my life and I walked out to it,
as a seaman walks out alone at night from
his house down to the port with his bundled
belongings, and sails into the dark.
Posted on Facebook by Neil Patrick Doherty [27.09.2018]
[ top ]
References
Peter Fallon & Seán Golden, eds., Soft Day, A Miscellany Of Contemporary Irish Writing (Notre Dame/Wolfhound 1980) gives Prologue; Village; Purpose; Man And Woman; If I Went Away. John Montague, ed., Faber Book of Irish Verse (1974) selects 'The Dying Gaul'.
[ top ]
Poetry Salzburg (Salzburg University)
'Desmond O'Grady was born in Limerick, Ireland, in 1935. He left during the 1950s to teach and write in Paris, Rome and America where he took his doctorate at Harvard while a Teaching Fellow there. He has also taught at the American University in Cairo and the University of Alexandria, Egypt. During the late 1950s to the mid-1970s, while teaching in Rome, he was a founder member of the European Community of Writers, European editor of The Transatlantic Review, and organised the Spoleto International Poetry Festival. Now he lives in Kinsale, Co. Cork. His publications number seventeen collections of poetry, including The Road Taken: Poems 1956 - 1996 and The Wandering Celt, ten collections of translated poetry, among them Trawling Tradition: Translations 1954 - 1994 and Selected Poems of C. P. Cafavy , and prose memoirs of his literary acquaintances and friends. He is a member of Ireland's Aosdána.'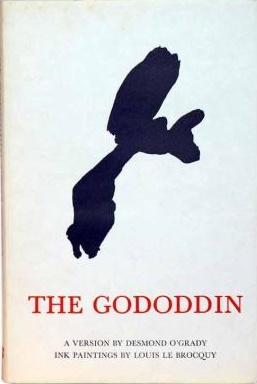 Aneirin, the sixth century Welsh poet, is reputed to have been one of a handful of survivors from the battle of Catraeth, which inspired his epic poem, The Gododdin. Aneirin's poem is a universal celebration of the undying theme of the ideal hero. O'Grady's belief that what Aneirin wrote of his war is true of all wars informs the purpose of his version, which is to give a `reading' of the poem as one way in which it might have been written today. With magnificent brush drawings by Louis Le Brocquy. (Book notice at Sequitur Books, Boonsboro, MD, USA - online; accessed 30.05.2017.)
[ top ]
Andrew Carpenter & Peter Fallon, eds., The Writers: A Sense of Place (Dublin: O'Brien Press 1980), selects Three poems, 'One of Them', after Cavafy; 'The People of Maikop Plain'; 'Waiting for the Barbarian', after Cavafy (pp.158-60).
Seamus Deane, gen. ed., The Field Day Anthology of Irish Writing (Derry: Field Day 1991), Vol. 2, p.728 [def. err.]; Vol. 3 selects from The Dark Edge of Europe, 'The Poet in Old Age Fishing at Evening; A Limerick Rake, Versions from the Irish, 'The County Mayo', 'The Lass from Ballynalee' [1359-61]; BIOG, p.1433, ed. UCD and Harvard, studied with Prof. John Kelleher; close friend of Ezra Pound [?]; taught in Rome and Cairo; lives in Paros [the Greek isle] and Kinsale.
[ top ]
Notes
'Beckett in Paris', in Poetry Ireland (Winter 1992/93), pp.126-32; records that, when teaching in Paris, an Irishman also working at the Berlitz known as Fred Gallaher turned out to be Ignatius Gallaher of Joyce's "Little Cloud", who had received a letter from Richard Ellmann seeking an introduction, leading in turn to O'Grady's meeting Beckett.
Mahon tribute: O'Grady is the dedicatee of 'The Sea in Winter', a pamphlet poem of Derek Mahon published in boards by Deerfield Press and Gallery Press, 1979, subscribed Portstewart-Portrush, Oct. 1977-Sep. 1978, and commencing, 'Desmond, what of the blue nights,/The ultramarines and violets/Of your white island in the south ...[?]'
Namesake: namesakes incl. Desmond O'Grady (1929- ), author of Faith beyond the Empire: Rome and the Church from Constantine to Charlemagne (NY: Crossroads Pub. Co. [2001]), which incls. chapters such as "A party at praetextatus"; "No small thing"; "The split"; "True Romans all"; [...] "; " aptain of a shattered ship"; "Theology and thuggery "; "Hobbling the papacy "; "Knockin' on heaven's door"; "Another Constantine, another Rome" - and other works incl. a play, Marriage Gamblers (Montmorency, Victoria: Yackandandah 1991), 42pp. Other works published by Veritas and trans. into Polish.
[ top ]
---