Life
b. 17 Jan. 1764, Londonderry; son of Rev. Arthur Sampson [Anglican]; ed TCD, without graduating, and proceeded to and Lincoln's Inn; admitted to bar; visited Col. Sampson, an uncle in N. Carolina, c.1786; m. Grace Clarke, of Castle St., Belfast, 1790 - with whom children William, John Philpot [after Curran], and Catherine Anne; admitted to Irish bar; called to North East Circuit; lived on High St., Belfast - where his home searched for Samuel Neilson of the United Irishmen by Lord Westmeath; jnr. counsel to John Philpot Curran;
assisted in legal defence of United Irishmen; contrib. Northern Star (Belfast) and The Press (Dublin), the latter as "Fortescue", protesting against anti-Catholic violence; served on committee which gathered evidence in support of Lord Moira's allegations of military atrocities in Ireland, made in the House of Lords (London), when challenged by Lord Clare to repeat them in Dublin; his house in Dublin raided for the said papers, which he was able to pass to Counsellor Orr through a servant on receiving a warning from Dr. Kirwan;
anonymously issued a satire, A Faithful Report of the Trial of Hurdy-Gurdy at the Bar of the Court of King's Bench (Belfast 1794; Dublin 1794); attended proscribed United Irishman meetings; arrested for treason and defended successfully by Stockdale, the publisher of The Press, but banished from Ireland by Act of Attainder citing ; offered shelter in England by Lord Moira; arrested and held at Carlisle Gaol; communicated with Lord Portland (Sec. of State) and was returned to Ireland under guard; held in Bridewell in solitary confinement; allowed to leave Ireland for 'any port of the Kingdom of Portugal' by order of Lord Castlereagh;
suffered shipwreck at Pwllheli, Wales 27 Oct. 1798 ('Pulhelly' in his Memoir); reached Oporto, and arrested there on suspicion of writing "Argument For and Against the Union" - a pamphlet actually written by Edward Cooke, Under Secretary of State; imprisoned and then expelled; removed to France, living at André Cusac in the Dordogne; suffered the death of his faithful servant John Russell, from fever, summer 1799; reunited with his family in Paris through intercession of Lord Cornwallis, then British plenipotentiary; settled in Montmorency and wintered in Paris for the children's education;
received pass from French to Hamburg, a neutral port, with a view to returning to to England, 1805; delayed in Rotterdam, where his son John contracted fever; boarded English man of war at approach of Napoleonic army, with permission of Thompson, the British Minister in Hamburg; reached Harwich; placed under house-arrest in London at home of Mr. Sparrow, the King's Messenger with whom he travelled on shipboard from Hamburg; his petition to return to Ireland rejected by Govt., though his family were allowed to travel back to Belfast; sailed for America, arriving at New York on 4 July 1806;
practised law successfully as a civil rights lawyer in New York - though disbarred in Ireland - and later in Washington; published Memoirs (1807) and sundry legal writings; joined by Grace, John and Catherine in New York, 29 Oct. 1810; took William Tone, son of Theobald Wolfe Tone, into his practice; Tone accepted American Army commission m. Catherine Sampson, moving to Georgetown, 1825; Tone resigned from Army, 1827, and d. 1828, of tuberculosis; Sampson defended Irishmen against charge of riot in Philadephia, 1831; condemned worst features of Common Law in paper before New York Historical Society; published a Brief Review of Irish History (1833);
defended Renshaw, a Navy officer, against charges of duelling; defended a Catholic thief on the grounds that the American constitution prohibited any intrusion on the secrecy of the Catholic confession (i.e., confessional privelige) under its principles of religious freedom, before the bench of Mayor De Witt Clinton, April 1813; d. 28 Dec. 1836; bur. Riker family cemetery, Long Island; reinterred in Green-Wood Cemetery, Brooklyn (NY), in the same plot as Matilda Wolfe Tone and William Theobald Tone, her son with Theobald Wolfe Tone, and his own dg. Catherine whom William Tone had married; his defence of Phillips and court-room speech on 'the Catholic question' commemorated in New York at the second centenary (Religious Freedom in America, 1813-2013 - April 2013). PI ODNB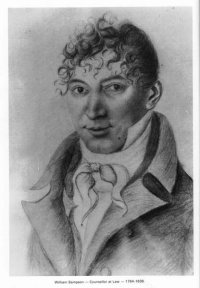 William Sampson - Counsellor
[Self-portrait?]
[ top ]
Works
Pamphlets
Review of the Lion of Old England; Or the Democracy Confounded (Belfast 1794) [attrib. to Thomas Russell and Sampson);
A Faithful Report of the Trial of Hurdy-Gurdy at the Bar of the Court of King's Bench (Belfast 1794; rep. Dublin 1794);
Advice to the Rich (Belfast 1796; Dublin 1796);
An Appeal from William Sampson (Dublin 1798);
Legal papers
The Trial of the Rev. William Jackson at the Bar of the Court of King's Bench in Ireland, for High Treason (Dublin 1795);
Commissioners of the Alms-house vs. Alexander Whistelo, A Black Man (NY 1808);
The Trial of Amos Broad and His Wife (New York 1809);
Trial of the Journeyman Cordwainers of the City Of New York, for a Conspiracy to Raise Their Wages (NY 1810).
Trial of Capt. Henry Whitby for the Murder of John Pierce, with his Dying Declaration. Also the trial of Capt. George Crimp, for Piracy and Manstealing (NY 1812) [attrib. to Sampson].
The Trial of Lieutenant Renshaw of the U.S. Navy, Indicted for Challenging Joseph Strong, Esq., Attorney at Law, to Fight a Duel: With Speeches of the Learned Counsel Colden, Hoffman and Emmet (NY: Frank, White & Co. 1812), 114pp.;
The Catholic Question in America: Whether a Roman Catholic Clergyman can be in any case compellable to disclose the Secrets of Auricular Confession (NY: Edward Gillespy 1813), and Do. [facs. rep.] (NY: Da Capo Press 1974) [see also 1814 Dublin printing with alterations to avoid prosecution for libel, and unpublished New York printing of 1871].
Is A Whale A Fish? An Accurate Report of the Case of James Maurice against Samuel Judd (NY 1819);
Unsigned but attributed
A Brief Account of the Trial of William Orr (Dublin 1797);
A Faithful Report of the Trial of the Proprietors of the "Northern Star" at the Bar of the Court of King's Bench, on the Twenty-Eighth of May, 1794, on an Information, Filed Ex-Officio, by the Attorney General: For the Insertion of a publication by the Irish Jacobins of Belfast on the Fifteenth of December, 1792 (Belfast 1794);
Faithful Report of the Second Trial of the Proprietors of the "Northern Star" at the Bar of the Court of King's Bench, on the 17th of November, 1794, on an Information, Filed Ex-Officio, by the Attorney General: For the Insertion of the Society of United Irishmen's Address to the Volunteers of Ireland on the 19th of December, 1792 (Belfast 1795).
Also, [attrib. to William Ridgeway and Sampson,] Report of the Trial Of Archibald Hamilton Rowan on an Information, Filed Ex-Officio, by the Attorney General, for the Distribution of a Libel; with the subsequent proceedings thereon [...] (Dublin [Archibald Hamilton Rowan] 12 March 1794; NY: [rep.] reprinted Tiebout & O'Brien 1794) [with a engraving full-length port. of AR Hamilton for Tiebout & O'Brien; held in John Adams Collection of Boston Public Library - available at Internet Archive - online].
Autobiography
Kenneth Robinson, ed., Memoirs of William Sampson, with a Brief Review of Irish History [NY 1807] (Belfast: Athol Books 2007), 292pp.
Miscellaneous
[2] Poems collected in Madden's Literary Remains of the United Irishmen, pp.122, 177, & 179; also in Watty Cox's Irish Magazine (1811).
[ top ]
Criticism
Walter J. Walsh, 'William Sampson, a Republican Constitution, and the Conundrum of Orangeism on American Soil, 1824-1831', in Radharc: A Journal of Irish and American-Irish Studies, Vol. 5/7 (2004-06), pp.1-32;
Walter J. Walsh, 'The Priest-Penitent Privilege: An Hibernocentric Essay in Postcolonial Jurisprudence', in Indiana Law Journal, 80, 4 (Nov. 2005), pp.1037-88 [see extract];
E. J. Best, 'A Portrait of Counsellor William Sampson', in Lisburn Historical Society Journals [2009; available online].
Keith Duggan, 'The case of the confessional and the United Irishmen', in The Irish Times (13 April 2013), Weekend Review, p.2 [see extracts].
See also Michael Durey, Transatlantic Radicals and the Early American Republic (Kansas UP 1997); David A. Wilson, United Irishmen, United States: Immigrant Radicals in the Early Republic (Cornell UP 1998).
[ top ]
Commentary
Mary Helen Thuente, 'William Sampson, From Patriotism to Revolution', in ACIS/CAIS Papers, at QUB 1995 [unpublished to date], quotes Memoirs, 'the history of the universe contains nothing more atrocious than the persecution of the Irish by the English'; 'no motive but that of compassion for my country'; '[in such circumstances of tyranny] to be passive is to be criminal'; Thuente notes that he was a major contributor to the Northern Star, prob. writing the anon. "Lion of Old England", a satire which went into two Belfast edns., as well as The Trial of Hurdy Gurdy, a title that reflects the government's fear of political ballads; two songs [sic] in Madden's Literary Remains of the United Irishmen attributed to him, one being a "Dialogue between Croppy and Orangeman" in which the former asserts against the latter, 'Revenge is for me'; also "Death Before Dishonour [for] Irish Soldiers"; formed with others the Committee [for the investigation of] Enormities against the Rights of the Irish People'. Biography by Walter Walsh in progress.
[ top ]
Walter J. Walsh, 'The Priest-Penitent Privilege: An Hibernocentric Essay in Postcolonial Jurisprudence', in Indiana Law Journal, 80, 4 (Nov. 2005): '[...] In colonized Ireland, Sampson had already mastered the subversive political power of radical legal discourse. Usually anonymously, Sampson had published at least five politically explosive pamphlet reports of major Irish political trials (in most of which he also participated). In the turbulent 1790s, the United Irish advocates consistently defended political dissidents by arguing that their actions were entirely justified by democratic and republican principles, that despotic English law should be overturned, and that it was a tyrannical colonial government that had forfeited its claim to legal authority. / The Catholic Question in America must therefore be understood as part of Sampson's lifelong anticolonial effort to portray Irish history from the perspective of the vanquished. A tireless and skillful pamphleteer, underground historian, [1043] jurisprudential satirist, and reporter of political trials, Sampson was banished solely for his radical ideas. From exile, in his Memoirs, his expanded edition of William Cooke Taylor's History of Ireland, and his other writings, Sampson constructed a revisionist United Irish account of the events that led to 1798. In America, Sampson gradually sought to extend the implications of the new United Irish historiography into every possible area of postcolonial republican political theory and practice. Most of all, he turned his mind to the inherently anti-democratic colonial nature of the English common law that he so frequently battled against.' (pp.1043-44.) [Cont.]
Walter J. Walsh, 'The Priest-Penitent Privilege[...]', Indiana Law Journal, (Nov. 2005) - cont. '[...] In 1813, when Philips was decided, far from a being a favored elite, Sampson's immigrant Irish Catholic refugee clients were barely tolerated cultural outsiders. They fought for equality, not for dominance. Theirs was a principled triumph for human rights, not a show of force. Jeffersonian New York City's Irish Catholic refugee community can be termed a powerful minority only by saying the same today of many other historically excluded groups such as African-Americans, women, or the gay and lesbian community. / We can look towards William Sampson's United Irish postcolonial legal rhetoric in Philips for the key to unlocking this perplexing jurisprudential puzzle. Sampson's argument in hibernocentric postcolonial jurisprudence for Father Kohlmann is certainly one important early articulation of a power theory of law, but Sampson offers a critical refinement that is often missed. Sampson pointed out that control of legal ideology itself confers normative legitimacy, for better or for worse. Even during the disintegration of the Irish Penal Laws against Roman Catholics, recognition of the priest-penitent privilege by a Protestant judiciary was unlikely. "The system under which they acted; the barbarous code with which they were familiar, was enough to taint their judgment. No judge, no legislator, historian, poet or philosopher, but what has been tinctured with the follies or superstitions of his age." [Sampson, Catholic Question, p.64]. In rejecting the privilege, "may we not well suspect those Irish judges to have imbibed the poison of their cruel code, and to have eaten of the insane root that taketh the reason prisoner." [Idem.] (p.1085; available online; accessed 10.05.2013.)
[ top ]
Keith Duggan, 'The case of the confessional and the United Irishmen', in The Irish Times (Sat. 13 April 2013), Weekend Review, p.2 - extensively quotes Professor Walter J. Walsh of University of Washington, a speaker at the 200th anniversary of Sampson's legal argument before Judge Clinton in New York regarding the secrecy of the confessional in a case of The People vs Phillips [recte Philips] in which Fr. Anthony Kohlmann was the priest in question.
'It was, typical of William Sampson to take something small to make a larger point,' says Professor Walter J. Walsh of the University of Washington, who is among those scheduled to give a talk on the flamboyant Derry man to mark the 200th anniversary off his historical argument on behalf of St Peter's Church on Barclay Street. 'Sampson's opening line goes: "This case, like many other of importance, has its origins in a trivial occasion."'
Sampson used the case in establish the unassailable right to religious freedom. As Walsh puts it, 'He used Ireland as a way of undermining the assumptions of the law.' He calls it 'the Catholic question in America,' because that was what was at the heart of this: if the religion could not be pratised freely, it could not be practised at all."
[...]
'His memories read like a picaresque novel - shipwrecks and pirates and this insolent teasing of the English government,' says Walsh. 'He includes his reflection on the spirit of British domination in Ireland. In New York he was remembered in folklore long afterwards, because he was a public intellectual and gadfly but also a champion of the underdog.
'In another case, for instance, he defended the very early strikers in New York- shoemakers who striking at the time. And he had this extraordinary ability to deliver these satires on his feet.'
Walsh describes a case Sampson argued that centred on the taxonomy of whales and the contentious regulation of fish off. 'He ended up jousting and sparring with a very celebrated legislator called Samuel Mitchell. He was there also for the so-called "Trial of of the Hurdy-Gurdy", when a barrel organ was prosecuted.* So his trials were packed.'
[...]
'I think his influence on jurisprudence is becoming increasingly apparent,"says Walter Walsh.
'He could be seen as the first author of a really distinctive anti-colonial postcolonial jurisprudence just at the time of the age of Revolution. He was among a group that reeally influenced American literature and law and pushed it towards a more equal society based on United Irishmen ideals.' [&c.]
*See however title listed under
Works
,
supra
.
[ top ]
Quotations
Dismal sight: Poem on witnessing the execution of four soldiers sentenced for membership of the United Irishmen who refused to name their associates.
"Death before Dishonour Four [var. for] Irish Soldiers"
[...]

I saw a dismal Sight, I saw them brought
Solemn and silent to the bed of death.
From slavish hirelings they received the shot,
And yielded up to Heaven their native breath.

O truth and honour where must ye be found?
Hot in the palace or glittering court.
You rather dwell within the lowly cott
And with the simple and the poor resort.
The Irish Catholics: "[...] the [Irish] Catholics, now ground into dust, deprived of education and property, and every means of acquiring either, became null in their native country. They had no part in the framing or execution of the laws, being excluded from the parliament and the bench, and from juries, and from the bar. Their only duty was to bear with patience the penalties inflicted on them, and be spectators of the ludicrous, though interested, quarrels of their oppressors. When any question under the penal laws was tried against them, it was by a Protestant judge, a Protestant jury; and as they had a Protestant prosecutor, so they must have a Protestant advocate. What justice they could look for, Heaven knows; they were shut out from all corporations and offices and every privilege belonging to freemen. [... I]n short, they were humbled below the beasts of the field.' (Memoirs, NY 1807, p.252.)
[ top ]
References
Dictionary of National Biography: when the proprietors of the Press were indicted for libel, on account of the mock review of a pretended epic, "The Lion of Old England", Sampson acted for the defence with J. P. Curran (1794). Also defended William Orr with Curran. Known to have views against violence; 'Advice to the Rich', pamphlet (1796), predicted Union; signed a petition for right to bears arms as Volunteers, with Dobbs, Flood and George Ponsonby, 1797; arrested on abortive charge of treason, and held without trial till 1799; gave information to save life of his friend Oliver Bond; while in Oporto, his agreed place of exile, arrested on suspicion of writing Arguments for and against a Union considered, in fact by Ed. Cooke; after banishment, spent 1800 to 1805 in France; legal adviser to Joseph Bonaparte in America; Wolfe Tone's son entered his office; Memoirs is written in the form of letters, partly in France, partly in America. Curran godfather to his son.
Belfast Public Library holds Memoirs (1832); Trial of Rev. William Jackson for High Treason (1795).
[ top ]
Notes
Portrait, William Sampson unknown, pencil; see Anne Crookshank, Irish Portraits Exhibition (Ulster Museum 1965) [prob. self-port., as supra].
[ top ]
---