Life
1923-2001 [née O'Connell]; b. Glensharrold, West Co. Limerick; ed. first in Irish speaking school, Scoil Muiris, Ennis; where she encountered Irish metres; moved to Dublin, and worked as civil servant, 1942; published first poems in An Glór; m. 1943, to English-born psychologist Rupert Strong who came to Dublin to study Freudian psychoanalysis with John Hanaghan, and stayed to practise (d.1984); published poems in Poetry Quartos (1943-45), from the Runa Press with which she worked; twins born 1960, of which the second Philip slightly brain-damaged; attended TCD in her forties; encouraged by Brendan Kennelly, Hilton Edwards, Kevin Casey, and others; her ninth child, a mentally-handicapped son, Phillip, b. in 1960; first English collection Songs of Living (1961), introducing her concern with the Spae-woman; published with introduction by Padraic Colum commending her for writing 'outside the context that much of women's poetry has to be read in' and praising her in the character as druidess; published a novel, Degrees of Kindred (1979); short stories, Patterns (1981); poetry collections incl. Sarah in Passing (1974); Flesh - The Greatest Sin (1980), a feminist 'Great Hunger'; My Darling Neighbour (1985); Cirt Oibre [Working Rights] (1980), and Fuil agus Fallaí [Blood and Walls] (1983); also The Love Riddle (Attic Press 1993), novel; taught creative writing in schools and lecture-toured-in America; latterly published by Jessie Lendennie of Salmon Press; lived at Eaton Sq., Monkstown, Co. Dublin; there is a Rupert & Eithne Strong Poetry Prize at the Dun Laoghaire Annual Arts Fest. DIL ATT OCIL
[ top ]
Works
Poetry in Irish
Cirt Oibre (Coiscéim 1980);
Fuil agus Fallaí (Coiscéim 1983);
Aoife faoi Ghlas (BAC: Coiscéim 1990), 16pp.;
An Sagart Pinc (Coiscéim 1990)
Poetry in English
Songs of Living (1961);
Sarah, in Passing (Dublin: Dolmen 1974);
Flesh - The Greatest Sin (Dublin: Runa Press 1980);
My Darling Neighbour (Belfast: Beaver Row Press 1985);
Let Live (Galway: Salmon Publ. Co. 1990);
Nobel (BAC: Coiscéim 1999), 96pp.
Fiction
Degrees of Kindred (Tansy Books 1979), novel;
Patterns (Poolbeg 1981), stories;
The Love Riddle (Attic Press 1993), novel.
Translation
trans., 'Tetrach of Galilee', in Padraic Ó Conaire, 15 short stories, with other writers (Poolbeg 1982)
[ top ]
Criticism
Interview in Rebecca E. Wilson, and Gillian Somerville-Arjat, [interviews and] eds., Sleeping with Monsters: Conversations with Scottish and Irish Women Poets (Wolfhound 1990), pp.109-20 [incl. poems 'Bottoms'; 'Tóineanna'; 'The Creaking of the Bones'; 'Gíoscán na Gnámh']; Nancy Mean Wright and Dennis Hannan, interview with Eithne Strong, in Irish Literary Supplement (Spring 1994), pp.13-15; Patricia Boyle Haberstroh, Women Creating Women: Contemporary Irish Women Poets (Syracuse UP 1996); Kathryn Holmquist interview with Eithne Strong, Irish Times, 3 Nov. 1993, cites three volumes of Irish poetry from Coiscéim, Fuil agus Fallaí (1983); Aoife fé Ghlas (1990); An Sagart Pinc (1990).
Speaking with Eithne Strong in Incognito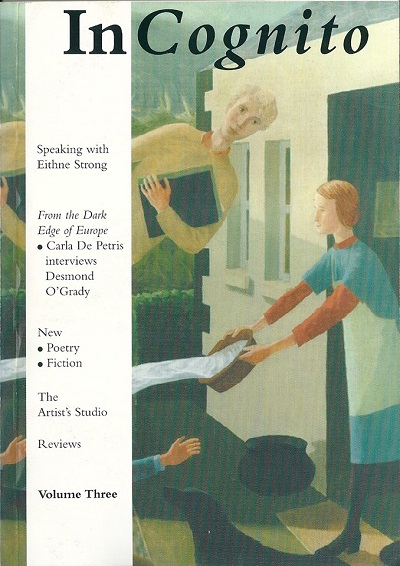 Cognito (Spring 1998), ed. Chris O'Rourke
"My Father's House", by David Quinn [detail].
[ top ]
Commentary
Deborah McWilliam Consalvo (Univ. of California), review of The Love Riddle, in Irish Studies Review (Jan. 1996), pp.52-53, identifying characters with biographical their counterparts; cites personal communication, 'I am convinced writers continue to use permutations of their experiences in what they write'; also quotes from novel, 'Love was difficult ... It concerned itself with all people, not just lovers, with the nature of jealousy, with murderous rages, the urge to kill, how to confront and contain these titanic forces of the self, how to transform into constructive ways the energy that otherwise meant flooding blood and destruction.' (The Love Riddle, p.251); the review is virtually barely coherent ('organic nature of humankind yields to the problem of ephemerality ... resist[s] the tendency to muse exclusively on the ruin of de-evolution or the ethos of social incivility').
Patricia Deevy, 'Strong Medicine', [interview], in Fountain of Youth series, Sunday Independent, 12 Nov. 1993. 'The girl who staunchly defied her Catholic parents to run off with a Protestant psychoanalyst twelve years her senior is still the rebel with a cause'. 4 cols. and port.

Celebration: Notice given of a celebration of Eithne Strong's work; her first poetry collection published at 38; event involves poetry, music and memories with contribs. incl. Brendan Kennelly, Eilís Ní Dhuibne; Mary O'Donnell, Jack Harte, Gabriel Rosenstock, and Ann Hartigan, on Wed. [q.d.] Nov. 2000 (Irish Times.)
[ top ]
---