Life
1912-1994; [Herbert Terence]; b. 29 April 1912, Dublin; of Protestant father and Catholic mother; ed. TCD, LL.B.; m. Mary [née?], 1941; lit. ed. The Irish Times, 1961-1977; lent support to the Labour Party campaign of 1948; legal advisor and member of the Gate Theatre Board and Board of the National Gallery of Ireland, appt. by the Royal Dublin Society; wrote numerous novels in the manner of comedies of manners; A Fretful Midge (1959) [var. 1957], autobiographical, often considered his best book; issued The March Hare (1970); Mr. Stephen (1971); The Radish Memoirs (1974); My Name is Norval (1978) and Johnnie Cross (1983);
wrote a biography of Isaac Butt as
The Road to Excess
(1946), followed by another on
Kevin O'Higgins
(1948) and yet another on
The Parents of Oscar Wilde
(1967); also issued
Ireland
(1967),
Leinster
(1968) and
The Anglo-Irish
(1972); lived at 199 [var. 122] Strand Rd., Sandymount; with Mary, 3 children, Deborah, Ralph and John (fam. "Buzzer"); separated and removed to London; elected to Aosdana, 1988, on nomination of the sculptor Imogen Stuart; m. Victoria [formerly] Glendenning, author; d.
17 June 1994
; the funeral oration was given by his son John, fndr. of the art auctioneer De Vere White, latterly De Vere's.
IF DIL DIW OCIL
[ top ]
Works
Autobiography
A Fretful Midge (London: Routledge & Kegan Paul 1959) [var. 1st edn. 1957].
Fiction
An Affair with the Moon (London: Victor Gollancz 1959);
Prenez Garde (London: Victor Gollancz 1961);
The Remainderman (London: Victor Gollancz 1963);
Lucifer Falling (London: Victor Gollancz 1966);
Tara (London: Victor Gollancz 1967);
The Lambert Mile (London: Victor Gollancz 1969);
The March Hare (London: Gollancz 1970);
Mr Stephen (London: Victor Gollancz 1972);
The Distance and the Dark (London: Gollancz 1973);
The Radish Memoirs (London: Victor Gollancz 1974);
Chimes at Midnight (London: Victor Gollancz 1978),
My Name is Norval (London: Victor Gollancz 1978).
Short stories
Big Fleas and Little Fleas and Other Stories (London: Victor Gollancz 1976).
Biography
The Road to Excess: A Biography of Isaac Butt (Dublin:Browne & Nolan 1946);
Kevin O'Higgins (London: Methuen 1948; pbk. edn. Tralee 1967);
The Parents of Oscar Wilde (London: Hodder & Stoughton 1967);
Tom Moore:The Irish Poet (London: Hamish Hamilton 1977);
Miscellaneous
The Story of the Royal Dublin Society (Tralee: Kerryman 1955);
ed., A Leaf from the Yellow Book, the Correspondence of George Egerton (London: Richards Press 1958);
Ireland (London: Victor Gollancz (1967);
'Mahaffy, the Anglo-Irish Ascendancy, and the Vice-Regal Lodge', in Leaders and Men of the Easter Rising, ed. F X Martin (1967);
Leinster (London: Faber 1968);
'Social Life in Ireland 1927-1937', in The Years of the Great Test 1929-39, ed. Francis MacManus (Cork: Mercier Press 1967) [treating 'social life' as high society].
contrib. 'Pleasures of Reading' to Encyclopaedia of Ireland, ed. Brian de Breffny (Dublin: Allen Figgis 1968), p.348;
The Anglo-Irish (London: Gollancz 1972);
'Oscar Wilde', in Dictionary of Irish Literature, ed. Robert Hogan (Dublin:Gill & Macmillan; US:Greenwood Press 1979).
intro. The Night Larry was Stretched, ill. Hector McDonnell (Belfast:Blackstaff 1984), 118pp. [ltd. edn., 500].
[ top ]
Criticism
Brian Fallon, 'Terence de Vere White: All-round Man of Letters', in Irish Times (8 June 1994), p.6.
[ top ]
Commentary
Terence Brown, 'Literary Autobiography in Twentieth-Century Ireland', in Augustine Martin, ed., The Genius of Irish Prose (1985), p.89-98: '... not to mention Terence de Vere White's wittily urbane and occasionally hilarious account in A Fretful Midge (1957) of a middle-class Dublin Catholic childhood and a manhood troubled in social and cultural senses only by the twin mysteries of the painter Jack Yeats's lack of genuine international reputation in his lifetime and Eamon de Valera's very great political success.' (p.97-98).
Gerald Dawe & Edna Longley, Across the Roaring Hill: The Protestant Imagination in Modern Ireland, ed. Gerald Dawe & Edna Longley (Belfast: Blackstaff Press 1985), Introduction: 'de Vere White's astringent elegy - - he heads his last chapter "The End of the Anglo-Irish" - rather snobbishly snubs the Ulster Protestant as alien: "There is soemthig aggressively unaristocratic about the average Northerner, in voice and manners."' (De Vere White, 1972, p.20 , here p.iv.)

Patrick Rafroidi, 'A Question of Inheritance: The Anglo-Irish Tradition', in Rafroidi & Maurice Harmon, eds, The Irish Novel in Our Time (l'Université de Lille 1975-76), p.12 calls The Distance and the Dark (1973), a novel loosely based on real events at Drimnagh, the 'big house' in Limavady, Co. Derry (c.1972), when the hereditary proprietor was assassinated by the Derry Provos. In the novel, Everard Harvey marries Sally, a snobbish Englishwoman, following the death of his first wife Kate. Sally's boy Michael is killed on account of his position and Everard confronts Gallagher, the IRA man supposedly involved. Gallagher is then arrested for the death of the child but released to a civic reception. Everard is assassinated and believed to have been killed because of his philandering (i.e., his love for Aileen).
Conor Cruise O'Brien, Passion and Cunning and Other Essays (NY: Simon & Schuster 1988), "Introduction" [discussing the reaction to 'Passion & Cunning', his essay alleging that Yeats was a fascist in politics, first printed in A. N. Jeffares & K. W. Cross, eds., In Excited Reverie: A Centenary Tribute to William Butler Yeats 1865-1939 (London: Macmillan 1965), pp.207-77]: '[.] Some of those who entered the controversy - particularly in its earlier phases - became so angry at what they thought I was saying that they had difficulty taking in what I actually said. Terence de Vere White, reviewing the Jeffares-Cross collection in [The] Irish Times, accused me of practising double standards by referring to the death of Francis Sheehy-Skeffington as murder while avoiding applying the term murder to the death of Kevin O'Higgins. (In the Irish context, this particular kind of selectivity of expression would have implied an anti-British and pro-IRA bias; something of which the reviewer, unlike some of my later critics, assumed me to be in the grip.) When I pointed out that I had in fact used the word murder, not only in referring to the murder of Francis Sheehy-Skeffington, but also to the murder of Kevin O'Higgins, Mr de Vere White, being a fair-minded and courteous man, handsomely acknowledged his mistake. He added that the essay had made him so angry that "the print swam before my eyes". And somehow it has managed to go on swimming, before other eyes.', (p.1; rep. in in Jonathan Allison, ed., Yeats's Political Identities, Michigan UP 1996, pp.57ff.)
[ top ]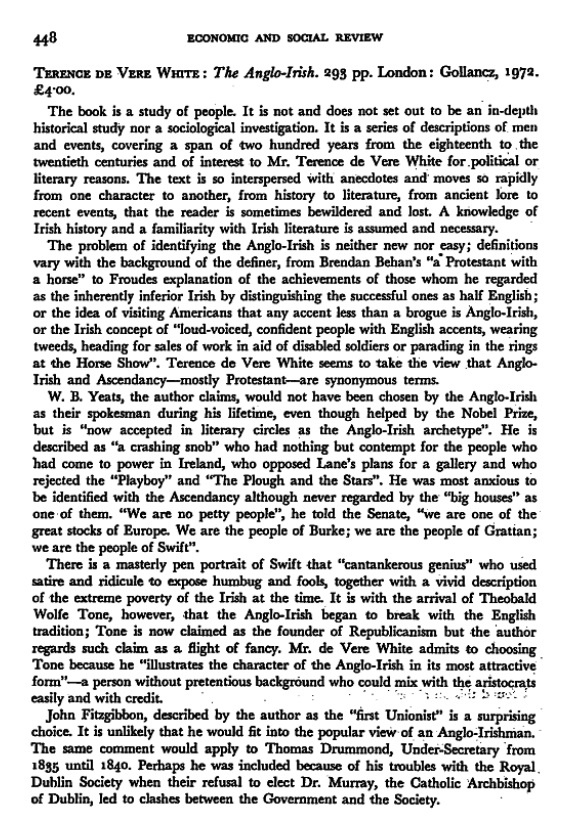 M. Dempsey, review
The Anglo-Irish
, in
Economic and Social Review
[Dublin] 4: 3 (1 April 1973), p.448; availlable at Pro-Questa -
online
; accessed 24.09.2020.
[ top ]
Quotations
Sam Beckett & Jack Yeats: 'In Jack Yeats's novles you will find, in a rather formless character, the very essence of Beckett. Becektt has been able to give to the quality of Yeats a finer edge.' (Quoted Dick Walsh, news-story on the announcement of the Nobel Prize for Literature award to Beckett, in The Irish Times, 24 Oct. 1969, p.5; copied in The Irish Times, Weekend Review, 10 Oct. 2009, p.15.)
The Anglo-Irish (1972), 'The expression Anglo-Irish is used in a literary context with an exact meaning to distinguish the writings of the Irish in the English language. This is a new departure since the establishment of Independence in Southern Ireland. ... Until then the English treated Irish writers as part of the common stock. ... The literary Anglo-Irish have fled like the wild Geese ... Frank O'Connor, Liam O'Flaherty, Sean O'Faolain, Mary Lavin ... nothing "Anglo-" there.'[q.p.] '[I]t is too broad a view that sees the Anglo-Irish as a race, they were a class ... The difference between then and the other Irish is not indifference to Irish culture ... Religion marked the dividing line' ( p.265.) 'By becoming Protestant Irish families became indistinguishable from the English in Ireland ... To Irish Catholics Protestantism conjures up every injustice that England has ever inflicted on Ireland. In Southern Ireland because the minority is small it is tolerated; but bigotry is plaing to be seen in all its ugly nakedness in the Northern counties.' (266).
The Distance and the Dark (1973), Everard Harvey: 'I don't know more than one way to be Irish. We both belong to families that have lived nowhere else for generations. ... I won't accept those degrees of Irishness. … My family sent members to Grattan's parliament; so did yours, Charley.. Why should we let anyone tell us we are less Irish than, say, Mr de Valera who was born in American out of a Spanish father? (p.28-29; cited in Patrick Rafroidi, 'A Question of Inheritance: The Anglo-Irish Tradition', in Rafroidi and Maurice Harmon, eds, The Irish Novel in Our Time, l'Université de Lille 1975-76, p.12.)
Review of The Coming British Revolution in The Irish Times (29 Jan. 1972)
[Irish Times Archive]
[ top ]
References
Martin Ryan, 'Terence de vere White' in Robert Hogan, ed., Dictionary of Irish Literature (Dublin: Gill & Macmillan 1979), is a slating article; note however that de Vere White authored the entry on Oscar Wilde in the same compilation.
Hyland Catalogue (No. 224) lists A Fretful Midge [1st edn. 1957]; An Affair with the Moon (1959); Prenez Garde (1961); Lucifer Falling (1966).
[ top ]
Notes
Dervla Murphy: Terence de Vere White was 'chosen' to be the father of her daughter Rachel on the basis of his attributes (being literary editor of the Irish Times). The parentage is confirmed in a Guardian interview with Nicholas Wroe - viz., 'Through Siberian by Accident', in The Guardian (15 April 2006) - online; accessed 21.08.2011]. See further under Dervla Murphy, q.v.
Tom Paulin described White's book on Thomas Moore as being written in 'garrulous telegraphese' (See Tom Paulin, Ireland & the English Crisis (Bloodaxe 1984), q.p.; also under Tom Paulin, Rx.)
John McGahern - on reviews of The Leavetaking: 'I only met De Vere White briefly and politely once. He's been complaining for a long time that my reputation was caused by the banning/sacking etc, and hasn't a strictly literary base: and he is a quite shameless pusher of his own work, using his position. So? But others will attack it the same way, the N.S. [New Statesman] says it is adolescent, and that's fair enough. His comes close to personal abuse, which just isn't clever. What can I do but bow?' (See letter of 4 Jan. 1975 to Dr. Niall Walsh in the McGahern Archive of Hardiman Library, Galway Univ. [P102/78]; this information kindly supplied by Raymond Mullen.)
Design award: Wendy Dunbar (of Blackstaff) was winner of Irish Book Design Award with her design for The Night before Larry was Stretched.
Family: John de Vere White (fam. "Buzzer"), second son of Terence, is a leading Dublin art auctioneer, formerly with Smith and afterwards independently. Others children are Deborah and Ralph.

Domicile: Terence de Vere White's address is given as 199 Strand Rd., Sandymount, Dublin 4, in the list of Trustees in the Report of the National Library in 1972. It was located close to the Merrion Gates and some houses closer than that later occupied by Seamus Heaney.
My Name is Norval (1) - vide the speech of the Stranger, in John Home's Douglas (1756): 'My name is Norval. On the Grampian hills / My father feeds his flocks; a frugal swain; / Whose constant cares were to increase his store, / And keep his only son, myself, at home. / For I have heard of battles, and I long'd / To follow to the field some warlike lord; / And heaven soon granted what my sire denied. / This moon, which rose last night round as my shield, / Had not yet filled her horns, when, by her light, / A band of fierce barbarians from the hills / Rushed like a torrent down upon the vale, / Sweeping our flocks and herds. The shepherds fled / For safety and for succour. I alone, / With bended bow, and quiver full of arrows, / Hover'd about the enemy, and mark'd / The road he took; then hasted to my friends, / Whom, with a troop of fifty chosen men, / I met advancing. The pursuit I led, / Till we o'ertook the spoil-encumber'd foe. We fought - and conquer'd.'
My Name is Norval (2) The speech 'endured as a recitation peice up to within living memory', according to Allardyce Nicoll, in British Drama: an Historical Survey from the Beginnings to the Present Time (London: George Harrap 1925; revised edn. 1962), p.172. Nicoll quotes the above lines and goes on: 'As a passage for parlour declamation this is all very well, but clearly the language is stilted and rhetorical. There could be no hope for the creation of successful serious drama within this style.' (Ibid., p.173.) See full text version - with title page of c.1880-1900 broadsheet version - at "The Word on the Street" (National Library of Scotland), online.
[ top ]
---