Life
1981- ; b. 31 Sept., in Dublin; younger dg. of Bertie and Miriam Ahern (Fianna Fáil leader and Taoiseach), sis. of Georgina and hence br-in-law Nicky Byrne [of Westlife]; grad. in journalism, Dublin; took third place in final qualifying round for Eurovision 2000, with her group Shimma; issued PS, I Love You (2004), a UK best-seller novel revolving round 10 letters from Holly's husband, written before he died and advising his young wife how to continue on without him; followed on with Where Rainbows Ends (2004), concerning the "will-they-won't-they" relationship of Rosie Dunne and Alex Stewart from childhood to middle-age, and largely conducted in emails - issued in America as Love, Rosie; winner of CORINE prize, 2005; also If you Could See Me Now (2005), in which Elizabeth Egan finds the right man in spite of fulltime job and six-year-old nephew in her charge;
issued A Place Called Here (2006), about missing persons; P.S. I Love You was filmed by Richard La Grevenese, with Hilary Swank and Gerard Butler (Dec. 2007); scripted US sit-com Samantha Who? (ABC); issued Thanks for the Memories (2008), a modern fairy-tale involving medecine, telepathy and true love; her agent is Marian Gunne O'Connor; The Gift (2008), on the perils of getting what you wish for; issued The Time of My Life (2011), in which Lucy Silchester is led on by an invitation that lands on her mat; her partner is David Keoghan, with whom a dg. (Robin, 2009), and son (Sonny, 2012). DIW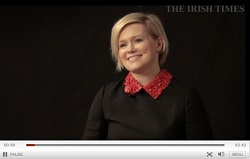 Cecilia Ahern - 10 Questions
(The Irish Times, 9 Oct. 2014)
Viz., The Dinner-party Question: "Joan Rivers, Sinead O'Connor, Beyoncé, and my Mom ... I'd just sit back and listen - that's be pretty cool (laughs)". [Irish Times (9 Oct. 2014)
[See online; accessed 07.12.2016]
[ top ]
Works
Novels
P.S., I Love You (London: Harper Collins 2004), 503pp.;
Where Rainbows Ends (London: Harper Collins 2004), 453pp.;
If You Could See Me Now (London: HarperCollins 2005), 336pp.;
A Place Called Here (London: HarperCollins 2006), 391pp.;
Thanks for the Memories (London: HarperCollins 2008), 377pp.;
The Gift (London: HarperCollins 2008), 317pp.;
The Book of Tomorrow (London: HarperCollins 2010), 432pp.
The Time of My Life (London: HarperCollins 2011), 398pp.
How to Fall in Love (London: HarperCollins 2013), q.pp.
Omnibus
PS, I Love You, in Of love and life : Three Novels Selected and Condensed by Reader's Digest (London: Reader's Digest Association [2004]) [with Michelle Paver, Fever Hill, and Nicci French, Secret Smile].
Miscellaneous
Mrs Whippy [Open Door Ser.] (Dublin: New Island Press 2006), 80pp. [for children].
[ top ]
Criticism
[Shirley Kelly,] interview in Books Ireland (Feb. 2003); Róisín Ingle, 'Message alert', review of Where Rainbows End, in The Irish Times (30th Oct. 2004); Kate Holmquist, 'Land of the lost', review of Cecelia Ahern, A Place Called Here, in The Irish Times (4 Nov. 2006), Weekend. [See extracts under Commentary - infra].
[ top ]
Commentary
[Shirley Kelly,] interview in Books Ireland (Feb. 2003): Journalism graduate; signed €1M book deal with US publisher Hyperion (also pub. Candice Bushnell, Sex in the City ); and a smaller deal with HarperCollins; agent Marianne Gunne O'Connor; commenced on post-grad. course in film production; plot of the new novel concerns Holly whose husband Gerry has died of cancer and leaves her a pile of letters helping her to get her life back on track.
[ top ]
Róisín Ingle, 'Message alert', review of Where Rainbows End, in The Irish Times (30th Oct. 2004): 'Some of the writing fizzes - especially the voice of Rosie's best friend, Ruby - and because almost the entire book is fashioned from messages and letters, the gentle twist in the conventionally narrated epilogue gives more meaning to what is a predictable but satisfying ending. (Having said that, and without wishing to give the game away, the book's two text messages don't fit within this twist in the tale and this minor editing error is annoying.) [...] as a portrait of contemporary social communication - the exchanges in the Relieved Divorced Dubliners' Chatroom are a highlight - it is far from twee. As a study of platonic boy-girl friendship it manages to be both subtle and thought-provoking. [... more than adequate as] a book to snuggle up with on a dark winter's evening [...].'
[ top ]
Kate Holmquist, 'Land of the lost', review of Cecelia Ahern, A Place Called Here, in The Irish Times (4 Nov. 2006), Weekend: '[...] The plot is a bit scatty, too, with the many flashbacks preventing the narrative from moving forward. / Interviewed on Ryan Tubridy's radio programme, Ahern spoke not of writing, but of options" and two-line proposals that could be strung out to 200 episodes. This is the soundbite world of today - a kind of celebrity fairy-world where young authors considered to be in touch with the zeitgeist are feted like rock stars - but one senses that there may be more to Ahern and her writing than this. / A major theme in Ahern's books is loss and the craving for a father/lover figure. It seems reasonable to speculate that as a child she may have considered herself a nobody while her father was swept up in celebrity in the shape of politics. This is a great theme that maybe she'll write about one day. / Ahern is a truly postmodern girl who watches a lot of TV - preferably in box-set episodes watched back to back late into the night with her boyfriend. This novel shows how she has effortlessly absorbed and re-made philosophical concepts as varied, or similar, as Beckettian existentialism and the TV series Lost as young people do when exposed to all the contemporary world has to offer - but she has not worked her ideas through enough. Her intriguing concept of loss in A Place Called Here lacks the mature and insightful realisation it could have had. She's now an international bestselling author with fans worldwide. One hopes that she'll be given the time, space and encouragement to develop fully as a writer.' (See full text, infra.)
[ top ]
Anthony Quinn, "Also Showing" [review column]: P.S. I Love You (12A) film dir. by Richard La Grevenese - 'P.P.S. I hate this. A breavement chick flick of egregious ickiness, it stars Hilary Swank as a young widow who learns that her considerate late spouse (Gerard Butler) has orgaised a whole raft of letters to preventher wallowing in grief and to help her "move on". This programme involves tearful karaoke sessions, a trip to Oirland that the Irish Tourist Board might have sponsored, and some Bridget Jones-style frolics with her best pals Lisa Kudrow and gina Gershon. Harry Connick Jr crops up aas a barman half in love with the widow, but perversely he doesn't sing while both Butler and Swank do, very feebly. From its opening marital row to its closing reconciliation the movie defies belief, common sense and logic - quite a hat-trick.' (The Independent [UK], 4 Jan. 2008.)
[ top ]
Notes
A Place Called Here (2006), concerns Sandy Shortt who has a gift fro finding missing things in childhood and seeks out missing people in adult life but herself goes missing ... (See "First Flush", Books Ireland, Nov. 2006, p.266.)
Thanks for the Memories (2008), in which Joyce Conway shares memories with another in her dreams, while Justin Htichcock, a visiting lecturer, donates blood at the moment when Joyce is involved in an horrific accident requiring transfusion .... See "First Flush", Books Ireland, Nov. 2008, p.124.)
The Book of Tomorrow (2009): Tamara, good little rich girl, must go to live in the gate lodge of a relative's castle with her mother when her father dies; bored and longing to return to Dublin, she finds a book in the local library which reveals alternative futures - which will she chose? (Could this figure the fall of Bertie/)
[ top ]
Galway Races: Cecelia Ahern was pictured at the Galway races with her father Bertie Ahern and her boyfriend David Keoghan in a crowd after the last-named's fancy [horse], 33/1 My Valley, won at the Galway Races (Irish Times, 1 Aug. 2007).
[ top ]
Kith & Kin (1): Her father Bertie Ahern publicly berated the economist Morgan Kelly who foresaw the economic crash of 2009 in an off-script remarks at the ITGWU biennial conference in July 2007: 'Sitting on the sidelines, cribbing and moaning is a lost opportunity. I don't know how people who engage in that don't commit suicide.' Later that day, he made an apology reflecting the ineptitude of invoking the idea of suicide: 'That was a bad choice of words if I said it that way. I'm very involved with the suicide action groups, apologies if I said it that way. I was just using it as an example of people who are always against things.' (Elaine Edwards, 'Taoiseach apologizes for suicide comments', in The Irish Times, July 4 2007; quoted in Robert Moore, 'The Umentionable: Verbal Taboo and the Moral Life of Language: "If I Actually Talked Like That, I'd Pull a Gun on Myself": Accent, Avoidance and Moral Panic in Irish English', in Anthropological Quarterly, 84, 1 (2011), pp.41-64, ftn. 11; draft supplied by the author.)
Bio-notice: A notice on Bertie Ahern (b.1951) in Columbia Electronic Encyclopedia which references Kevin Whelan & E. Masterson, Bertie Ahern (1999). [Accessible through Infoplease - online.]
Kith & Kin (2): 'Ahern is the quintessential Fianna Fáiler: non-ideological, pragmatic, appearing to believe in nothing sufficiently strongly to negate any deal to his advantage and now, in his final incarnation, the recipient of money in envelopes. Dedicated throughout to the retention of power, above all' - verdict of Pat Leahy in Showtime: The Inside Story of Fianna Fáil in Power, Penguin Ireland 2010; reviewed by Joe Horgan in Books Ireland, Nov. 2010, p.234.)
Kith & Kin (2): her sister Georgina is married to Westlife singer Nicky Byrne, with children Rocco and Jay. Her paternal grandfather was head-gardener at All Hallows College, Drumcondra, Dublin and formerly a member of the anti-Treaty 3rd Cork Brigade of the IRA. Bertie Ahern was the first Irish premier to be legally separated from his wife - after which Celia Larkin was his acknowleded partner.
[ top ]
---