Life
1843-1922 ["Boss" Croker; var. b.1841]; b. Ballyva, nr. Clonakilty, Co. Cork, son of Eyre Coote Croker, a [Presbyterian] landlord, and Frances Laura [née Welstead], who emig. to the USA, 1846 [aetat. 2] persuant on losses at his property, Ardfield; son Richard became involved "protection" crime and gangland; joined the Democratic political machine at Tammany Hall, NY as protegé of John Kelly, replacing him as Tammany Boss at his death; variously Alderman, Coroner, and Fire Commissioner; he reputedly shot a man in an election contest and was acquitted by a "hung" jury; after a period in eclipse he organised the Mayoral election of Robert A. Van Wyck to the 5 boroughs, 1897; twice married, once to a Cherokee; he trained horses with a partner in American and later entered competitions in England; owner of Orby, a Derby winner, but refused entrance to the royal enclosure and the presence of the king; purchased Glencairn Hse., a property in Foxrock [var. Stillorgan]; failed to carry New York City in the presidential elections of 1900 and resigned from Tammany leadership, to be succeeded by Lewis Nixon; d. 22 April 1922, from a cold contracted on the trip from America; bur. in the grounds of Glencairn Hse.; converted to Catholicism in later life; he disinherited his children in favour of his second wife, the so-called "Indian Bride", Beulah Croker, m. 1871 [Croker aetat. 71]; left estate of $3-5m his Irish funeral was attended by many including Arthur Griffith, Joseph MacDonagh, Kevin Sheil (for Michael Collins as head of SF Provisional Govt.), and James MacMahon, the British Under-secretary for Ireland.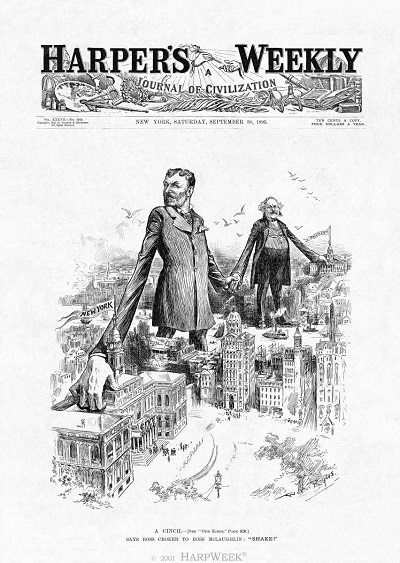 'A Cinch - Says Boss Croker to Boss McLaughlin: "Shake!"'
(Cartoon by William Allen Rogers)
See
Robert C. Kennedy, "On This Day", in
The New York Times
(30 Sept. 2001) - as
attached
.
A funferall ...
FUNERAL OF MR. CROKER: The funeral of Mr. Richard Croker took place yesterday [May 5, 1922], when the body was buried in the grounds of Glencairn House, Mr. Croker's residence in South County, Dublin. After a Requiem Mass in the private oratory, the burial service was conducted by the Right Rev. Dr. W.J. Miller [Roman Catholic Titular Bishop of Eumenia] ... The body was clothed in evening dress, and before the coffin was closed Mrs. Croker desired the mourners to look at her husband's face for the last time. The coffin was covered with a pall made of natural violets and evergreen. The pall-bearers were Mr. Arthur Griffith, President of Dáil Éireann, the Lord Mayor of Dublin, Mr. A.H. Flauley, of Chicago, Mr. Oliver Gogarty, Alderman Macdonagh, and Mr. J. E. Tierney. Mr. Michael Collins, Chairman of the Provisional Government, was represented by Mr. Kevin O'Shiel. Mr. James MacMahon, British Under-Secretary to the Lord Lieutenant, was also in attendance.
—London Times (6 May 1922).
Beulah Croker (in 1921 or 1922)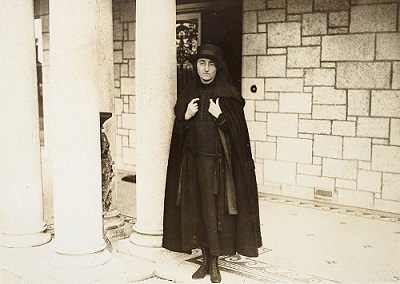 Source
:
Wikipedia
page on Richard Croker -
online
.
[ top
Criticism
Padraic O'Farrell, Boss Croker (Dublin: Sitric Books 2003), 304pp. [novel]. There is a reference in Anthony Cronin, Samuel Beckett: The Last Modernism, 1996, p.27.
[ top ]
See Wikipedia
Tammany Hall, also known as the Society of St. Tammany, the Sons of St. Tammany, or the Columbian Order, was a New York City political organization founded in 1786 and incorporated on May 12, 1789, as the Tammany Society. It was the Democratic Party political machine that played a major role in controlling New York City and New York State politics and helping immigrants, most notably the Irish, rise up in American politics from the 1790s to the 1960s. It typically controlled Democratic Party nominations and political patronage in Manhattan from the mayoral victory of Fernando Wood in 1854 and used its patronage resources to build a loyal, well-rewarded core of district and precinct leaders; after 1850 the great majority were Irish Catholics. [online]
Brief biog.
Richard Welstead Croker, Sr., known as "Boss Croker," was an Irish-American politician, a leader of New York City's Tammany Hall. b. November 24, 1843, Ardfield, Republic of Ireland; d. April 29, 1922, Stillorgan, Republic of Ireland; Nationality: American; Spouse: Beulah Edmonson (m. 1914); Party: Democratic Party; Succeeded by: Lewis Nixon. [online]
---