Life
b. Rostrevor, Co. Down; ed. CBS Drogheda; London Univ., BA mathematics, economics, and Celtic Studies; M.Sc. (Econ.); entered Irish civil service; clerical officer, 1934; executive officer, 1935; admin. officer of Dept. of Finance, 1938; Principal Officer, 1949; Sec. of Dept. of Finance, 1955; [head] of the Programme for Economic Development (Nov. 1958), a paper in which he was associated with Patrick Lynch, et al.; organised historic meeting between Seán Lemass and Terence O'Neill at Stormont, Jan. 1965; he offered the opinion that a United Ireland would pose a "formidable" if not "intolerable" fiscal burden in the Irish Republic, 1968 - the year of Jack Lynch's meeting with Captain O'Neill, PM of Northern Ireland;
retired from the Civil Service, 1969; appt. Governor of the Bank of Ireland, 1967-76; appt. senator, 1977-82; appt. Chair of National Industrial and Economic Council, 1963-67; Pres. ESRI, 1974-87; chairman of DIAS Council, 1980; Pres. RIA, 1985-87; Chairman of Bord na Gaeilge, 1975-78; Chair. of Committee of Enquiry into Penal System, 1983-85; mbr. Broadcasting Review Committee, 11973-74; Director of Córas Tractála Teo., 1951-56; awarded Hon. D. Econ. Sc. (NUI), 1952; LLD (TCD), 1976; LLD (QUB), 1980; DSc (NUU), 1984; appt. Chancellor of NUI, 1976; named Greatest Living Irishperson by ESB/Rehab People of the Year, 2002; d. inthe New Year, 2017 [aetat 100]
[ top ]
Works
Retrospect 2006-1916 (Dublin: IPA 2006), 44pp., and presum. many works of technical interest.
[ top ]
Criticism
John F. McCarthy, ed., Planning Ireland's Future: The Legacy of T. K. Whitaker (Dublin: Glendale Press, 1990); Fionán Ó Muircheartaigh, ed., Ireland in the Coming Times: Essays to Celebrate T. K. Whitaker's 80 Years (Institute of Public Administration 1998). 423pp.; Anne Chambers, Portrait of A Patriot (2014).
See also standard works in political economy by Joseph Lee and Colm Ó Grada.
[ top ]
Commentary
Garret Fitzgerald, 'Those unremembered architects of national recovery', The Irish Times (24 Nov. 2001): 'What must of course be added is that these political achievements [associated with the economic nurturing of the Celtic Tiger] could never have taken place but for the quality of the advice that politicians secured from the late 1950s onwards from such distinguished public servants as Ken Whitaker and Hugh McCann and successors, and from outside advisers like Alexis Fitzgerald - and from Paddy Lynch who, sadly, died last weekend, having served in both capacities at different times.'
Conor McCarthy, Modernisation: Crisis and Culture in Ireland 1969-1992 (Four Courts Press 2000), writes: 'The Lemass/Whitaker process effectively passed control of the modernisation of the economy and society of the Republic over to multinational capital. [...] From the moment of the Lemass/Whitaker initiative on, the relationship between economic base and ideological superstructure was contradictory, the first operating to delegitimate the second. [...] As activity by the Provisional IRA increased in the North, Southern intellectuals increasingly felt the need to mount a struggle in the ideological realm to prevent the spread of subversive ideas. The main thrust of this tendency has been the critique of nationalism that I have referred to as "revisionism".' Further, 'The future role for the business and bureaucratic élite of the Republic would be negotiating markets and financial assistance with the European Economic Community, and facilitating, by means of financial and other incentives, the penetration of the economy by multinationals. [viz., 'deterritorialisation'].' (p.31.)
Bronwen Walter, et al., A study of the existing sources of information and analysis about Irish emigrants and Irish communities abroad (2002): [...] 'According to this approach, huge outmigration in the 1950s was primarily a consequence of the loss of men's and women's work in agriculture and agricultural-related employment on an unprecedented scale. The publication of Economic Development by T.K. Whitaker, then secretary of the Department of Finance as the basis for the first Programme for Economic Expansion represented a new phase of Irish modernisation that opened up new avenues of employment and somewhat stemmed the loss through migration. This programme for internationalisation, economic expansion and modernisation was prompted by experiences of emigration. Slowing down of out-migration and a higher rate of immigration in the 1970s was explained in terms of EEC membership giving particular benefits to the Republic of Ireland, which had an unusually large agricultural sector.' (p.15; available online as pdf; accessed 28.004.2010.)
[ top ]
Quotations
Economic progress?: 'After 35 years of native government people are asking whether we can achieve an acceptable degree of economic progress. The common talk amongst parents in the towns, as in rural Ireland, is of their children having to emigrate as soon as their education is completed in order to be sure of a reasonable livelihood. To the children themselves and to many already in employment the jobs available at home look unattractive by [comparison with] those obtainable in such variety and so readily elsewhere.' (Economic Development, 1958, p.5; quoted in Gerry Smyth, Decolonisation and Criticism: The Construction of Irish Literature, London: Pluto Press 1998, p.94.)
'A Note on North-South Border Policy' - Memo addressed by T.K. Whitaker to Taoiseach Sean Lemass (11 Nov. 1968)
- written while Secretary for Department of Finance.
Long since we abandoned force as a means of undoing Partition, and rightly so because the use of force to overcome Northern Unionists would accentuate rather than remove basic differences and it would not be militarily possible in any event. We were, therefore, left with only one choice, a policy of seeking unity in Ireland by agreement in Ireland between Irishmen. Of its nature this is a long-term policy, requiring patience, understanding and forbearance and resolute resistance to emotionalism and opportunism. It is none the less patriotic for that. This is the policy enunciated and followed by, Mr. Lemass as Taoiseach and it underlies the contact made by him and by the present Taoiseach with Captain O'Neill and the members of his Government.
De facto, at any rate, we have recognised that Northern Ireland is at present part of the United Kingdom and that the Government of Northern Ireland exercises responsibility there to the extent of the devolution granted by Westminster. The British Parliament has determined and guaranteed the constitution of Northern Ireland. We do not - or at any rate need not - expect the British Government or Parliament to repeal the Acts of 1920 and 1949, and expel Northern Ireland from the United Kingdom against the wishes of the majority in Northern Ireland.
The British are not blameless, as far as the origins of Partition are concerned, but neither are they wholly to blame. Nobody can read the history of the past century in these islands without some understanding of the deep, complex and powerful forces which went into the making of Partition. It is much too naive to believe that Britain simply imposed it on Ireland. For the Northern Unionists the main motive binding them to the United Kingdom is fear rather than loyalty - fear of loss of power, property, privilege and even religious independence if they were subject to a Dublin Parliament.
They are also conscious (as are many Nationalists, too) of the superior financial advantages, in terms of agricultural subsidies, social services, &c., of being part of the United Kingdom rather than an independent dominion or part of an Ireland receiving no annual subventions from Westminster. At present, the annual subsidy from Westminster (over and above entitlement based on N.I. tax contributions) is of the order of £90 million.
We have already drawn the conclusion that all we can expect from the British is a benevolent neutrality - that no British interest will be interposed to prevent the re-unification of Ireland when Irishmen, North and South, have reached agreement.
This, of itself, will be cold comfort if we cannot, in addition, achieve a, good "marriage settlement", in the form of a tapering-off over a long period of present British subsidisation of NI. Otherwise, we in the South will be imposing on ourselves a formidable burden which many of our own citizens, however strong their desire for Irish unity, may find intolerable.
We cannot lay certain social ills in the North at the door of Partition without acknowledging (at least in private) that conditions for the Catholics in N.I. would be far worse if Partition were abolished overnight. We could not for a long time offer more than partial compensation for the loss of the enormous U.K. grants and subsidies.
It is unwise to suppose that the reaction of the British Government and Parliament, of the press and public opinion, to evidence of discrimination in housing and jobs and an inequitable local franchise in N.I. will favor the ending of Partition. The concern aroused is rather about the image of Britain and the reaction will be to hasten the righting of social and political injustice in the local jurisdiction. The British merely want to clean up what they regard as an unpresentable back-yard. It is possible that British Labour Party members would like to see N.I. cut adrift from the U.K. in order to reduce the Conservative - Unionist vote and, perhaps, save money for other purposes. But these are probably a minority even in the Labour Party; any such British saving would, in any case, be at our expense in the South; and there can be no doubt that the British Parliament would overwhelmingly refuse to expel a "loyal" N.I. from the U.K.
—Available at Brian John Spencer blogspot - online; accessed 24.09.2015.
Address to the Oireachtas (Nov. 1960) "The statistical record shows that agricultural output in Ireland increased by only 12 per cent. over the 30-year period 1929-1959. [...] It is unlikely that anyone is satisfied that everything necessary to put agriculture in Ireland on a proper footing has yet been done. [...] It is to be regretted that agriculture has not so far shown the same buoyancy as industry. Industry and agriculture should support and strengthen each other-otherwise our economy has one hand tied behind its back." (Quoted in Alice Curtayne, The Irish Story: A Survey of Irish History and Culture (Dublin: Clonmore & Reynolds 1962), p.151, with the remarks: 'Even today, he seems to think that agriculture is the Achilles' heel of the Republic [...] no one denies that to boost agriculture is a matter of life, or death, for the Republic. One hopes that the Institute's work will not be exclusively academic. But positive results can hardly be expected for some years yet.'
Physical FF-orce: T. K. Whitaker told Jack Lynch: 'Force will get you nowhere; it will only strengthen the fears, antagonisms and division that keep North and South apart', while the end of partition would impose on the South 'a formidable burden which many of our own citizens, however strong their desire for Irish unity, may find intolerable.' (Govt. Archives; quoted in Ricard English, 'A Triangle of Violence', review of Rick Wilford, ed., Aspects of the Belfast Agreement, OUP 2001, and Paul Arthur, Special Relationships: Britain, Ireland and the Northern Ireland Problem, Blackstaff 2001, in Times Literary Supplement, 24 Aug. 2001.)
Way to go: T. K. Whitaker (Secretary to Dept. of Finance, 1956), to whom the new Learning and Information resource Centre at Dundalk Inst. of Technology was dedicated on 7th Dec. 2001, writes about his life and views under the heading: 'We have come a long way - but we still have a long way to go' [heading]. He goes on: 'I have always thought there was a wealth of wisdom in the following lines: "Make of the stones of the place / A pillow for thy head / And thou shalt see angels / Ascending and descending." Further remarks his disappointment at not seeing more 'done on recent budget to improve directly the lot of the poor and the ill.' (The Irish Times, 8 Dec. 2001.)
Champagne Charlie: 'Dr. Whitaker comments on the spectacular change in Haughey, "psychologically, for a young man who grew up in ordinary surroundings and probably liked a packet of Woodbines or a pint, to an ascendancy figure who liked horses and champagne and so on. There is a big, psychological question as to how this transition occurred."' (See Kathy Sheridan, 'From Raggy Boy to Champagne Charlie' [on Miriam O'Callaghan's 4-part series about Charles Haughey], in The Irish Times, 11 June 2005, Weekend, p.11.)
On the modern Civil Service
In more recent times he has observed, to his regret, a deterioration in the standards and practices, as well as in the calibre, of civil servant. The "politicization" he observes in the more senior ranks of the civil service he views as compromising the traditional independence and integrity critical to the role of the civil servant as adviser to the government. To restre those standards, to ensure that senior civil servants concentrate on their original function of providing unbiased and critical opinion, and do not merely satisy or rubber-stamp the aims and egos of their political masters, is, he feels, a more important national aim than even the restructuring of parliament or government itself.
—Anne Chambers, Portrait of A Patriot (2014), p.36; supplied on Facebook by Bernadette Gorman, 14.03.2017. Gorman adds:
'I rang TK in 2011 in despair about corruption in the Civil Service. He invited me to visit him and I did twice. He was really heartbroken at what the State had come to and especially the Civil Service.' (Idem.)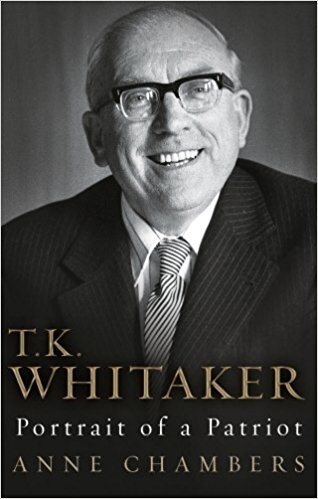 Cover-port.
[ top ]
Notes
Greatest Irishman: T. K. Whitaker was named the "Greatest Living Irish Person" at the ESB/Rehab People of the Year for his contribution to the economic regeneration of the country staring in the 1950s. Other winners were Niall Quinn (soccer), Francis Fitzsimons (Aid Worker/Mozambique), Martin Gildea (Young Person of the Year), Joe Kernan (Armagh football mgr.), Rosemary Daly (haemophiliac campaigner), Colm O'Gorman (sexual abuse victims organiser), Caroline Casey (visual impairment victim). (See Irish Emigrant, No. 825.; 25 Nov. 2002.)
IDA: The Irish Development Authority was established by Fine Gael Minister Dan Morrrissey, and opposed by Sean Lemass. (See Stephen Collins, review of Tom Garvin, News from a New Republic [...], in The Irish Times, 18 Sept. 2010, Weekend, p.10.)
[ top ]
---