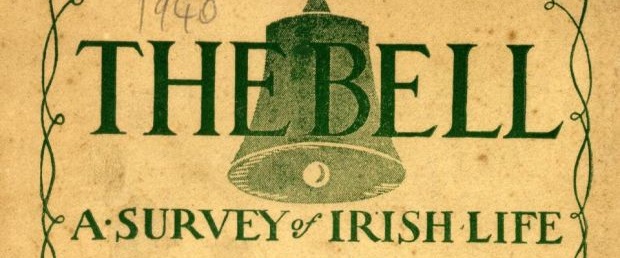 'The greater number of all Irish writers in prose, verse or drama, deal with rural life […] The main effect on our literature is that it is not, as yet, intellectually sophisticated […] It is a curious thing about modern Irish literature that it has produced so few feet-on-the-ground realistic novels […] We Irish do not, so far, ponder deeply or write realistically.' (The Irish, p.130-31; quoted in Ivor Faulkner, "Realism in the Short Fiction of John McGahern", UU MA Diss., p.51; also another source.)
'I would try to write … about those moments of awareness when we know three truths at one and the same moment: that life requires of each of us that we should grow up and out, whole and entire, that human life of its nature inevitably foils exactly this, and that the possibility of wholeness is nevertheless as constant and enormous a reality as the manifold actuality of frustration, compromise, getting caught in some labyrinth, getting cut short by death.' (Vive Moi, 1964, p.226; quoted in Daniel Murphy, Imagination and Religion in Anglo-Irish Literature 1930-1980 (Dublin: IAP 1987), p.78.)
'It was the same silent night for miles about, far beyond the town, in the cabins glimmering among the moist fields, always the same for mile after mile, through the whole length and breadth of Ireland, a gentle, dim night where only the small sounds murmured in the grass and the dark an oncoming sleep muffled human speech.' (Q. source; quoted in Patrick J. Duffy, Exploring the History of Irish Landscapes, Dublin: Four Courts Press 2007; cited by Joe Horgan [reviewing same], in Books Ireland, Nov. 2007, p.259.)
And Again (1972)
'Of course,' my host said with a sigh, 'the truth is he didn't get on with his wife.'
'Really?'
'She flew her kite a bit too often. All Dublin knew it.' (p.82.)
[Quoted in John I. Saeed, Semantics [1st edn. 1997] (Wiley-Blackwell 2003). Saeed employs it as an example of non-literal language requiring 'a little more interpretative effort', and remarks: 'In the literal language theory, the reader's task here is firstly to reject the literal interpretation, that the husband had a phoblia about kite flying, and then to work out what kind of behavious is being referred to so obliquely here' (p.16).]
On the Royal Irish Constabulary
[RIC] (1836-1921): 'Men like my father were dragged out, in those years, and shot down as traitors to their country. Shot for cruel necessity – so be it. Shot to inspire necessary terror – so be it. But they were not traitors. They had their loyalties and they stuck to them.' (
Autobiography
, 1963; quoted by Fintan O'Toole, in 'Why do we fear the ghosts of dead policemen?', in
The Irish Times
(Sat. 11 Jan. 2020 - see full version under Library > Criticism > Reviews - as
attached
; also available
online
; accessed 11.01.2020.)
[ top ]
The Irish Tribune (13 August 1926), debate with Daniel Corkery: '[…] Irish Ireland has come to that stage at which it realises its own nakedness, realises that beside the mature art of the Synges and the Russells and the Yeatses have produced, its O'Laoghaires and O'Conaires are the most insignificant scribblers, for this reason it will invent standards, invent anything that will restore its complacency.' (Quoted in Patrick Walsh, Daniel Corkery, DPhil Diss., UUC 1996; see further in Commentary, supra.)
[ top ]
King of the Beggars: Daniel O'Connell [1938; 1980 Edn.] - some extracts:
[On the Gaelic bards, or filí:] 'an eighteenth-century collection of the disjecta membra of effete tradionalism' (p.20). '[In this book will be found] a tribute to the real and (from O'Connell's point of view) only value of these old traditions - their literary power to distract the hovels from their misery, and to keep, at whatever cost of illusion, their native pride alive.' (pp.36-37). 'He [O'Connell] at least had no doubts that Ireland was beginning all over again.' (p.39.) '[O'Connell accepted] the oneness of Ireland, inside the historical fact of conquest and invasion, because to his realist and pragmatical mind the mingled strain in Irish life was something that, accepted, could create a new nation. It was the appeal of the first national leader, since the fall of the Gaelic state to the remnants after its fall, to build freedom on conquest.' (p.114.)
'Implicit in that change over from O'Connellism is the modern appeal to the sanction of the Gaelic past; for that is merely Republicanism faking a tradition for itself independent of, and even contemptuous of, O'Connell's acceptance of the mingled strains of Anglo-Ireland […] O'Connell would have (certainly at this stage) moulded all into one new national identity, had the vested interests been ready to nationalise their own traditions and share and share alike with the people of their adopted country.' (p.116.) 'Republicanism is untraditional in Ireland in the sense that for the first one hundred years or so of the modern Irish democracy - 1800 to 1916, when the Irish Republican Brotherhood stole Sinn Féin - the sole expressed and supported idea of the vast mass of the Irish people was for a hierarchical form of society, based on the status quo; for the fullest freedom of action and opinion; and for a native government of that order in a peaceful union with Great Britain under the symbol of the crown.' (p.116.)
'They [the Prot. ascendancy] held aloof, hugging their aristocratic origins and ideas, and despising the folk. It is only natural that sooner or later, the folk, thus despised, should, in isolating themselves politically (as Separatists or Republicans), also isolate themselves culturally, exaggerating the antiquity of what traditions they had in order to inflate their importance, and base themselves, for pride's sake, on a history previous to Anglo-Ireland. It was only natural - but it is a sardonic twist of history that the Irish people should thereby ask for the sanction of a native aristocratic tradition that had equally despised them, which had abandoned them on its fall, and which never contributed to their rise.' (pp.116-17.)
'[I]n so far as he [O'Connell] was not a radical, he was Irish, and inclusive. The separatists, by being Radical, were less Irish and exclusive.' (p.116.) '[O'Connell opposed the Veto] for if he did not contemplate the absolute secularisation of politics, he had no intention of seeing politics become the chequer-board of the bishops.' (p.130.) [Quotes O'Connell on the Veto:] 'Does any man imagine that the Catholic religion will prosper in Ireland if our prelates, instead of being what they are at present, shall become the servile tools of the administration? They would lose all respect for themselves, all respectability in the eyes of others.' (p.211.) 'O'Connell's secular politics 'one of his greatest heritages to modern Irish democracy.' (p.212.)
[Quotes O'Connell:] 'My political creed is short and simple. It consists in believing that all men are entitled to civil and religious liberty.' (p.229.) 'He thought a democracy and it arose.' (p.368.) See also O'Faolain's remarks on Irish Republicanism, infra.
The Great O'Neill (1942): 'We have become so accustomed, in the history of the English conquest of Ireland, to see everything as part of the Patriot myth - with each new Hero rising against the ancient Tyrant, - that we are liable to forget that there existed in the sixteenth century an alternative myth, that of the ancient Hero rising against the new Tyrant, or the local feudal knight against the king. These alarums about the great ambitions of the Earl of Tyrone are from the point of view of Elizabeth, just as much part of that general struggle of the monarch for absolute power as part of the conquest of Ireland; and she may well have regarded his subjection entirely as a matter of discipline, seeing the Earl primarily as part of the entire system of which she was the head. This was an aspect of the situation which - as is evident in the wording of his complaints and self-justifications - was quite clear to Tyrone. It was beyond the understanding of his Gaelic followers because it was outside their experience. And it was equally outside the experience of all the native annalists who therefore naturally recorded Tyrone's life in terms of the Patriot Myth, without reference to that other myth which is at the core of so many of Shakespeare's historical and patriotic plays and about which they knew nothing. To remember that is of paramount importance.' (p.144; quoted in Christopher Murray, 'Brian Friel's Making History and the Problem of Historical Accuracy', The Crows Behind the Plough: History and Violence in Anglo-Irish Poetry and Drama, ed. Geert Lernout, Amsterdam: Rodopi 1991, pp.61-77, pp.69-70.) [Cont.]
The Great O'Neill (1942) - cont.: O'Faolain dramatises O'Neill's response to his portrait as a leader of the Irish-Catholic Counter Reformation in Peter Lombard's manuscript: 'Idly his fingers touch the Archbishop's manuscript … This is his life, his mind, his soul. Here are thirty crowded years of ambition and bloodshed, of intrigue and manoeuvre, of victory and utter defeat. The figures rise … the men he made, the men he tortured, the men he broke, the men he murdered, the men he sold, the men he bought … his dead wives … his children … And every word that he reads is untrue. Lombard has translated him into a star like those stars over the city roofs. He has seen it all as a glorious story that was in every thread a heartbreak. He has made Life into a Myth…. Must we Irish always be weaving fancy, living always in the fantastic world of a dream? The old, drunken man sobs in his rage and misery the glass tumbles, the wine slowly spills across the historian's page a long red streak of blood.' (pp.280-81; quoted in Murray, op. cit., 1991, p.74.)
The Story of Ireland (London: Collins 1943): 'After O'Connell, the people sought for leadership among themselves, and thought for themselves as a democracy. He had in this sense defined the nature of modern Ireland, and, in defining it created it …' (p.37.)
Irish Republicanism: 'Republicanism is untraditional in Ireland in the sense that for the first one hundred years or so of the modern Irish democracy — 1800 to 1916, when the Irish Republican Brotherhood stole Sinn Fein — the sole expressed and supported idea of the vast mass of the Irish people was for a hierarchical form of society, based on the status quo; for the fullest freedom of action and opinion; and for a native government of that order in peaceful union with Great Britain under the symbol of the Crown.' (King of the Beggars: A Life of Daniel O'Connell [1938], rep. Swords 1986), p.107; quoted in Richard English, '"The Inborn Hatred of Things English: Ernie O'Malley and the Irish Revolution, 1916-1923', in Past and Present, May 1996, p.190.)
[ top ]
The Irish: A Character Study (West Drayton, Middlesex: Penguin 1947): '[…] In the most creative period of Anglo-Irish literature (form about 1890 to about 1920) the writers saw Irish life, in the main, romantically […] Towards the end of the period a satirical note made itself felt, and in the plays of O'Casey – all the matural wonder being [11] removed, for they are set in the Dublin slums – we are left with an unassuaged realism. The novel, budding from the work of George Moore and James Joyce, and prfoundly affected by French and Russian realists, likewise began to hold a far from indulgent mirror up to nature. When the revolutionary period of 1916-1922 ended miserably in a civil war, romance died completely. Most Irish literature since 1922 has been of an uncompromising scepticism, one might even say ferocity.' (pp.137-38; quoted in Michael Böss, Introduction, Karl-Heinz Westarp and Böss, eds., Ireland: Towards New Identities, Aarhus UP 1998, p.12.) [For considerably longer extracts, see attached.]
[ top ]
The Short Story (London: William Collins 1948; Devin-Adair 1951) - extracts:
'What one searches for and what one enjoys in a short story is a special distillation of personality, a unique sensibility which has recognized and selected at once a subject that, above an other subjects, is of value to the writer's temperament and to his alone - his counterpart, his perfect opportunity to express himself.' (The Short Story, [2nd. edn.] Cork 1972, p.44; quoted in Declan Kiberd, 'Story-Telling: The Gaelic Tradition', in Terence Brown & Patrick Rafroidi, eds., The Irish Short Story, Gerrards Cross: Colin Smythe 1979, p.19.)
'English readers prefer the social scope of the novel to the more private concerns of the short story. The English way of looking at life is much more social and must less personal and individual than the French, and this way of life, one may well thing, does work more effectively inside the broad frame of the novel.' (p.46; quoted in Sarah Martin, UG Diss., UUC 2006.) .)
'The short story, then, is an immense confidence-trick, an immense illusion, as immense a technical achievement as the performance of an adept magician.' (p.169.) 'Telling by means of suggestion or implication is one of the most important of all the modern short-story's shorthand conventions. It means that a short-story writer does not directly tell us things so much as let us guess or know them by implying them.' (p.151; in Martin, op. cit., 2006.)
'A story can be subtle in proportion as it manages to convey a greater and greater amoung of information by means of these suggestions, and if the reader fails to catch the suggestion that is his loss.' (p.153; Martin, op. cit., 2006.)
'I think it is safe to say that unless a story makes a subtle comment on human nature, on the permanent relationships between people, their variety, their expectedness, and their unexpectedness, it is not a short story in any modern sense.' (p.172; Martin, op. cit., 2006.)
'The strength of such simple subjects lies in the fact that the suprise they give us (usually a modest one) comes not from their complex contrivance but from the complex contrivance of human nature which they innocently reveal.' (p.180; Martin, op. cit., 2006.)
'One of the best definitions ever given of the technique of fiction is that action reveals character, and that character demonstrates itself in action.' (p.184; Martin, op. cit., 2006
[ top ]
The Bell, 1, 1 (1940), "'This is Your Magazine" [first editorial]: is quite clear about certain practical things and will, from time to time, deal with these - Language, Partition, Education, and so forth. In general The Bell stands, in all such questions, for life before any abstraction in what magnificent words it may clothe itself. For we eschew abstractions, and will have nothing to do with generalisations that are not capable of proof by concrete experience. Generalisations (to make one) is like Prophecy, the most egregious form of error, and abstractions are the luxury of people who enjoy befuddling themselves methodically. We prefer, likewise, the positive to the negative, the creative to the destructive. We ban only lunatics and sour-bellies. We are absolutely inclusive. We take our stand, for that, on the noble words of Alice Stopford Green in presenting the Senate with a casket to hold its Constitution: "From the beginning, Ireland has been rich in her hospitality to men of goodwill coming within her borders. And at all times there have been incomers who have responded honourably to that generosity and have become faithful members of her people. she has had her rewards among the strangers who, under her wide skies, have felt the wonder of the land, and the quality of its people, and have entered into her commonwealth." / Whatever you are, then O reader, Gentile or Jew, Protestant or Catholic, priest or layman, Big House or Small House - The Bell is yours.' Further, O'Faolain calls on Irishmen and women from all walks of life to 'make this bell peal out a living message' (Ibid., p.6; quoted in Kelly-Anne Matthews, UU, PhD diss. on The Bell, 2007 [draft].)
[ top ]
"For the Future" [editorial], in The Bell, 1, 2 (Nov. 1940), p.5: 'It would save the Editor a good deal of heart-burn – for editors hate returning manuscripts – if contributors would study the magazine. Note, especially, how every contributor in the present issue writes from actual experience. Professor Fahy went into the jails for himself before writing on Prison Reform. Michael Farrell went down to Birr and saw the local theatre at first-hand. Francis MacManus does not write an article on Are Irish Teachers Properly Trained? Instead he gives us a fine, real picture of life in a Training College . Frank O'Connor has written a portrait of A.E. as he knew him and loved him. Orphans and I Live in a Slum are documents from real life. And so on with each writer. Though we hesitate to believe that Flann O'Brien performed a special pilgrimage on our behalf; at any rate we have so far received no bill of expenses. So, do not write articles on abstract subjects. And keep under 3,000 words. / There is a last thing. We accept the situation. We are writing about our own people, our own generation, our own institutions. We are writing about our own family, and though we are quite prepared to give them hell if we feel like it, it has to be done in a certain way. And that is the decent, friendly, possibly hot-tempered, but always polite and constructive way. / We shall all have to learn as we go on what we can and cannot do with The Bell . At the moment we are a bit dazzled by our success. Only once before, so far as I know, has a paper sold out in Dublin on the first day of publication and that was The Nation. There could not be a better augury.' (Supplied by Kelly Matthews, DPhil. preparations, UU 2006.)
[ top ]
The Bell, 3, 2 (Nov. 1941): 'Make ten fanatics in a country and the mischief is irreparable. Having been created by idle thinking from the top layers of professors and propagandists, they work their way back through political channels to bully the top. They have been doing it here for twenty years until we now find ourselves caught in an enormous, ravelled, simple-minded web - which nobody knows how to disentangle - of Gaelic Revivalism, stark Isolationism, timid and therefore savage Puritanism, crazy Censorship […]. We do not need to look far for the revenge of Life. We find it in the people driven headlong from the loneliness of the land, driven from the barrenness of country life, driven even out of the country itself to a bombed world. Which is, surely, the ultimate commentary on this thing's disconnection with all practical history, all practical life.' (q.p.; Quoted in Edna Longley, The Living Stream: Literature and Revisionism in Ireland, Newcastle-Upon-Tyne: Bloodaxe 1994, epigraph [p.9].)
[ top ]
The Bell (June 1943), "The Stuffed-Shirts": 'It is plain to see that our generation has lost all sense of its origins. The healthy, generous, humane sweep of feeling that we associate with the traditions of our countryside no longer runs through society or political life. The very history being pumped into our children in the schools and the image of life being offered to them is all alien alike to our nature and to fact. It is a complete fairy-tale - I have examined scores of these books and speak by the book - based on a fanciful Celtophilism of which you will find no living example if you get on your bicycle and wander through the countryside in search of its exponents. The main notion of it is that we have since the dawn of our history been united there in our efforts to eject all foreign ways, peoples, manners, and customs - which is, of course, arrant nonsense, on this fancy there has been piled up a gospel of the sanctity of the West and the evil of the East, the generative power and utter purity of all native custom and tradition, as handed down by an army of, mainly legendary, saints and heroes; a thirst for not only what little remains of this custom and tradition but the revival of what of it is actually dead or obsolescent; a drive towards authoritarianism to enforce these ideas and a censorship of cold-blooded economic pressure (which we all feel, and which business-men carefully watch) to down everybody who opposes them. This farrago is called Nationalism. [/…] For these things are all one vast smoke-screen sent up to hide the corruption of this bastard thing that we have unforeseeingly created out of martyrdom and blood … [/…/] It was all summed up for me a few years ago in a picture of the old President of Finland in his home - a simple, graceful, modest, original, Finnish house, and then I consider why we should not find a more fitting setting for our own old Gaelic Leaguer President [i.e., Douglas Hyde] than the aspidistras and tawdry bamboos of the former Viceregal lodge. / This is what our middle classes have done for us. That is what we must, with patience, work to undo.' (In The Field Day Anthology of Irish Writing, gen. ed. Seamus Deane, Derry 1991, Vol. 3, pp.101-07.)
[ top ]
The Bell (Dec. 1944) - Editorial: 'In our own small way we have, in recent times, created one such very wonderful delusion. It is variously called the Gaelic Tradition, or the Gaelic nation, or simply The Gael. It is a mystique, and like all mystiques it has a basis in fact, or rather an impossible bundling together of disparate facts. In sum, the mystique has tried to discover in the old Gaelic world a model, or master-type - rather like the National Socialist mythology of the pure Aryan - to which we must all conform [...] We can see, now, why the insurrectionist seized on the Gaelic Nation ideal, absurd and impossible as it was: their hearts were full, but their minds were vacant [...; It] produces nothing positive. On the contrary its effect is wholly negative and inhibitory; as with some mumbo-jumbo that is feared for its destructive powers and given mere lip-service to keep it quiet [...] All its ideas of life are mediaeval. Take even industry which might be thought safe from it. Can we seriously hope to develop a dynamic industrial future with a system of education which is based on uncritical adoration of Finn MacCool [...]?' (Quoted in Alan Titley, 'The Queer Mind of Sean O'Faolain', in Nailing Theses: Selected Essays, Belfast: Lagan Press 2011, p.91.) (Note: Titley goes on to [berate O'Faolain for misrepresenting Irish cultural revival as a reactionary ideology].
[ top ]
The Bell, 18, 3 (1952): "The New Criticism": 'Wherever else art is today, it is in the market-place, the pub, the queue, the bus, the office, parliament and the press, in the kitchens and the hospital, as happy painting frying pans as writing of potato stalks. Art is no longer something separate; it is what it always was in the great ages […] a vital part of common life. It is only the academicians and the academic critics who are still treating it as a luxury. Why does not the New Criticism see that it is playing into the hands of these gentlemen by so rigidly separating the poem and the poet - the created thing from the man and all his life and all of our lives of which it is not just a reflection and recreation but an actual part?' (pp.141-42; quoted in Gerry Smyth, Decolonisation and Criticism: The Construction of Irish Literature, Pluto Press 1998, p.116.)
[ top ]
The Vanishing Hero (1956), 'Irish writers are far less interested in the technique of writing than in the conditions of writing, though inclined to think exclusively in terms of their own local conditions and to imagine them unique.' (p.23); 'This idea or notion of fitness is purely personal to the writer if he is an individual writer, and all good modern writing has, perforce, to be individual: i.e., it does not any longer present traditional or social ideas of what is fitting […]. It is therefore essential to be aware of the constituents of Joyce's, or any writer's, way of looking at life.' (ibid., 211-12); 'Joyce's world is not Dublin and all that. It is as private a world as that of Proust.' (p.211; all quoted in Gerry Smyth, Decolonisation and Criticism: The Construction of Irish Literature, London: Pluto Press 1998, 262pp.)
[ top ]
Collected Stories (1957), Preface: 'When I was in my twenties I did not know from Adam what I wanted to say. I had no grasp at all on the real world, of real people. I had met and mingled with them, argued with them, lived with them, shared danger with them. They were mysteries to me. I could only try to convey my astonishment and delight at the strangeness of this bewildering thing called life. Besides when I wrote 'Fugue', my first successful story, in 1927, I had come out of an experience that left me dazed revolutionary period in Ireland. Not that it was really an experience as I now understand the word. It was too filled with dreams and ideals and a sense of dedication to be an experience in the meaning of things perceived, understood and remembered.' Further, 'I had come out of an experience which had left me dazed-the revolutionary period in Ireland. Not that it was really an experience as I now understand that word. It was too filled with dreams and ideals and a sense of dedication to be an experience in the meaning of things perceived, understood and remembered. I perceived alright, I remembered alright, but it had all been far too much to understand; especially the disillusion at the end of it all, for, as few people who are not Irish now remember, that revolutionary period ended in a civil war, and civil war is of all wars the most difficult for its participants to understand. Besides, as I found myself yesterday making a character in a novel I am writing say, "It's a terrible and a lovely thing to look on the face of Death when you are young, but it unfits a man for the long humiliation of life".' (p.viii; both quoted in Peter Costello, The Heart Grown Brutal, 1977, p.169, 198.)
[ top ]
Vive Moi (1964): 'And so blinded and dazzled as we were by our Icons, caught in the labyrinth of our dearest symbols - our Ancient Past, our Broken Chains, our Seven Centuries of Slavery, the Silenced Harp, the Glorious Dead, the tears of Dark Rosaleen, the Miseries of the Poor Old Woman, the Sunburst of Freedom that we had almost always believed would end our night and solve all our problems with the descent of a heavenly human order which we would immediately recognise as the reality of our never articulated dream … I had nothing to guide me but those flickering lights before the golden Icons of the past … the simplest pieties of Old Ireland'; goes on to explain that the split between the old and new IRA [Irregulars] in 1922 in terms of a profound conviction on the part of the latter that they alone 'represented the Symbolical Living Republic first declared during the 1916 Rebellion and set up as a de jure … underground government during the troubles.' (Quoted in Richard Kearney, 'Myth and Terror', in The Crane Bag [1978], rep. in Crane Bag Book (1982), pp.273-87.) [Cont.]
Vive Moi (1964) - cont. [On learning Irish]: 'The immeasureable difference between that summer school and any other place of study I have ever been in was that it was voluntary. We wanted - and how eagerly! - to be able to speak Irish well and fluently, not just as a useful accomplishment but because Irish was a symbol of the larger freedom to which we were all groping…. So when we spoke Irish we simply evoked another country, another life, another people. Mountains were mountains, roads were roads, and glens (always Scottish); but when, for these things, we uttered the Irish words sleibhthe, boithre, and gleannta we spoke passwords to another world. Irish became our Runic language. It made us comrades in a secret society. We sought and made friendships, some of them to last forever like conspirators, in a state of high exaltation, merely by using Irish words.' (Vive Moi, p.108-09.) See also O'Faolain's self-estimate: 'He was not a great genius. His works did not boil on the page in uneven brilliance. He was a man of great talent who might, if lucky, create something that would endure.' [q.p.]
[ top ]
Vive Moi (1964) - cont.: '[…] His Majesty's Commissioners of Education had taken every precaution to keep from us the bitter, ancient memoiries of our race. From various unguarded sources the ancient memories nevertheless escaped through - a a prhase, or a word from a theach, or no more than a inflection in his voice, or in an uncensored passage in a history book about the bravery of Irish soldiers in the jacobite or European wars, until, drop by drop, the well-springs of my being became brimful, and finally, when I was sixteen, which was the year of 1916 and the last Irish Rebellion, it burst in a fountaining image of the courage of man. … [46] If I say a final no to that school, what I am really saying, then, is a no to that Ireland. I am saying no to my own pyhood, my own youth, even to my own parents, to everything that, had I not rebelled against it, would have mismade me for life.' (Vive Moi, rev. edn. London: Sinclair Stevenson 1993, pp.46-47.)
[ top ]
Vive Moi! (Boston: Little, Brown & Co. 1964) - cont.: 'Now that we had swapped British administrators for Irish administrators, I felt a strong smell of moral decay, however vaguely or unclearly, I felt the onset of what I was ultimately as a new, native, acquisitive middle class intent only on cashing in on the change of governments.' (p.221; quoted in Carl Campbell, MA Diss., UUC 2009.)
[ top ]
Vive Moi (1964) - cont.: 'I was the mad mole who thought he had made Mont Blanc. I was the mouse in the wainscotting of the Vatican who believed that he told the Pope every night what His Holiness must tell the world every morning. I was Ireland, the guardian of her faith, the one solitary man who would keep the Republican symbol alive, keep the last lamp glowing before the last icon, even if everybody else denied or forgot the gospel that had inspired us all from 1916 onwards. I firmly believed in the dogma that had by now become the last redoubt of the minority's resistance to the majority; that the people have no right to do wrong. Like all idealists, I was fast becoming heartless, humourless and pitiless.' (?Vive Moi; cited in Ruth Dudley Edwards, Patrick Pearse, 1977; cited in D. George Boyce, Nationalism in Ireland, London: Routledge 1982; 2nd edn. 1991, p.332.)
[ top ]
On A Nest of Simple Folk [letter to Jim Kemmy]: 'That novel you mention was my first and shows it. It lacks discipline. It is boastful. It is what in our trade we all call "chronical" novel, going on and on and on like am member of the Dáil or the Senate who is either too lazy or too vain or too unskilled to compress. That verbosity is the hallmark of the "chronical novel" the world over. Of course it can be a fine thing if the writer keeps control of it but how few do! Even Scott, or Dickens, or Henry James, or Tolstoy or James Joyce can become boringly garrulous. I soon (not at all too soon) found that I did better at the short story than at the long one. You have to choose your words there! I suspect that the readers of my As Nest of Simple Folk who got much pleasure for it did so mainly because the material of the book was familiar; not because the author made the familiar he was recording seem quite novel, unfamiliar, unusual, a disclosure, revelation. that last word is the test of a good novel - it should have obviously startled the author himself or herself. That is why my mentor Edward Garnett dismissed my first novel as "mere chronical". […] In short Edward Garnett was entitled to prefer books composed of revealing details, of dramatic details, to talking, writing, or tedious eloquence. So them let's chuck the guff and get on with the action. / Pardon my own tedious Corkonian verbosity.' (O'Faolain's reply to a letter of 19 April [q.d.]; printed in Cork Review, O'Faoláin Special Issue, ed. Seán Dunne, Cork 1991, p.63.)
[ top ]
On A Nest of Simple Folk (interview with Jim Kemmy) - cont.: 'It was a historical novel, or family chronicle, based on everything I had known, or directly observed in the countrside, of y mother's people, and the city life of my mother and father away back .. in cork City. So that, in this book that I am now writing, that novel … links these past pages with my earliest pages describing my childhod. It was a child's view of the world brought into relation to a grown man's view of the world. The grown man was, in his cave of Self, explaining to the child he once had been what it really was tht he thought he saw as a child. It was a relating of aspirations nourished in innocence to the world experienced in knowledge. While I was working at it a friend might have asked me "What are you writing about?", and I might, for short, have said, "about Limerick and Cork between 1840 and 1916." But it would not have been true. Just as a critic reading the novel might have said, "he here describes life in Ireland over three generations", and it would not have been true. I was writing about dreams … I was hearing every time - no matter what I was writing about - the drums of my boyhood dreams.' (Vive Moi, 1965, q.p.; quoted in Benedict Kiely, 'Sean O'Faoláin: A Tiller of Ancient Soil', in A Raid into Dark Corners and Other Essays, Cork UP 1999, pp.124-33; p.126.)
[ top ]
'What it feels like to be a Writer' [radio talk; q.d.]: 'I will tell you very quickly about the experiences that made me see life through my own eyes. And they were, for me, very difficult and painful experiences indeed. I was born in a small provincial city in the south of Ireland before the First World War. What this means is that I was born in a country that at that time was part of the British Empire. I was educated in the English manner. I was being prepared to take my part in the life of the British Empire. I read world history as the English saw it. I read English literature as the English wrote it. All the boys' books and papers that I read were English boys' books and papers. For three hundred years, Irishmen had been moulded or melted into the English way of life by law, by brute force, by education. How could I see life clearly? I could not even see my own country clearly. I might just as well have been a boy born in Jamaica or Trinidad or India under British rule, unable to see Jamaica or India or Trinidad through any spectacles that had not been made in England. V. S. Naipaul's novel The Mimic Men depicts this process vividly. I might have been a boy born in Algeria under French rule, or an African boy born in one of the German colonies like Togoland or the Kamerun [Cameroon] before 1919. It must have happened to countless subjects of the Roman Empire. / But it is impossible completely to crush the inborn spirit of an ancient people. There is always a minority that ancestrally remembers and longs and struggles for its lost freedom, say ten per cent or even twenty per cent of the population. And this minority always passes on to succeeding generations, even if it is only by word of mouth, the memories of the ancient greatness of the race. There is an amusing story about the attitude of certain Red Indians of America to a suggestion by President Johnson, during the Vietnam war, that the Americans might sooner or later leave Vietnam. A poll, or census, was taken in a certain Red Indian tribe to find out what they thought about this. Most voted, "Yes." But a minority of the tribe suggested that the Americans should also leave the United States.'
'What it feels like to be a Writer' - cont: 'I only very gradually discovered, through word of mouth, through little semi-outlawed papers published by a patriotic minority of rebellious Irishmen, that I was not English but Irish. I was sixteen years old when this extraordinary fact burst upon me like an explosion. That was the year 1916 when a handful of Irishmen rose in rebellion under arms against English rule in Dublin. They were, of course, defeated; a number of them were executed; but these executions pulled the brutal mask of Empire from the face of Ireland and revealed what Yeats called her "terrible beauty". They woke up the entire Irish people and the upshot of it was that after some six more years of fighting - like the long years of fighting in Algeria against France - the vast bulk of Irish men and women found themselves free. / Those six years were the years during which I got those personal experiences, of men and women, of politics and war, that at last helped me to see life through my own eyes - to make images of life that were both true to what I considered the secret reality of life, and true to what I considered, or hoped, was the secret reality of me: I was then aged twenty-two. I had, of course, been trying to write for years before then, but I had nothing much to write about until those six stormy years gave me appealing subjects. My first book of stories, dated 1933, was all about the revolutionary period. My first novel was a long autobiographical book about how an Irish boy, brought up in the English mode, begins to find personal freedom through the fight for freedom of all his people. Then I turned to another sort of freedom - the freedom a man may seek for inside his religion; which in Ireland means the Roman Catholic Church. That was called Bird Alone. And so, I have gone on writing ever since, saying my say about life as I see or think I see it. [&c.]' (In Andrew Carpenter & Peter Fallon, eds., The Writers: A Sense of Place, O'Brien Press, 1980, pp.148-151; p.149f.)
[ top ]
Elizabeth Bowen & Virginia Woolf [on being brought by the former to meet the latter at Tavistock Sq., 8 Feb. 1939]: 'Their two profiles, Virginia's exquisitely, delicately beautiful, Elizabeth's not beautiful but handsome and stately, were, as I recall them now, forty-four years after, like two young faces on an obsolete coin. Within months their world was under fire. Within half a dozen years it was dotted by ruins. Today we think of that pre-war world as an anachronism - until we read Woolf, or Forster, or Bowen, or Lelunann, or Waugh […]' (In London Review of Books, 1982; quoted in Patricia Craig, Elizabeth Bowen, Penguin 1986, p.92.)
[ top ]
Irish life: 'The life now known, or knowable to any modern Irish writer is either the traditional, entirely simple life of the farm (simple intellectually speaking); or the groping, ambiguous, rather artless urban life of these same farmers' sons and daughters who have, this last twenty-five years, been taking over the cities and towns from the Anglo-Irish.' ("The Dilemma of Irish Letters", in The Month, Vol. 2, No. 6, 1949, p.373.) 'In such an unshaped society there are many subjects for little pieces, that is for the short-story writer; the novelist or the dramatist loses himself in the general amorphism, unthinkingness, brainlessness, egalitarianism and general unsophistication.' (Ibid., p.375-76.)'It all boils down to Hawthorne's "thin" society, stuff for the anthropologist rather than the man of letters…. I think it obvious that realism as a technique for dealing with such material soon arrives at a dead end.' (p.376; the foregoing all cited in Terence Brown, 'After the Revival: The Problem of Adequacy and Genre', Ronald Schleifer, ed., The Genres of Irish Literary Revival, Dublin: Wolfhound 1980, pp.153-78.])
[ top ]
Revolutionary youths: 'We were all idealist, self-crazed by abstractions, lost in the labyrinths of the dreams to which we had retreated from this pragmatical pig of a world.' (Vive Moi, p.169 [note quotation from Yeats's Philosophical Songs]; cited in Terence Brown, 'Literary Autobiography in Twentieth-Century Ireland', in Augustine Martin, ed., The Genius of Irish Prose, 1985, p.89-98; p.96.)
The new middle class: 'They were ordinary, decent, kindly, self-seeking men who had no intention of jeopardising their mushroom prosperity by [a] gratuitous display of moral courage. In any case, since they were rising to sudden wealth behind the protective tariff-walls, they had a vested interest in nationalism and even in isolationism. The upshot of it was a holy alliance between the Church, the new businessmen, and the politicians.' (Quoted in J. Lindsay, Sean O'Casey as a Socialist Artist', in Ayling, ed., Sean O'Casey: Modern Judgements, 1969, p.50; see Louis Dieltjens, 'The Abbey Theatre as a Cultural Formation', in Joris Duytschaever and Geert Lernout, eds., History and Violence in Anglo-Irish Literature, Amsterdam: Rodopi 1988, pp.47-65; p.53.)
[ top ]
City of Belfast: 'There is no aristocracy - no culture - no grace - no leisure worthy of the name. It all boils down to mixed grills, double whiskies, dividends, movies, and these strolling, homeless hate-driven poor.' (An Irish Journey, 1940; quoted in John Wilson Foster, The Titanic Complex, 1997; cited in Gerald Dawe, review in Irish Times 'Weekend' [?July 1997].
'Yeats and the Younger Generation', in Horizon (Jan. 1942): 'New Irish writers were nearly all Catholics either by conviction or by atavism and the Catholic Church in Ireland was making life impossible for them.' (Quoted in Brian Fallon, An Age of Innocence, Gill & Macmillan 1998 p.53.)
The Anglo-Irish: [O'Faolain quotes a priest met in a train who says] 'they in their octagon and we in our lighted cabins, I mean to say, it was two halves of a world.' ('A Broken World'; quoted in Benedict Kiely, 'The Great Gazebo', A Raid into Dark Corners and Other Essays, Cork UP 1999, p.34.) Further, on the "big houses": 'unofficial block houses of the English on Irish soil' which 'looked on in portly indifference' as thousands died (Midsummer Night Madness, 1932, p.34.)
[ top ]
Yeats obituary, The Spectator (3 Feb. 1939): 'though he is by minor definition an Irish poet, he is by major definition a world poet.' See also 'Yeats and the Younger Generation' [end], in Horizon (Jan. 1942), quoted in Roy Foster 'When the Newspapers Have Forgotten Me …', in Yeats Annual 12, 1996, p.170, 175 [see further under W. B. Yeats, Commentary, infra.]
Northern Ireland: '[T]here is no aristocracy - no culture - no grace - no leisure worthy of the name. It all boils down to mixed grills, double whiskies, dividends, movies, and these strolling, homeless, hate-filled poor.' (An Irish Journey, 1940; quoted in John Wilson Foster, Titanic, 1997.)
Irish Literary Revival (of Yeats, "AE" Russell, et al.): 'They were faced with problems far more insistent: social, political and even religious problems. They had grown up in a period of revolution, were knitted with common life, and could not evade its appeal. As time went on these problems became savagely acute.' ('Yeats and the Youngest Generation', in Horizon [ed. Cyril Connolly], 5, 25, Jan. 1942, p.50; quoted in Terence Brown, 'After the Revival: The Problem of Adequacy and Genre', in Ronald Schleifer, ed., The Genres of Irish Literary Revival, Oklahoma: Pilgrim; Dublin: Wolfhound 1980, pp.153-78; p.156.)
[ top ]
---