1930: articles on Joyce appears in Vanity Fair (Dec. 1929 & Jan. 1930 [half-page photo]); JAJ experiences a 'sudden kind of drop' on losing transition deadlines; JAJ contacted by George Borach, arising from article on him in Neue Züricher Zeitung, who recommends Prof. Alfred Vogt; 11th and last printing of Ulysses [in the 2nd edn. - of which 4 printings] by Shakespeare & Co. (Paris); HSW travels to Zurich to interview Vogt in the Seefeldstrasse, Zurich; ninth operation conducted on JAJ, 15 May, and further operations on 3 June and in Sept. 1930, resulting in improved vision; receives letter of encouragement from Eliot ('a year or to does not matter for a grand thing like this'); pens Sullivan's letter to New York Herald protesting the acclaim accorded to Lauri-Volpi in the role of Guillaume Tell; receives another letter from George Moore, 10 May 1930 ('In England we [...] think, rightly or wrongly, that the monologue intérieure existed from time immemorial'); JAJ attends Sullivan's performance in Guillaume Tell at the Opera, 30 June 1930; publication of James Joyce's "Ulysses", by Stuart Gilbert (Faber 1930); Nancy Cunard persuaded to bring Sir Thomas Beecham to hear Sullivan, Sept. 1930; encourages Antheil to write music for Sullivan, taking Byron's Cain and Abel as libretto; Henry Babou and Jack Kahane publ. Haveth Childers Everywhere (Paris & NY, June 1930) [FW 532-54]; C. G. Jung commissioned to write foreword to third German edn. of Ulysses, vetoed (but rev. and publ. in 1932); JAJ gains friendship of Paul Léon and wife his Lucie-Noël, a Russian emigré who becomes his principal helper (the 'absolutely disinterested and devoted friend' of Gorman's biography) - living at 27 Rue Casimir-Périer; Herbert Gorman begins work on a biography of JAJ with num. consultations during Dec. 1930; Helen indicates her wish that the Joyces be legally married to legitimised their descendents; on the eve of Giorgio's marriage, Syvlia Beach signs away her world rights to Ulysses to JAJ at his request, 9 Dec.; Giorgio m. Helen Kastor Fleischmann, 10 Dec. 1930, witnessed by Thomas McGreevy and Tom Bodington (La Mairie, 6o Arrondissement); further warnings from Munro regarding expenditure of capital, late 1930; JAJ complains of noise at Square Robiac; renewed his British Passport - after being told by the clerk that 'he had orders to send people like me to the Irish delegation [b]ut I insisted instead and got a British one.' (Letter to Giorgio)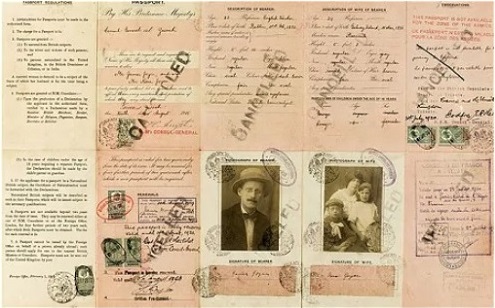 Joyce's Passport (issued in Paris 1930)
1931: JSJ writes to JAJ recalling his tale of 'the moo-cow' told to 'Baby Tuckoo' (31 Jan. 1931); Louis Gillet of Revue des Deux Mondes converted to Joyce's writing, though previously hostile and instructed by Edmund Gosse to shun it ('a literary charlatan of the extremest order ... a sort of Marquis de Sade but does not write so well'), Jan. 1931; JAJ clears out accumulated papers, sending some MSS to HSW; omits usual birthday celebrations for reasons of economy; taken to Trianons by Giorgio and Helen, returning from honeymoon; visited by the Colums and bearded by Mary Colum for his supposed antipathy to intellectual women when she taxes him with gulling people over the supposed Dujardin connection while denying an affinity with Freud and Jung; Livia Schmitz fails to elicit a preface for the English trans. of Svevo's Senilità, March 1931 (it being written by Stanislaus instead); French trans. of Anna Livia Plurabelle attempted by Alfred Péron and Samuel Beckett, and then revised by Paul Léon, Jolas and Ivan Goll after Beckett's return to Dublin; Philippe Soupault joins in Thursday-afternoon meetings between Joyce and Léon in the latter's flat at rue Casimir-Périer; Anna Livia Plurabelle reading [séance] hosted by Adrienne Monnier, 26 March 1931, and attended by Dujardin (who believes McAlmon is laughing at his wife's ankles); JAJ visited by Michael Lennon, a student contemporary at Royal Univ., and now an Irish judge; accused by Lennon of working for the British government during the war while 'the British government was carrying on a war [...] against the nationalist forces in Ireland' in an article for Catholic World (CXXXII, March 1931) - as well as shamelessly revealing family history and hastening the death of his own mother by refusing to assist the family; JAJ affected by noise at Square Robiac and moves with family briefly to Hotel Powers, 52 rue François Premier; the Joyces travel to London, staying at Hotel Belgravia, Grosvenor Gdns., SW1, then leasing flat at 28b Campden Grove, Kensington, nr. St. Mary Abbots, April 1931; furniture purchased at department stores, incl. beds; JAJ dislikes the flat (calling it 'Campden Grave'), thereby establishing legal domicile in England; Faber issues Haveth Childers Everywhere (May 1931) [FW 532-54]; Adrienne Monnier sends JAJ letter of reproach, 19 May 1931; JAJ m. Nora [Joseph Barnacle], 4 July 1931 [JSJ's birthday] at Kensington Registry Office (Marloes Rd.) for 'testimentary reasons' (as expressed in letter to Gorman, 6 June 1939) and without official notice taken of the alleged 'prior' marriage asserted by Joyce for purposes of earlier Who's Who entry ([strictly jactitation in law); front-page photograph of the Joyces leaving Registry Office accomp. by their solicitor Fred Monroe appears in Evening Standard; also hounded by Sunday Express journalist, with offer of a full page for a well-paid article on "Modern Move and Free Love" or threat of an article on his 'double marriage' (Letter to Giorgio, 9 July 1931 - Hans E. Jahnke bequest to James Joyce Foundation, Zürich; digitised by NLI]; lunch at Slater's Restaurant in Kensington High St.; celebrations a week later at the home of Robert and Sylvia Lynd [q.v.] at 5 Keats Grove, where JAJ sings "Phil the Fluther's Ball" and "Shule Aroon [Gl. Siuil A Rúin]", with guests incl. J. B. Priestley, Victor Gollanz, Norman Collins, Max Beerbohm, Arthur Ransome, Humbert Wolfe and Isaiah Berlin; receives a visit from by Kathleen Barnacle [Mrs. Griffin]; also recited Anna Livia Plurabelle using Sprechstimme [controlled pitch] familiar from Schoenberg's Aaron und Aaron (et al.); JAJ laughs on finding she has pawned the watch given her at Bognor ('That's just what I would do'); barred from contact by Charlie's Catholic wife who went on to destroy his signed works and letters; planned to visit Cornwall; actually visited Stonehenge in Wiltshire, accompanied by Kathleen - for whom it was 'a terrible place', causing Joyce to say: 'I have been fourteen years trying to get here'; notified by Brody, JAJ threatens litigation when Frankfurter Zeitung erroneously attributes story by one Michael Joyce to James Joyce, 19 July 1931; JAJ makes a new will, naming Nora his executor and giving HSW responsibility for his literary work; wills his portraits to Giorgio but omits Lucia from the will; Lucia (intensely nervous in London) returns to France, August 1931, staying with Giorgio and Helen at Montigny-sur-Loing, nr. Fontainebleau till the Joyces returned; Joyces visit Llandudno, Wales, returning to Paris, Sept.; let out Campden Grove to French Embassy chef; Harold Nicholson ordered not to mention Joyce on BBC by order [Sir John Reith], reaching compromise not to mention Ulysses, autumn 1931; controversy in The Times to which Alfred Noyes and Micheal Sadlier; JAJ commences work on "Mime of Nick, Nick and Maggies"; Joyces settle at 4 ave. Pierre Premier de Serbie, moving to 2 ave. St Philibert, in Passy, Dec. 1931; Lucia makes lettrines for an "A Chaucer ABC"; JAJ signs contract with Viking Press for US edn. of Finnegans Wake with personal clause in favour of B. W. Huebsch, 1931; JAJ receives letter from T. S. Eliot defending Nicholson's stand; news of JSJ's final illness sent by his landlord, urging him to write, 23 Dec. 1931; JAJ cancels Christmas celebrations; cables Kenneth Reddin to ensure his father receives the best treatment, undertaking to pay the bills; JSJ d. 29 Dec., 1931, at Drumcondra Hospital ('I've got more out of life than any white man'), leaving an estate of £665-9-0, JAJ being sole heir and recipient of £32 [see further details of JSJ, attached]; single copy of Shakespeare Edn. of Ulysses - replete with slipped in reviews testifying to its merits - imported by arrangement with Bennett Cerf (prop. of Random House) and duly sequestered by US Customs, who were previously notified of its arrival, enabling Random House to sue the govt. for the restitution of their property as 'improperly seized';
[ top ]
1932: JAJ sends a wreathe ('With Sorrow and Love') and asks HSW to sell £100 of stock to cover funeral expenses; receives accounts of the obsequies from Con Curran and Michael Healy; experiences 'prostration of mind' at his father's death ('not his death that crushed me so much as self-accusation', letter to HSW, 17 Jan. 1932); Lucia throws chair at her mother and is taken by taxi to maison de santé by her brother, 2 Feb. 1932 [aetat. 25]; Joyce writes to Cerf giving an account of the trials of publishing Ulysses, 4 Feb. 1932 and this was used to secure partial copyright of the American edition [otherwise precluded because it had prev. been published in Paris]; Japanese translation of Ulysses publ., purportedly in pirate edn., Feb. 1932; Helen's br. Robert Kastor brings news of successful bid for America edn. of Ulysses from Cerf (of Random Hse.), Feb. 1932, Joyce signing contract 14 March 1932; César Abin produces caricature-portrait of Joyce as question-mark along with other commissioned traits; JAJ issues "De Honi-soi a mal-y-chance / From a Banned Writer to a Banned Singer", pub. in New Statesman and Nation (27 Feb. 1932; also in Hound and Horn); Stephen James Joyce, son of Giorgio and Helen, b. 15 Feb. 1932; JAJ writes "Ecce Puer", poem ('New life is breathed on the glass [...] Oh father forsaken / Forgive your son'); Stephen secretly baptised in opposition to JAJ's wishes; songs by Joyce set to music by 13 composers in collection edited by Herbert Hughes with JAJ's encouragement and incl. Arnold Bax, Eugene Goosens, Arthur Bliss, Edgardo Carducii, Gustav Holst, Herbert Howells, John Ireland, Philip Jarnach, Albert Roussel and Darius Milhaud; performed in London on St Patrick's Eve, [16] March 1932 and issued as The Joyce Book (2 Feb. 1933); JAJ signs contract for Ulysses with Cerf, March 1932; Beckett tells Lucia that he comes to the flat primarily to see her father; Joyce informs Beckett that he is no longer welcome in the flat; Alex Ponisovsky (br.-in-law of Paul Léon) encouraged to take an interest and proposes, March 1932; Lucia accepts Ponisovsky but Giorgio objects on the grounds of her condition; formal engagement party held at Restaurant Drouand, Place Gaillon; Lucia becomes catatonic in Léon's flat afterwards (JAJ to HSW: 'Whatever spark of gift I have transmitted to Lucia has kindled a fire in her brain'); lease at rue Philibert expires; family visit to London aborted by Lucia who suffers a crise de nerfs at Gare du Nord, 17 April 1932 [an event after which 'disturbing personal themes' invade FW, acc. Gordon Bowker]; JAJ asks HSW to let the flat at Camden Grove, May 1932; Nora threaten to leave, May 1932; Lucia stays with Léons (9 days) and then the Colums; Ponisovsky calls on Colums and escapes through roof door; Lucia taken to Dr. G. Maillard's clinic at l'Hay-les-Roses and diagnosed 'hebephreniac' (i.e., incipient schizophrenia); Joyces briefly stay in Hôtel Byron on Champs-Elysée, May 1932, before taking a flat at 42 rue Galilée; JAJ translates James Stephens's poem "St. Stephen's Green" into French, German, Latin, Norwegian and Italian to celebrate joint-jubilee, May 1932; eleventh Shakespeare & Co. printing of Ulysses sold out [1932]; JAJ 'smuggled' Lucia and her nurse out of the clinic, 3 July 1932, and takes her to the Jolases at Feldkirch, nr. Zurich, while he attends Prof. Zogt; operation prevented by risk of traumatic iritis; JAJ seeks to find out in letter to Alf Bergan where autographed books given to his father are, 5 Aug. 1932, [Carlton Elite Hotel, Zurich]; WBY writes with invitation to join Academy of Irish Letters & Medals from Yeats, 2 Sept. 1932; examined by Dr. Vogt, 7 Sept., operation being deferred again; Joyce refuses Yeats's invitation in spite of urgings of the Colums, James Stephens, and others (writing to Yeats, 'I have no right whatsoever to nominate myself as a member'), 5 Oct. 1932; JAJ rejects Maria Jolas's advice to take Lucia to Jung, and sends Lucia to Vence with her nurse instead, travelling to Nice with Nora, late Sept.; returns to Paris, bringing Lucia, 20 Oct. 1932; facsimile MS of Pomes Pennyeach issued by Desmond Harmsworth, with designs by Lucia, Oct. 1932; JAJ signs contract for European edn. of Ulysses with J. Holroyd-Reece and M. C. Wegner (Paris agents of Albatross Press, Hamburg), issued as Odyssey Press Edn., Dec. 1932, incorporating Gilbert's corrections [4th printing and most accurate edition of Ulysses]; T. S. Eliot withdraws from negotiations to publish Faber edition of Ulysses after Joyce objects to part-publication to deflect threat of censorship; Jonathan Cape and Werner Laurie decline to publish Ulysses; John Lane agrees to publish, 1934; Lane's printers' protests cause publication to be deferred to 1936; JAJ engaged on "Night Lessons" and completes "Mime of Mick, Nick and Maggies", Nov. 1932 [FW II.i; pp.219-59]; Faber issues Tales Told of Shem and Shaun (Dec. 1932) [FW 152-59, 282-304, 414-19]; JAJ receives overtures from Warner Bros. for film of Ulysses, 1932; JAJ thinks Charles Laughton 'too Aryan' for Bloom, preferring George Arliss [as Disraeli]; JAJ talks with Eisenstein about film; employs girl to help Nora with Lucia; buys fur-coat for Lucia at 4,000 frs as supposed therapy; sends 1,000 frs. to publisher of Pomes Penyeach to 'pay' Lucia for drawings;
1933: JAJ sends wreath via HSW at death of George Moore, 23 Jan. 1933 ('excluding ivy absolutely'); travel to Rouen with the Jolases and René-Ulysse, a nephew of the king of Cambodia, to hear Sullivan in Reyard's Sigurd, Jan. 1933; JAJ's psychosomatic illness attracts sympathy of Lucia ('that subtle and barbare person - my daughter'); returns to Paris; HSW taxes Joyce with overspending and comes to Paris to apologise; JAJ leaves Paris for Zurich with Giedions, 22 May 1933, bringing Lucia; Dr. Vogt finds cataract in right eye completely calcified and the retina atrophied but defers operation for two years; Joyce suffers 'colitis' by own account; Léon assures HSW that the doctor discounts alcohol as cause; JAJ asks Léon to find Edgar Quinet's sentence in notebooks left in Paris (quoted in full in Finnegans Wake); Joyces visit Évian-les-Bains, returning to Zurich, 17 July; Lucia examined by Prof. Hans. W. Maier of Zurich Asylum; Lucia installed in sanatorium at Nyon managed by Dr. Forel, 30 July 1933, and withdrawn by Joyce, 6 Aug. 1933; Joyces return to Paris and rue Galilée, Sept. 1933; JAJ works on galleys of Budgen's James Joyce and the Making of Ulysses (1934); assists Gilbert in trans. of Les lauriers sont coupés; JAJ withdraws authorisation from Gorman's biography due to stagnation, 27 Oct. 1933; JAJ instructs Paul Léon to write to Gorman, accusing him of giving his copy of the Ulysses schema to Cerf, who soon afterwards confirms Gorman's rebuttal with assurances that the two had not communicated for several years; biography proceeds by agreement under close supervision; Max L. Ernst presents case for Ulysses on behalf of Cerf before Judge John M. Woolsley in US District Court, New York, 25 Nov. 1933; Ernst to charge nothing if the case is lost but to reap percentage of royalties if won - on the grounds that that Ulysses 'a modern classic [that had] endured the test of time'; Sam Coleman, acting for the Attorney General, charged Ulysses with obscenity on the basis of the sentences about Bob Doran ('Gob, Jack [...] him if he didn't patch the pot, Jesus, he'd kick the shite out of him') and the description of the morbid erection in the hanged man ('causing the elastic pores of the corpora cavernosa to rapidly dilate ... philoprogenitive erection in articulo mortis per diminutionem capitis'); Woolsley finds for the publisher ('undoubtedly ... somewhat emetic [but] nowhere ... aphrodisiac'), 6 Dec.; JAJ sends case of Clos S. Patrice 1920 to Con Curran, 20 Dec. 1933; meets with Colums, James Stephens, and others at the Foquet [var. Focquet] Restaurant, Champs-Élysées;
1934: first authorised American edn. of Ulysses publ. by Random House, NY, 25 Jan. 1934 (33,000 sold in 2 months), incorporating a letter on the 'strange history' of its publication by Joyce - who refused Cerf's request for new material, e.g., the schema, to distinguish it from the Paris edition for copyright reasons; appeared on cover of Time: The Weekly News Magazine (29 Jan. 1934), in view of the court decision; distinctive large-letter cover designed by Ernst Reichl; Lucia strikes Nora on 2 Feb. 1934; sent back to Nyon; Lucia attempts to run away and is found in a herd's shelter nr. the border; Harold Nicholson visits Joyce at 42 rue Galilée, Feb. 1934; JAJ agrees to a celebration in his honour proposed by Mrs Reginald Fellowes of Les Amis de 1914, 23 Feb., 1934, Dujardin and Léon-Paul Fargue making speeches, with a reading of "Work in Progress" by Rachel Behrendt (coached by Joyce); JAJ attends a performance of Ibsen's play [Ghosts] at Théatre des Champs-Élysées, Feb. 1934; US Attorney Gen. permits appeal against Woolsey's judgement, March 1934; the Joyces travel to Zürich through the South of France on onwards via Monte Carlo and Neuchâtel on a motor-tour with René Bailly (m. to Kathleen, a Galway woman like Nora), March-April 1934 [a journey of 2,500 km]; death of George Borach (a Zurich student and friend), in car-accident, April 1934; JJ visits Vogt and learns that two more operations are necessary, 10 April; Joyces visit partent of Borach; Nora commiserates greatly with his mother and wishes to leave Zürich, finding it haunted by his death which had been hidden from her until their arrival there [they had passed the point on the road where he had died on their way to Zürich]; JAJ attends Othmar Schoeck's suite of songs by Gottfried Keller (and later translates them); suggests that Schoek compose an opera on Byron's Cain - previously suggested unsuccessfully to Antheil; Joyces returns to Paris by train, [April] 1934, writing "Epilogue to Ibsen's Ghosts" ['Blame all and none and take to task / The harlot's lure, the swain's desire; / Heal by all means but hardly ask / Did this man sin or did his sire'; Helen [Kastor Fleischmann; err. Fleischman] Joyce receives Bernard Cerf for Jocye in Paris, and learns that 33K copies had been sold; also that the Catholics were 'behind' the appeal against the novel Wollsey's judgement; JAJ employs Madame France Raphael to recover unused material from Ulysses notebooks, 1933-34; writes and visits her in hospital when she suffers skull-fracture in a car-accident, 24 April 1934; Servire Press issues The Mime of Mick Nick and the Maggies (The Hague, June 1934), with cover, initial letter and tailpiece designed by Lucia, allocating part of the royalties to her for her work (though prob. out of his own share); US Court of Appeal upholds Woolsey's judgement that Ulysses was neith 'lewd nor obscene', 7 August - having sat since 16 May; Joyce concludes that the dissenting judge's citation of offending passages in his judgement could only serve as good publicity; McAlmon reads from Being Geniuses Together, which Joyce thinks 'actionable' in view of the alcoholic emphasis; Giorgio sails to America with Helen on the SS Bremen, 19 May 1934, remaining a year; Giorgio and Helen sell their Rolls-Royce before departing; news of their journey kept from Lucia; Nora fearful that the depreciating dollar mind strand them there; JAJ signs lease for 5-room flat on 4th floor at 7 rue Edmond Valentin, nr. Pont d'Alma and Tour Eiffel, 12 July 1934 [11,500frs. p.a.], travelling to Hôtel Britannique, at Spa (Belgium) pending occupancy; Albatross Press lose Lucia's lettrines; Henri Matisse agrees to illustrate Ulysses for Limited Editions Club (USA) - ultimately basing them on Homer rather than Joyce ('je ne l'ai pas lu'); JAJ and Nora proceed to Luxembourg, Metz and Nancy, reaching Montreux, 28 Aug. 1934; Lucia shows signs of deterioration incl. leucocytosis (excess white corpuscles); HSW recommends grapes; Lucia starts a fire in her room, 15 Sept. 1934; Lucia transferred to Zurich Mental Asylum (Burghölzli), 20 Sept. 1934; diagnosed by Dr. Maier as catatonic and transferred again to private sanatorium at Küsnacht, where Jung holds a position; Jung elicits communication where Maier and others failed; JAJ receives a letter from Lucia in Italian, Oct. 1934; John McCormack makes good his promise to help Giorgio in America, resulting in NBC assignment, Dec. 1934; JAJ writes to Alfred Bergin ('We used to have merry evenings in our house, used we not?'), 2 Dec. 1934;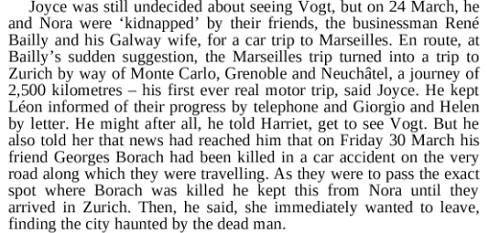 See Gordon Bowker, James Joyce: A Biography (London: Weidenfeld & Nicolson 2011),
Chap. 32: "Ulysses Unbound" (1934-36) - Google Books; accessed 19.11.2017.
[ top ]
1935: JAJ expresses belief in Lucia's clairvoyance; Giorgio gives New Yorker interview, 12 Jan. 1935; JAJ stays at Carlton Élite Hotel in Zurich while telling Lucia that he has left the city; US Circuit Court of Appeals rules against Attorney-General that Ulysses is not lewd or immoral, 8 Aug. 1934; Jung loses ground with Lucia, calling her Joyce's anima inspiratrix [femme inspiratrice] and characterising Joyce himself as a latent schizoid; JAJ moves Lucia to Villa Élite annexe of his hotel, 14 Jan. 1935; Eileen Schaurek comes to Zurich to oblige Lucia; HSW invites Lucia to London; Eileen brings Lucia to London, 15 Feb. 1935; Lucia makes madcap journey to Windor by bus; HSW calls Eileen to return, March; Joyce sends Lucia to join Eileen in Bray (where she has recently moved from Dublin to open a boarding-house called "Ulysses"), 16 March; ('You look like Bray Head'), Lucia writes to JAJ; Lucia attempts to travel to Galway alone but meets Kathleen Barnacle [Griffin] accidentally; Michael Healy travels from Galway; Lucia goes missing for 6 days; Con Curran effects her installation in rest-home at Finglas, 13 July 1935; Sylvia Beach about to sell MS of Stephen Hero, 1935; JAJ has nervous trouble and faces 'dark wall' (acc. to Paul Léon); JAJ asks Maria Jolas to travel to Ireland to help with Lucia, Nov. 1935; Lucia brought to London by the Currans; Lucia stays with HSW in her flat in London, and there receives a course of glandular injections over five weeks from Dr. W. G. Macdonald, a Harley St. specialist with a post at St. Andrew's Hospital, Northampton; Lucia taken by HSW to rented bungalow in Kingswood, nr. Reigate, for convalescence, up to Dec. 1935; the Joyces stay with the Gormans at Fontainbleu, Aug.-Sept.; the Joyces return to Paris to greet Giorgio and Helen, returning from America at JAJ's request - a request carried by Phillipe Soupault and backed by threats of illness [Sept.] 1935; Maria Jolas sent to visit Lucia in Reigate; Jacques Mercanton makes his first visit to Joyce's apartment, 15 Nov. 1938; Lucia transferred to Northampton for further treatment, mid-Dec.; JAJ refuses to certify her as required if she is to stay, refusing to transfer authority to an Englishman (or a Scot - viz. Macdonald); HSW visits Northampton and communicates to Joyce the word 'carcinoma' which she sees written in Lucia's file, end-Dec. 1935;
1936: Maria Jolas brings Lucia to Neuilly-sur-Seine, end-Feb. 1936; JAJ reads proofs for Bodley Head edition of Ulysses; Lucia removed from home in straight-jacket to le Vésinet, and declared to be dangerous, March 1936; Lucia placed in the nursing home of Dr. François Achille Delmas at Ivry-sur-Seine [May 1936], remaining there until 1951 when she was transferred to St. Andrew's Hospital; Stanislaus receives expulsion order and is dismissed from post at University of Trieste, afterwards rescinded through the influence of Fulvio Sulvich, April 1936; Stanislaus goes to Rome to plead his case and finds that the British had expelled an Italian in Malta; JAJ writes to HSW imploring aid with expenses for care Lucia ['if you have ruined yourself for me ... why will you blame me if I ruin myself for my daughter'], expressing fears that she is falling 'into the abyss of insanity', 9 June 1936; receives copy of Bird Alone from Seán O'Faoláin but professes himself unable to help; Obelisk Press issued "An ABC being a Hymn to the holy Virgin" [A Chaucer ABC], with lettrines designed by Lucia and a preface by Louis Gillet, 26 July 1936, HSW sharing the cost with Joyce, 26 July 1936; Joyces travel to Beaugency [30 July 1936], then to Denmark, taking a few days at Villers-sur-Mer [in] Calvados, with the Baillys [Kathleen and René]; sends "The Cat of Beaugency" [children's story, aka The Cat and the Devil] in a letter to Stephen Joyce [his grandson], 10 Aug. 1936 from Villers; the Joyces reach Copenhagen, 18 Aug. 1936 and settles at the Turist Hotel [sic], remaining until 5 Sept [date of letter to Gi; JAJ meets Tom Kristensen at Politiken bookshop, where Ulysses is on sale; calls unbidden on Mrs Kastor Hansen, the translator of Ulysses ('I have come from Paris to tell you not to alter a single word'); reading proofs for John Lane Edn. (publ. 3 Oct. 1936); taken round the city by Ole Vinding, a journalist posing as an artist; visits Elsinore of Hamlet fame; meets Lucien Lévy-Bruhl, then visiting Copenhagen; JAJ refuses Vinding permission to publish his article on him, incorporating extensive reportage of their conversation; visits Hermitage Villa and attends Délibes' opera Coppélia; stops in Bonn to discuss "Work in Progress" with Professor Ernst Robert Curtius ('to prove I am not suffering from softening of the brain'); posts letter to Giorgio from Bonn, 10.09.1936; returns to Paris, 13 Sept. 1936; supplies copy of Little Eyolf to James Stephens, vainly hoping to win him over to Ibsen, 18 Sept.; meets Stanislaus in Switzerland, Sept. 1936 ('For God's sake don't talk to me of politics, style is the only thing that interests me'); finds position for Stanislaus at isolated school on Zugerberg, which Stanislaus refuses, returning to Trieste and reinstatement there; Ulysses brought out by Bodley Head [the imprint of John Lane], 3 Oct. 1936, in deluxe edition of 1,000 copies (of which 100 were signed and bound in vellum and the remainder bound in linen buckram, with a Homeric bow on the front cover designed by Eric Gill;
JAJ's itinerary in 1936
A postcard dated [/franked] on 3 August 1936, sent to Giorgio and showing the bridge at Beaugency from an elevated angle has been been found among papers donated to the James Joyce Foundation in Zürich by Hans A. Janhke in 2006 [Jahnke Bequest], while another in the collection which was sent to Carola Giedion-Welcker on July 8, 1937 shows the Place du Martroi - respectively numbers 3 and 26 from a series of such photos. It is not certain whether the second card was sent from Beaugency since there is no record of such a visit in 1937. It may instead have been retained from the first visit and posted a year later. See notes on Beaugency > Illustrations -as
attached
.]
Other letters and postcards in 1936 were sent to Giorgio and/or to Helen from rue Edmond Valentin (14 & 15 July 1936; 04.08; 06.12 [to Stephen]), from Hôtel de l'Abbaye [to Giorgio], n.d. [presum. Aug.] 1936; from Hôtel Casino de Deauville, 10.08),* Liège [Belgium] (19.08), Streit's Hotel, Jungfernstieg, Hamburg (21.08), Turist Hotel, Copenhagen (05.09; 26.08; 01.09) Bonn (10.09), Grand Hôtel, Dieppe (11.09); Hôtel S. Christoph, La Baule L.J., (06.10). [See Hans A. Jahnke Bequest at JJ Foundation (Zurich) - catalogued online at the National Library of Ireland. [See further listing under
Works
>
infra
, or go
online
.]
*So catalogued at NLI; probably erroneously since this is the typescript copy of the letter of 10 Aug. bearing the address of Villers-sur-mer.
Note
: Internet research reveals 164 such images in the same sepia-coloured photo-series while another series - apparently contemporary - shows the bridge at close-up on card number 558. See
attached
]
See also Roger Norburn, A James Joyce Chronology (London: Palgrave Macmillan 2004), pp.174-89 [extract] as attached.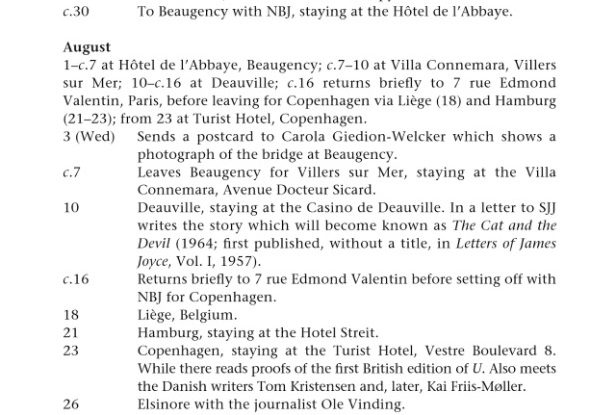 [Source: Google Books online; accessed 17.11.2107.]
1937 revisits his taste for popular theatre (Macagni's L'Ami Fritz); confers with Nino Frank about Italian trans. of Anna Livia Plurabelle, 1937; makes weekly visits to Lucia throughout 1937; attends P.E.N. Club (Paris) meeting as invited guest, June 1937, addressing a short speech on literary piracy to the members; indignantly returns Nancy Cunard's questionnaire on the Spanish Civil War with script of his P.E.N. remarks ('Print that, Miss Cunard!'); visited by Hanna Sheehy-Skeffington; death of Tom Devin (Mr. Power in Ulysses) elicits letter to Alf Bergan; travels to Switzerland, via Rheinfelden, 12 Aug. 1937; returns Paris, September 1937; Giorgio and Helen travel to America due to sickness in her family, Dec. 1937, returning 26 April 1938 - JAJ offering to meet them at Cherbourg; the Joyces invite Peggy Guggenheim to Foquet's [Champs Élysées], with Helen and Giorgio, when Beckett was another guest, 26 Dec. 1937 - Beckett spending the next day in bed with Guggenheim; sends postcard showing the bridge at Beaugency [pont de Beaugency]
[ top ]
1938: George Pelorson trans. Pomes Penyeach into French for Mesures; JAJ makes short trip to Zurich and is assured by Dr. Zogt that his sight would remain; assisted by James Johnson Sweeney with MS, early summer 1938; Jolas guesses the name Finnegans Wake from clues given at a dinner when Nora sings about 'Mr. Flannigan' and 'Mr. Shannigan', Joyce mouthing 'F' and 'W', July 1938, and paid the wager of 1,000 frs [Jolas requesting it in sous - and was paid in 10-franc pieces]; visited Beckett in hospital immediately after the latter's stabbing in a Paris street, and moved him to private accommodation at his own expense, Jan. 1938; German trans. of Anna Livia Plurabelle postponed due to political pressure; helps Herman Broch to reach England after Anschluss, March 1938; receives from Beckett a copy of Murphy and later quotes the death of Murphy to him by heart; spends summer in Lausanne, 19 August 1938, travelling with Léon; visits Mercanton en route to Zurich, Feb. 1938; meets Mercanton again in Paris, Good Friday, 15 April 1938 - the day when Mercanton's article appeard in Europe (ed. Jean Cassou); Joyce buys 20 copies of Europe [mag.] to circulate among friends; Joyce spends Good Friday with Stuart Gilbert and Mercanton, going over passages from Work in Progress [to make them more obscure]; Mercanton joined Joyce again on Easter Saturday for devotions at Saint-François Xavier des Missions étrangères telling Mercanton that he only attended church on Good Friday and Easter Saturday; several meetings with Mercanton who he supplies Mercanton with notes on Wake episode ('A Phoenix Park Nocturne') just then published in Verve, and works with him on additions to "St Patrick and the Druid", during a fortnight in Lausanne, Aug.-Sept. 1938; inscribes a copy of Ulysses to Mercantom ('Veille de la Fête de Madone Bloom'), 7 Sept. 1939; Joyces travel to Montreux to see Helen, hospitalised by first of several nervous breakdowns; short visit to Zurich; JAJ advised to take X-ray tests for stomach cramps and ignoring medical advice to have x-rays; returns to Paris end-August; short trip to Dieppe, and afterwards La Baule, not finding Lucia evacuated there as Dr. Delmas had unpromised, 30 Sept. (being date of Munich Pact); JAJ completes Finnegans Wake with 'un rien, l'article the' (as he told Gillet), 13 Nov. 1938, bringing the MS to dinner with Léon at Foquet's; expands last two pages to ten; writes to Ruggiero, 'Io terminado il mio libro ... Ho finito quell maledetto libro', 18 Nov. 1938 Letters, I, pp.402-03); JAJ receives enthusiastic response from Beckett and expands last two pages to ten; proof-reading carried on by Gilbert and Léon; Léon inadvertantly leaves proof section in taxi, happily returned;
1939: JAJ sends wreath for WBY (d. 28 Jan. 1939) which did not arrive at Roquebrune until after the funeral as being belatedly announced; an unbound copy of Finnegans Wake reaches Joyce from Faber & Faber's Scottish printers, 30 Jan. 1939; Helen Joyce, who commissions a cake with Tour Eiffel and Nelson's Pillar, Seine and Liffey and Joyce's seven books, and reads the last few pages of Finnegans Wake at celebrations on 2 Feb., with Gilbert, the Léons, Daniel O'Brien, Frank Budgen (travelling from London), the Jolases, and others in attendance; Giorgio and JAJ sing duet and JAJ dances; invasion of Czechoslovakia, 15 March, 1939; Nora destroys letters from Joyce in putting her papers in order prior to moving flat ('Oh, they were nobody's business'); Joyces move to 34 rue des Vignes, 15 April 1939; Finnegans Wake published in York by Viking, 4 May 1939; appeared on cover of Time The Weekly News Magazine, 8 May 1939 [photo of Gisèle Freund]; briefly considers university teaching in South Africa, alerted to post by Beckett; receives letter from O'Casey, 30 May 1939; JAJ requires Gorman to defer publication of his biography in a lengthy letter subscribed by Léon, 6 June 1939, receives and examines proofs of Gorman's James Joyce, touching on question of the Joyces' marriage and Lucia's illness, along with intimations of JSJ improvidence and other failings, Summer 1939; leaves for Étretat to see Stephen, 21 July 1939; returns to Paris for Lucia's birthday in Giorgio's car, 26 July 1939; the Joyces travels to visit Helen convalescing at Montreux from a further breakdown, August 1939, Giorgio remaining in Paris; meets again with Mercanton, at Lausanne [var. Montreux]; travels on to Bern and Zurich; returns to Paris, and thence to Brittany on hearing from Dr. Delmas that Lucia's clinic is to be evacuated to maison de santé at Hotel Edelweiss, La Baule, 2 Sept. 1939; JAJ attempts to bring Lucia to alternative sanatorium, deemed unsuitable for her 'violent type' by Delmas; JAJ sings "La Marseilles" in restaurant full of French & British soldiers, acc. Dr. Daniel O'Brien of Rockefeller Foundation, also present in La Baule; Lucia lodged with others at Pornichet, nr. La Baule (there to spend the war); Joyces remain near Lucia and celebrate their 'wedding' anniversary in Brittany; news reaches them through the Léons that Giorgio's marriage to Helen is breaking up; Joyces return to Paris briefly stay at Hôtel Lutétia, 15 Oct. 1939; JAJ quarrels with the Léons when the latter blamed Giorgio's lack of sympathy for Helen's state of mind; JAJ asks Léon to return his contracts through intermediary Ponisovsky; Helen hospitalised at Suresnes, and afterwards taken back to Boston, accompanied by 2 doctors and 2 nurses, by boat through Genoa, by her br. Robert, 2 May 1940 to pass the war in a Connecticut sanitorium; later divorced Giorgio; Stephen in taken by Joyces at Hôtel Lutétia; Maria Jolas moves her École bilingue de Neuilly to La Chapelle (in Allier), a chateau at St Gérand-le-Puy nr. Vichy in what was to be Unoccupied France (Eugene being in New York); Mme Jolas takes charge of Stephen Joyce at Joyce's request by phone; Joyces themselves accept her offer to spend Christmas at St Gérand-le-Puy, lodging at Hôtel de la Paix from 24 Dec. 1939 [but writing to Giorgio from Hotel Beaujolais, Vichy, from 15.04.1939 to Martedi 5 1940 ([Jahnke Bequest, JJF Zurich];
1940: JAJ experiences stomach cramps on arrival; JAJ consumes only white wine at Christmas and dividing the season between physical anguish and gaiety; JAJ unhappy with village life, carrying stones to ward off dogs; Joyces invited to move to La Chapelle by Maria Jolas during school vacation, April 1940 [Easter]; visited by Pelorson en route to join his regiment, to whom JAJ confides he is thinking of writing final work that would be 'very simple and very short', 14 April 1940; Joyces move to Vichy, staying at Hôtel Beaujolais, mid-April 1939; JAJ stubbornly resists Maria Jolas's suggestion that he move back to St. Gérand-le-Puy; Beckett arrives from Paris, 13 April [var. Feb.]; fall of Paris, 14 June 1940; JAJ gets Larbaud to cash Beckett's Irish cheque; Hôtel Beaujolais requisitioned by government; JAJ returns to la Chapelle with [Mme.] Lucie Léon and her father and sister-in-law, arriving from Beaugency, 16 June; Giorgio arrives from Paris; Léon arrives in an ass-cart; JAJ and Léon reconciled; Joyces take room in Hôtel du Commerce, St. Gérand, sometime used by Maria Jolas as a school; death of woman whose room they occupied, 10 June [Mme E-]; JAJ asks Maria Jolas to identify Giorgio as an Italian teacher, if asked (note of '18 June, Waterloo 1940'); Germans occupy St. Gérand for six days; Lucie Léon (employed at NY Herald-Tribune) leaves for Paris; JAJ arranges with Dr. Delmas for Lucia to be sent to Corcelles, nr. Chavorny, for duration of the war; German authorities grant permission for Lucia [internée d'office] to leave France, 4 Aug. 1940; Maria Jolas travels to Marseilles to arrange her departure for America; brings word that the American consul Robert Murphy will arrange visas for the Joyces for airflight to America; Maria Jolas departs carrying corrections to Finnegans Wake, 28 August 1940 ('Goodness knows what they will eventually do'); Paul Léon leaves St. Gérand-le-Puy, Sept. 1940; back in Paris, Léon saves Joyce's papers from Paris flat and acquires others at illegal auction held by Joyce's landlord, depositing them with Irish Ambassador on understanding that they should be given to National Library of Ireland if he did not collect them; Léon arrested by Gestapo, 1941, and murdered in concentration camp [var. shot in march]; Joyces apply for Swiss visas through consulate at Lyons, 13 Sept. 1940; JAJ's funds in Paris seized after British seizure of French funds in London; HSW supplies £30 p.m. through Irish legation at Vichy, Oct. 1940; Swiss Consulate (Lyons) forwards application to Aliens' Police, Zurich (Eidgenössische Fremdenpolizei) who refuse on the grounds that Joyce is held to be a Jew ('C'est le bouquet, vraiment'); documents sent back for further consideration, 18 Oct. 1940; Jacques Mercanton deposes that Joyce is not a Jew ('je ne suis pas pas juif de Judée mais aryen d'Erin', acc. Joyce); guarantee of 50,000 Swiss frs. (later reduced to 20,000 frs.) application receives support of friends in Zurich incl. Ruggiero, the Giedions, Prof. Vogt, Mayor Emil Klötti, et al., incl. Prof. Heinrich Straussmann who spoke for his writings ('best ... of English-speaking world'); Edmund Brauchbar makes required deposit in Ruggiero's bank; visas granted at Vichy consulate, 29 Nov. 1940; permission to leave France secured by Petitjean and Louis Gillet (Acadèmie Française), who comes to St. Gérand to help; Giorgio refuses Irish citizenship though imperilled by his age and status; Vichy official winks at absence of one permis de sortie (viz., Giorgio's) and stamps all four passports; Giorgio next carries Joyces' passports, found to be out of date, to American chargé d'affaires and gains extension; Lucia's permis de sortie being now expired, the Joyces travel to Switzerland without her in the belief that her rescue could be better managed from Zurich; Joyces depart from San-Germain-des-Fossés [station], 14 Dec. 1940, via Aix-les Bains; Stephen's bicycle subject to duty and confiscated at the border; Joyces proceed to Geneva, 14 Dec. 1940, staying at Hotel Richmond; continue on to Lausanne, 15 Dec. 1940, being met by Mercanton on the platform; stayed at Hôtel de la Paix [sic], where they find green ink split over the contents of their suitcase; investigates hôtel de santé there for Lucia with Mercanton; Joyces reach Zurich, 17 Dec. 1940; met by Ruggiero and the Giedions at Hauptbahnhof, dining at station restaurant; takes rooms at Hotel Pension Delphin, Muhle Bachstrassse 69, Zürich; writes letters of thanks to supportive citizens; buys books of Greek mythology for Stephen, out walking afternoons; buys artificial Christmas tree; Joyces pass Christmas with the Giedions at 7 Doldertal; met with Sean Lester, the Irish attaché there, seeking papers for Lucia, and spoke of his attachment to Ireland 'kept Radio Éireann going on the wireless all the time [...] daily and nightly like an umbilical cord' (Lester's diary in DCU).
Joyce's papers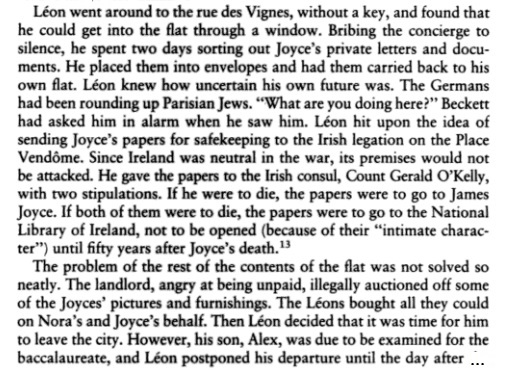 Brenda Maddox, Nora: The Real Life of Molly Bloom ( Hamish Hamilton 1988)
[available online; accessed 30.11.2017.]
[ top ]
1941: JAJ sends two packages of correspondence connected with departure from France in gratitude to James Johnson Sweeney; learns that Stanislaus is compelled to move to Florence; Stephen located in a new school in Zurich; JAJ sends list of useful people, his last card, 7 Jan.; 1941; dines with Zumtegs at Kronenhalle, 8 Jan.; visits exhibition of French painting, and experiences stomach cramps after Paul Ruggiero's birthday dinner at Kronenhalle, 10 Jan. 1941; adminstration of morphine by local doctor insufficient; moves to the Schwesterhaus vom Roten Kreuz [Red Cross] (his body 'writhing like a fish' acc. Stephen Joyce); x-ray diagnosis of perforated ulcer; persuaded by Giorgio to undergo proffered operation; operated on by Dr. H. Freysz, Sat. 12 Jan., 1941, waking after ('I thought I wouldn't get through it'); JAJ expresses wish that Nora lie down beside him; Nora and Giorgio sent home by medical staff, much against their wishes; JAJ awakes at 1.00 a.m. and asks for his wife and son; lapses into coma; d. 2.15 a.m., 13 Jan. 1941, before they can arrive; Nora refuses Catholic rites for the dead ('I couldn't do that to him'); bur. Fluntern Cemetery, 15 Jan. 1941, at HSW's expense; grave-side addresses by Lord Derwent (British Minister), Max Geillinger, poet, and Prof. Heinrich Straumann (Zurich Univ.); Max Meili (tenor) sings 'Addio terra, addio cielo'; Lucia receives news of his death ('What is he doing under the ground, the idiot? ... He is watching us all the time'); on hearing of JAJ's death on BBC, HSW sends Nora £250 (already intended for Joyce); Nora Joyce, d. 10 April 1951, Zurich (uremic poisoning), and bur. with Joyce; Giorgio Joyce and Helen divorced; Giorgio remarries Dr. Asta Jahnke-Osterwalder (Munich); Giorgio d. Konstantz, W. Germany, 1976; Lucia long remains in St. Andrew's, Northampton under legal guardianship of HSW (and after her death in 1961, Miss Jane Lidderdale]; d. 1982; Stephen m. Solange Raytchine, and settles in Île de France. PI NCBE IF ODNB DIB DIW DIH DIL KUN OCEL [ODQ] FDA G20 HAM OCIL
Posthumous: At his death Joyce was worth £1,212 net, £980 gross; the MS of Finnegans Wake presented to the British Library by HSW, Nora Joyce having vetoed its lodgement with the National Library of Ireland since the Irish Government made no effort to repatriate the remains of James Joyce; Joyce's family portraits and many of his papers incl. the "Epiphanies" are held at in the Wickser Collection of Lockwood Memorial Library, (NY State Univ., Buffalo) - having been saved by Paul Léon at the cost of his life - he was arrested by the occupying German forces in August 1941 and murdered on a forced march on 4 April 1942; juvenilia acquired from Stanislaus Joyce are held in the Cornell University Library (Ithaca, NY); Joyce appeared on the cover of Time in 1934; the MS of Stephen Hero was sold by Sylvia Beach in Paris and acquired by Harvard College Library (ed. Theodore Spencer, 1944); P. S. O'Hegarty prepared an early bibliography in 1946; Dublin Bloomsday was inaugurated by John Ryan with Brian O'Nolan [Flann O'Brien], Patrick Kavanagh, Anthony Cronin and Tom Joyce, a cousin of the writer, in 16 June 1954 - travelling from the Bailey; the First International James Joyce Symposium was held in Dublin in 1967, 7 Eccles St. having been demolished by the Sisters of Mercy, owners of the nearby Mater [Misericordiae] Hospital shortly before on 11 April 1967; the copyright of Finnegans Wake [and other works?] renewed by Giorgio and Lucia Joyce, 1967; Tom Gallacher's Mr Joyce is Leaving Paris injuncted by the Joyce Estate when presented by Tony Doyle at the Dublin Th. Fest., 1971; a small exhibition of Joyciana was mounted at the National Library of Ireland to commemorate the 50th anniversary of Ulysses, 2 Feb. 1972; a film-version of A Portrait written by Hugh Leonard as Stephen D (BBC 1972); there is a James Joyce Centre at 35 Nth. Gt. George's St., Dublin, and a statue of Joyce at the O'Connell St. end of North Earl St.; former Mabbot St. (later Corporation St.), being the proverbial 'entrance' to Nighttown featured in Ulysses, has been renamed James Joyce St.; James Joyce International Symposium returned to Dublin, June 2012; there is a statue of Joyce in the Giardino Tommasini, Trieste, and another ambulatory figure on a canal bridge in that city; a BBC continuous production of Ulysses was broadcast on Bloomsday (16 June 2012); Joyce's guitar held in the Joyce museum was restored in time for the Symposium, when it was played publicly by John McCourt; an annotated edition of Ulysses produced by Sam Slote (TCD) was launched at the James Joyce Centre, 16 Oct. 2010; a €10 coin issued by the Irish Central Bank incorporates a misquotation from the "Proteus" episode of Ulysses, April 2013; a commemorative collection of new stories by leading Irish writers entitled Dubliners was published by Sarah Davis-Goff of Tramp Press in May 2014 to mark the centenary of Joyce's story-collection's publication.